Former Indiana football standout named to All-XFL team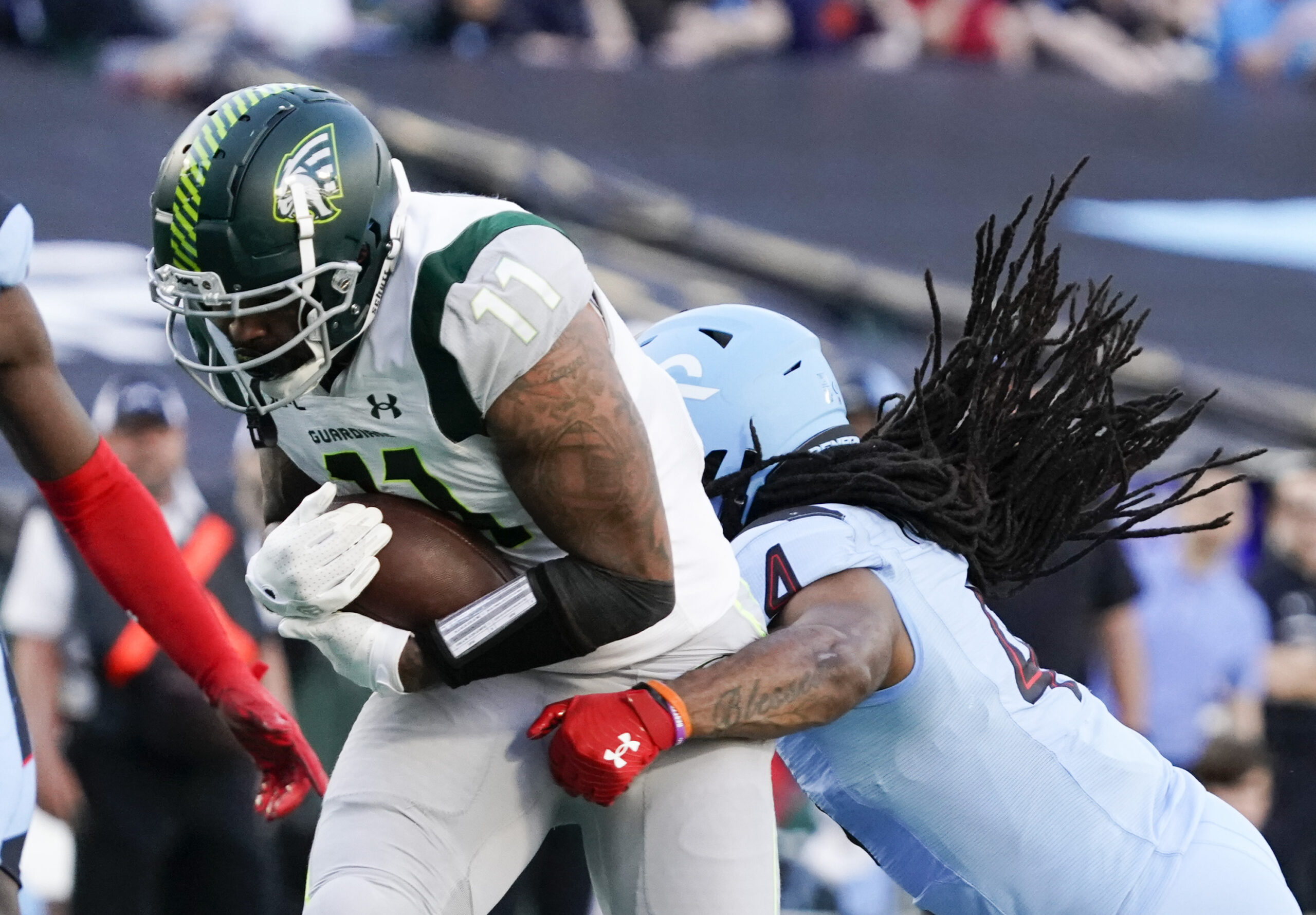 It was announced on Monday afternoon that one former Indiana football standout was named to an all-league team.
The 2023 XFL season is winding down and Monday brought out the All-XFL team. Former Hoosier Cody Latimer landed as the lone tight end on the roster.
Latimer, who plays for the Orlando Guardians, was the clear selection for the tight end position. He was third in the entire league in receptions and fourth in receiving yards. His totals came in one less game than any of the other top eight pass catchers.
On the season, Latimer finished with 50 receptions for 593 yards and four touchdowns. Latimer played in nine games. The Guardians finished just 1-9 on the season, however.
"People who've been around since camp have known that he shouldn't be here," Guardians backup tight end and long snapper Ryan Becker said earlier in the season. "He's one of those guys who just as soon as he got here, you kind of watched him run around a little bit and just like, oh man, this guy is definitely one who shouldn't be here. I'm not saying that in a bad way. He shouldn't be here in a good way."
Latimer began his career in the NFL. He was drafted by the Denver Broncos in the second round of the 2014 NFL Draft.
After four seasons in Denver, Latimer signed with the New York Giants, where he would spend his final two seasons. He went on to have the best year of his career in 2019, catching 24 passes for 300 yards and two touchdowns.
Latimer played three years with the Indiana football program from 2011-2013. His best season was his junior year when he had 72 receptions for 1096 yards and nine touchdowns. He was third in the Big Ten that season in receiving yards and fourth in receptions.
Latimer finished his college career, at the time, tied for fourth in 100-yard games (seven) and seventh in yardage (2,042) and receptions (135) on the Indiana football all-time lists.
Make sure to follow Hoosier Illustrated on Twitter @Indiana_FRN and YouTube to stay up to date on all of the news, updates and coverage of Indiana University athletics. 
Three former IU basketball players in NBA Finals, set to win ring regardless of result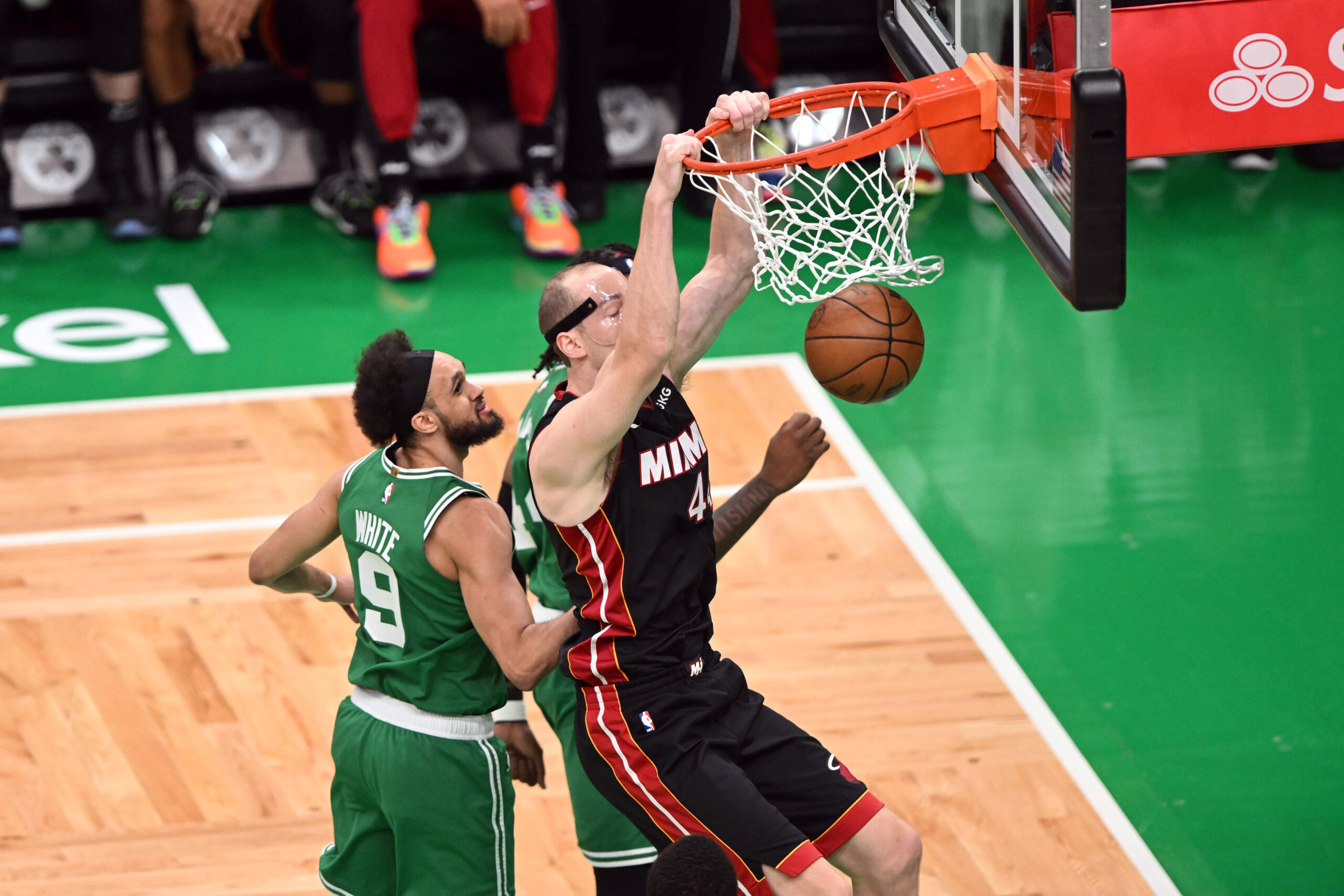 No matter what happens in the 2023 NBA Finals, at least one former IU basketball player will walk away with a championship ring.
Following the Miami Heat's Game seven win on Monday night, Cody Zeller (Heat), Victor Oladipo (Heat) and Thomas Bryant (Denver Nuggets) will square off in the Finals. The Nuggets defeated the Los Angles Lakers in the Western Conference Finals.
Game one of the NBA Finals will is on Thursday, June 1 at 8:30 pm ET.
Cody Zeller enters this matchup with the biggest role out of the three former Hoosiers. After signing with the Heat in late February, Zeller carved out a nice reserve role throughout the remainder of the season and playoffs. He played in 15 games (two starts) during the regular season and averaged 6.5 points and 4.3 rebounds in 14.5 minutes per game. In the postseason, Zeller has played in 16 games averaging 2.6 points and 2.7 rebounds in 9.2 minutes a game.
Zeller was drafted No. 4 overall in the 2013 NBA Draft.
A teammate of Zeller's is Victor Oladipo. Unfortunately, Oladipo suffered a season-ending injury earlier this postseason which will keep him out of the NBA Finals. Oladipo has struggled with injuries over the last few years but had found a home with the Heat.
A critical member of their bench rotation earlier this year, Oladipo averaged 10.7 points, 3.0 rebounds and 3.5 assists in 26.3 minutes per game during the regular season. He played in 42 games with two starts. In the postseason, he played in just two games, averaging 11.5 points in 22.5 minutes per game.
Oladipo was drafted No. 2 overall in the 2013 NBA Draft.
Opposite of Zeller and Oladipo is Thomas Bryant. Bryant was acquired midseason by the Nuggets after a successful first half of the year with the Los Angeles Lakers. In 41 games (25 starts) with the Lakers, Bryant averaged 12.1 points and 6.8 rebounds per game. Following the trade to Denver, Bryant saw action in 18 games (one start) in the regular season. He averaged 4.6 points and 3.3 rebounds in 11.4 minutes per game. Bryant has not played in the postseason.
Bryant was drafted No. 42 overall in the 2017 NBA Draft.
There have been seven former IU basketball players to win an NBA Championship. The last to win was OG Anunoby in 2019. This will be the second season in a row with a former IU basketball player in the Finals. Juwan Morgan represented the Hoosiers last season with the Celtics.
Make sure to follow Hoosier Illustrated on Twitter @Indiana_FRN and YouTube to stay up to date on all of the news, updates and coverage of Indiana University athletics. 
Former Indiana basketball forward OG Anunoby earns defensive honor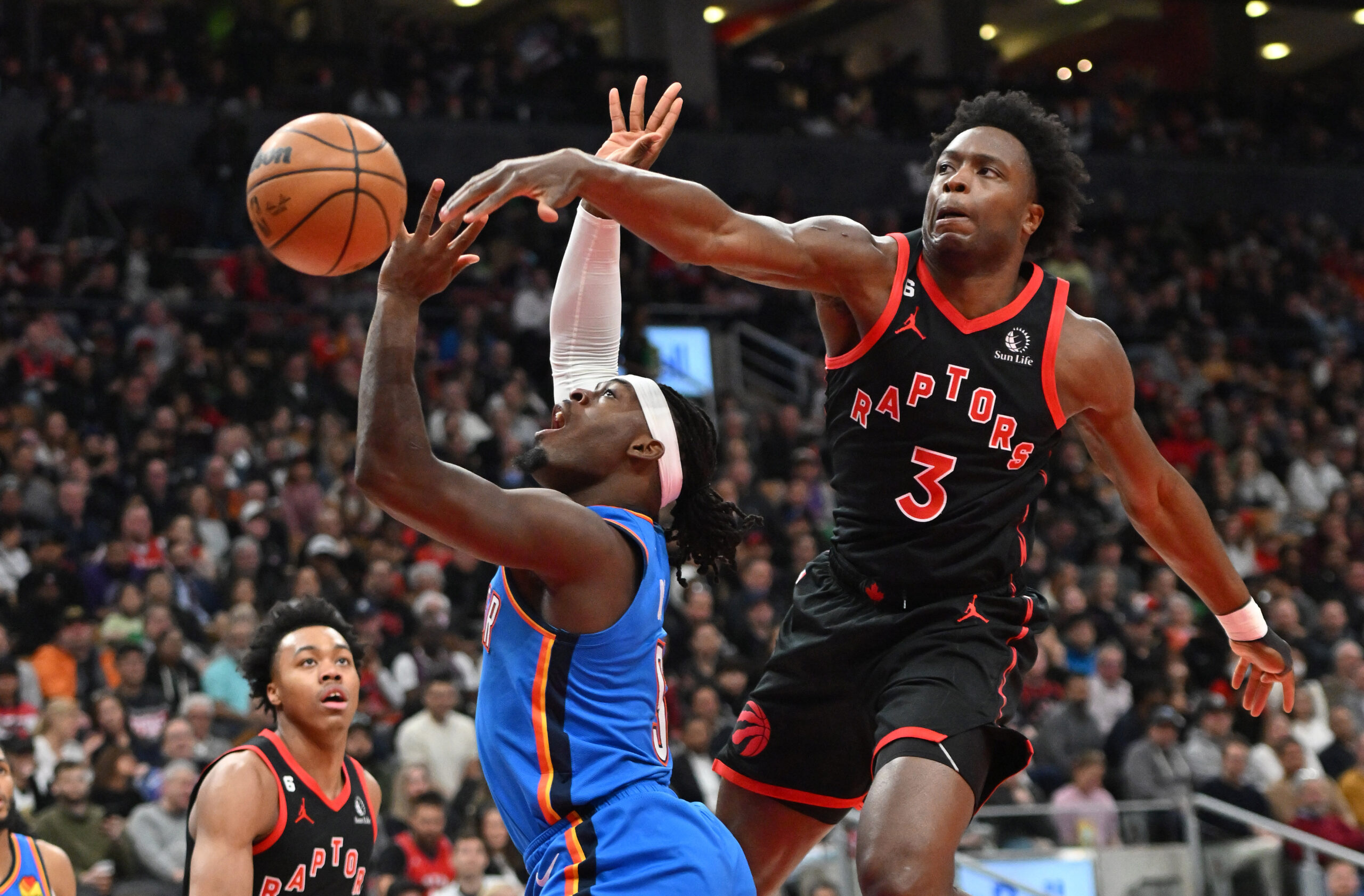 Former Indiana basketball forward OG Anunoby earned a big time NBA honor on Tuesday. The current Toronto Raptors standout earned a spot on the NBA All-Defensive Second Team.
He was considered the fourth-best forward, earning 81 vote points.
Throughout the season, Anunoby was considered one of the best defenders in the league. He ended the regular season as the NBA-leader in steals per game (1.9) and total steals (128).
"I think it would mean a lot," Anunoby said of the potential honor during his season-ending media availability. "I think it'd be very deserved. I think I've been a great defender for a while, so it'll just be the validation."
Joining Anunoby on the second team are Bam Adebayo (Miami Heat), Dillon Brooks (Memphis Grizzlies), Draymond Green (Golden State Warriors) and Derrick White (Boston Celtics).
Anunoby finished this season averaging 16.8 points, 5.0 rebounds, 2.0 assists, 1.9 steals and 0.7 blocks per game. The steals and blocks per game were both career-highs.
The Toronto Raptors finished the season 41-41 and lost to the Chicago Bulls in the NBA's Play-in Tournament.
NBA Defensive Player of the Year Jaren Jackson Jr highlighted the First-Team selections. Joining him are Alex Caruso (Chicago Bulls), Jrue Holiday (Milwaukee Bucks), Brook Lopez (Milwaukee Bucks) and Evan Mobley (Cleveland Cavaliers). 
Make sure to follow Hoosier Illustrated on Twitter @Indiana_FRN and YouTube to stay up to date on all of the news, updates and coverage of Indiana University athletics. 
'Just be a sponge': Grace Berger looking to make immediate impact for Indiana Fever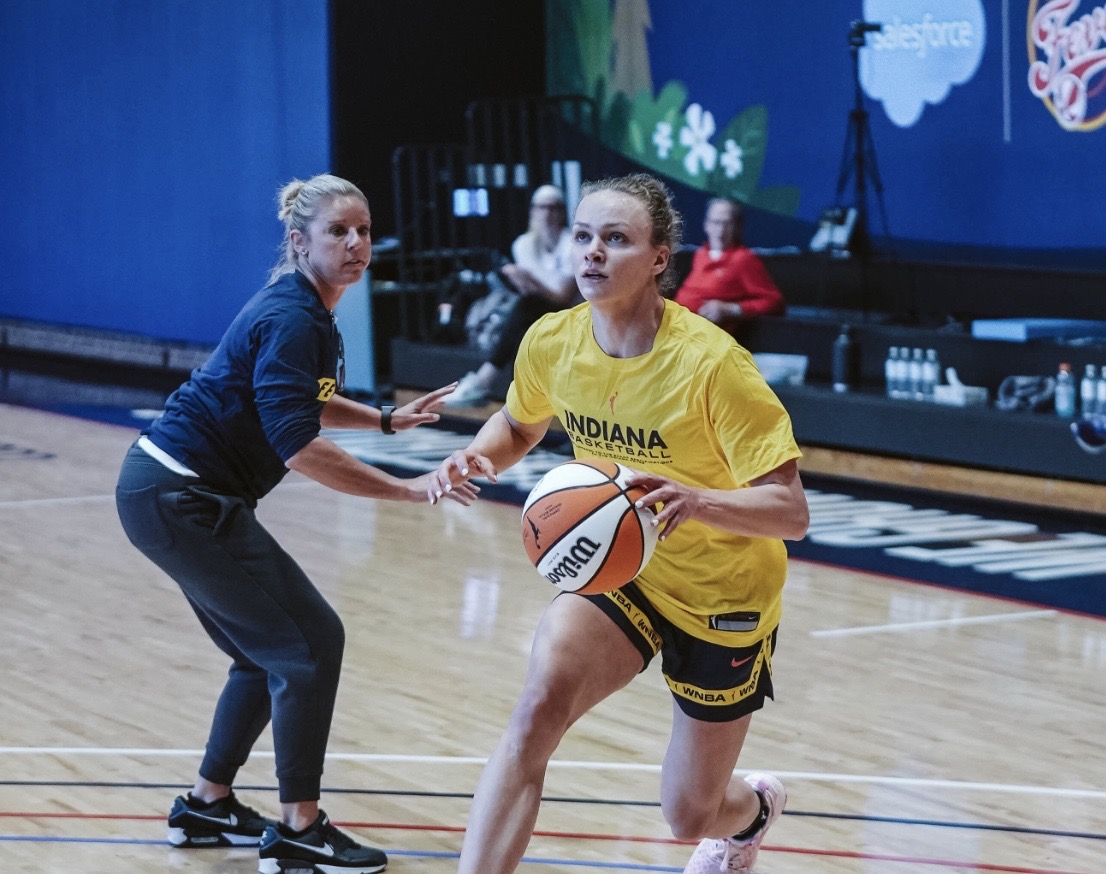 There was one thought that came to the mind of Indiana women's basketball coach Teri Moren when she first saw Grace Berger play. And it was a simple one.
"She will be the most skilled player I will ever coach," Moren said after IU won the Big Ten regular season title. "As far as true overall skill, I don't know if I'll ever have the opportunity to coach a player like Grace with that overall skillset."
Berger played five years at Indiana and contributed to the most success the program has seen in its history. Before she joined the program, Indiana had just two NCAA Tournament wins all-time.
After she left, the Hoosiers made it to back-to-back Sweet Sixteen's, including an Elite Eight appearance. She also helped lead Indiana to the first Big Ten Regular Season championship in 40 years.
All of that led to being the highest-drafted player from Indiana in this year's WNBA Draft.
Now with the Indiana Fever, that dedication to the game — and being the best she can be — remains the same.
"She's one of those guards that really loves to be in the gym and you could tell she loves the game," Fever assistant coach Karima Christmas-Kelly said. "So you can see her just wanting to get better and wanting to understand stuff early."
Drafted No. 7 overall, Berger is expecting to come in and not just compete for minutes, but play a significant role. The Fever haven't made the playoffs in six years, winning just a combined 17 games in the last three seasons combined.
Berger knows what it takes to turn around a program — much like she contributed to at Indiana. It's something the Fever coaching staff sees in her, and something they expect her to help with immediately.
"Seeing her develop at Indiana, we know that she's a very hard worker," Assistant Paul Miller said. "She takes this very seriously and she's always going to be a driver of this culture."
So for the rookie, it's all about learning until her first game. And while this has been something Grace Berger has done since she was little, it's something she isn't taking for granted.
"We've had some great workouts with her," Assistant coach Jessie Miller said. "You know she said it in her press conference, she wants to be a sponge and she's just done that.
"Basketball has been pretty much everything to me since I was five years old, and I first picked up a ball in my driveway," Berger said. "I think my biggest goal for training camp is just to be a sponge for those around me … To actually be here and be on this stage with them is something, you know a challenge I'm really looking forward to."
Grace Berger gets her career started on May 7 in the preseason. The regular season for the Indiana Fever begins May 19 at home.
Make sure to follow Hoosier Illustrated on Twitter @Indiana_FRN and YouTube to stay up to date on all of the news, updates and coverage of Indiana University athletics.