Big Ten Notebook: Ohio State's big concern, Michael Penix Jr. returns to the Midwest & B1G-ACC Challenge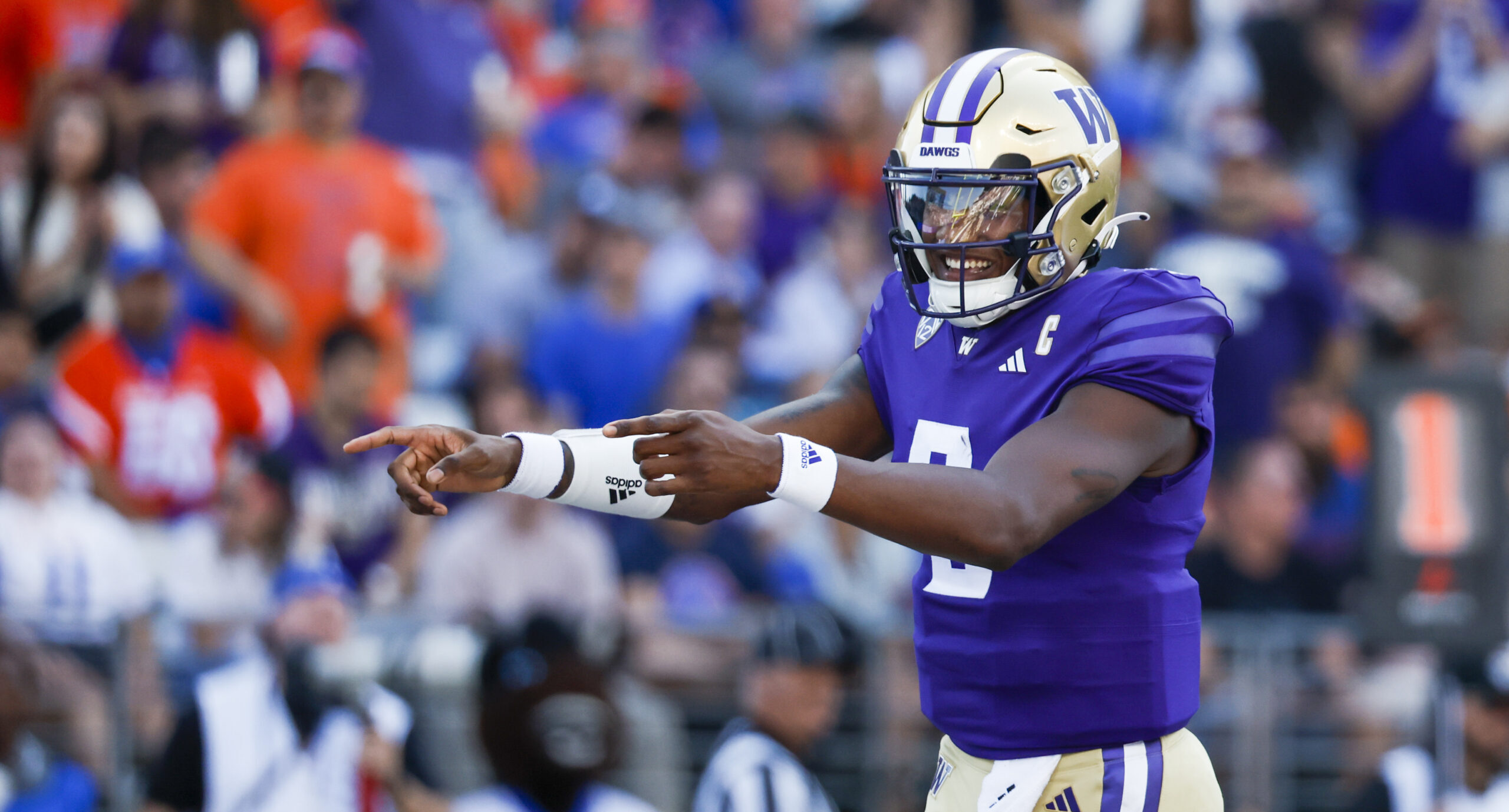 Let's be honest, Week 2 in the Big Ten was far from the most exciting. Sure, we had some solid matchups, but a majority of the outcomes were lopsided. Of the 14 games on the docket, 11 were decided by double digits and only two were decided by a single score (Purdue-Virginia Tech & Iowa-Iowa State).
This weekend could be much better. Eight Big Ten teams are playing Power Five opponents, creating a really interesting slate this weekend.
Let's jump around to some of the bigger storylines heading into Week 3.
Can Ohio State establish the run?
Most people thought the biggest story out of Columbus this week was Ryan Day officially naming Kyle McCord the starting quarterback at Ohio State. While that's certainly important, it's a little smoke and mirrors. It's a temporary distraction from the really important question surrounding the Buckeyes: Can this team run the football?
Ohio State's three most-trusted backs are all capable. TreVeyon Henderson, Miyan Williams and Chip Trayanum should form one of the most ferocious backfields in college football. But the offensive line hasn't provided the type of push necessary to establish an adequate ground game.
Through two games, the Buckeyes are averaging 133 yards per game on the ground. That ranks 12th in the Big Ten and 88th nationally. Ohio State posts a 4.6 yards per carry average … against Indiana and Youngstown State. Woof.
Day made it clear following Ohio State's Week 1 victory over Ohio State, running the football has to be a priority. But if the Buckeyes are struggling this much against Indiana and Youngstown State, how will they handle much more imposing defenses like Michigan and Penn State?
Simply put, Ohio State's offensive line has to get better … and fast. If it doesn't learn to start moving people, the Buckeyes won't have much of a shot of their ultimate goals — beating Michigan, winning a Big Ten title and competing for a national championship.
Michael Penix Jr. is back in Big Ten country
Washington quarterback Michael Penix Jr. is doing a curtain call in Big Ten country this week. The former Indiana gunslinger returns to the Midwest with the Huskies traveling to East Lansing for a showdown with Michigan State.Feels a little bit like 2019, doesn't it?
Penix enters this contest with 859 passing yards and eight touchdown strikes through Washington's first two contests. He'll battle a Michigan State defense that ranks second in the Big Ten currently — but is going through some turmoil because of the Mel Tucker situation.
Saturday's game was going to be intriguing enough with a pair of 2-0 teams going head-to-head in primetime. But Tucker's suspension adds a new element of interest. How will the Spartans respond to all the distractions?
Nebraska's polar opposites
Obviously, an 0-2 start isn't exactly how Nebraska hoped to start the Matt Rhule era. But this is a program that will have to endure some growing pains before it gets the ball rolling. The new head coach said as much in his recent press conference.
"Again, this is kind of what you get when you hire me. It's not going to be a quick fix, it's not going to be overnight," Rhule explained. "We believe it's gonna be built to last, it's going to be built on rock, so we take advantage of these painful, painful moments. Our goal is to say in 3 years we did our best coaching these weeks."
Those "painful, painful" moments probably refers to the eight turnovers (last nationally) and just three redzone attempts (126th nationally) through two games. Without question, the offense has struggled.
The other side of the football? The Huskers have actually looked really solid. Nebraska leads the nation in sacks (11) and three players — Luke Reimer, Nick Henrich and Cameron Lenhardt — have accounted for two or more sacks this season.
Without question, Nebraska's defense can hang with just about anyone in the Big Ten. But the Huskers must clean up the turnover problem (thanks, Captain Obvious).
Indiana has a starting QB
After a two-game sample size, Tom Allen felt comfortable handing the keys of the offense over to Tayven Jackson. The Hoosiers had been rotating between Jackson and Brendan Sorsby through games against Ohio State and Indiana State. With Louisville on the horizon, IU decided to settle on one guy.
Through two games, Jackson has completed 19-of-26 pass attempts for 260 yards, but has yet to throw a touchdown pass. He reached the endzone on the ground in a 41-7 victory over Indiana State on Friday night.
Now that Jackson isn't looking over his shoulder, will it provide a level of comfort? Will he take the field with a little more confidence and play a little freer? Indiana certainly hopes so.
The Hoosiers enter a pivotal three-game stretch, playing Louisville, Akron and Maryland. The goal should be to post a 2-1 record (at least) and get to 3-2 on the year. Indiana needs more production offensively to get the job done.
It's going to be interesting to see how Jackson handles the pressures of being named the full-time starter.
The Big Ten-ACC Challenge (football edition)
Because of the Big Ten's media split with ESPN, we no longer have the Big Ten-ACC Challenge on the hardwood. This year, we get a quasi-resurrection of the event, with six matchups between the two conferences. Here's the lineup:
Virginia (0-2) vs. Maryland (2-0) – 7 p.m. ET, FS1 (Friday night)
Louisville (2-0) vs. Indiana (1-1) – 12 p.m. ET, BTN
Minnesota (2-0) vs. #20 North Carolina (2-0) – 3:30 p.m. ET, ESPN
Northwestern (1-1) vs. #21 Duke (2-0) – 3:30 p.m. ET, ACC Network
Virginia Tech (1-1) vs. Rutgers (2-0) – 3:30 p.m. ET, BTN
Syracuse (2-0) vs. Purdue (1-1) – 7:30 p.m. ET, NBC
Only two of those matchups seem like foregone conclusions. Maryland shouldn't have much trouble with Virginia and Duke will likely take care of Northwestern without much issue. The other four games, though? All feel like a potential coin flip.
It creates an incredibly entertaining schedule for Week 3 of the college football season. Plus, bragging rights are at stake — at least to some degree. Hey, it's all we have now that the basketball version has been taken away.
Quick Hits
Iowa head coach Kirk Ferentz said the NCAA denied the appeal for defensive tackle Noah Shannon, holding up his season-long suspension for gambling on a Hawkeyes athletics team.
Harlon Barnett will serve as Michigan State's interim head coach following sexual harassment allegations against Mel Tucker. Former head coach Mark Dantonio also returns to the sidelines this weekend to help the staff.
Syracuse head coach Dino Babers is a perfect 2-0 against Purdue. The Orange take on the Boilermakers at Ross-Ade Stadium Saturday night.
Matt Rhule hopes to get his first win as Nebraska's head coach this weekend against Northern Illinois. It's the first home game of 2023 for the Huskers
Penn State head coach James Franklin isn't happy with the Big Ten's scheduling model regarding the Nittany Lions' conference openers. "We travel to Illinois, which is a tradition around here, opening on the road here in the Big Ten. We love it," he said, tongue-in-cheek.
Saturday marks the final of Jim Harbaugh's three-game, self-imposed suspension. Michigan hosts Bowling Green at the Big House. Harbaugh returns next week for the Wolverines' Big Ten opener against Rutgers.
Make sure to follow Hoosier Illustrated on Twitter @Indiana_FRN, Facebook and YouTube to stay up to date on all of the news, updates and coverage of Indiana University athletics. You can also listen to the Talking' Bout the Hoosiers podcast on Spotify.