2025 four-star guard Braylon Mullins discusses Indiana basketball visit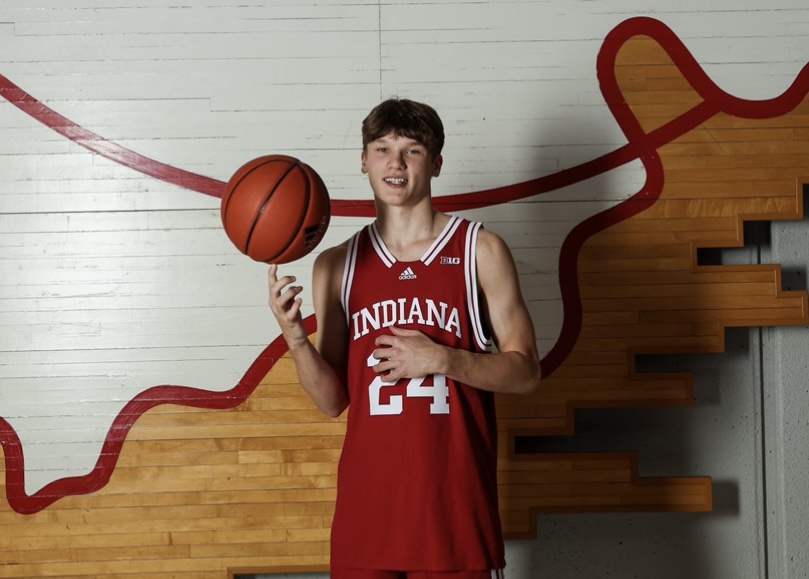 Indiana basketball is at the halfway point in their busy month of recruiting with their latest on-campus visit coming over this past weekend with 2025 four-star, in-state guard Braylon Mullins taking an unofficial visit. During that visit, it was announced that Mike Woodson and the Indiana basketball staff extended an offer to Mullins. 
Mullins, who attends Greenfield-Central, will be heading into his junior season as one of the top in-state prospects regardless of class. During his sophomore season, Mullins averaged 16.9 points, 5.2 rebounds, and 2.6 steals per game. He also shot 58% from the field including 47% from three and had a 77% shooting rate at free throw line.
He was recently bumped to a four-star prospect and ranked No. 94 in the 247Sports composite 2025 rankings. Indiana basketball assistant coach Brian Walsh and Team and Recruiting Coordinator Jordan Hulls have been the leaders in his recruitment. He also plays with Indiana Elite 2025 on the Adidas 3SSB circuit alongside fellow 2025 Indiana basketball targets Trent Sisley, Dezmon Brisoce and Malachi Moreno,
Mullins will also be visiting Purdue, Notre Dame and Cincinnati in the near future. He also plans to make a return visit to Indiana during Hoosier Hysteria next month.
Mullins spoke with HoosierIllustrated.com to break down what stood out with the Indiana basketball program, Mike Woodson, reaction to the visit, how he would fit in Indiana's system and much more. His father, Josh, added some extra feedback of the visit as well.
Look: Pictures of 2025 four-star, in-state guard Braylon Mullins from Indiana basketball visit
Below is the full Q&A with Braylon Mullins.
Q: Overall, what was your thoughts on how the Indiana basketball visit went and the key takeaways that really stood out to you? 
Braylon Mullins: "The visit was great, coaching staff presented everything well. They have a beautiful campus, and their athletic program was even better! What stood out to me was the unique style of play Coach Woodson has at IU and I feel like that's what makes them a great program. Overall, I had a great time and I can't wait to go back for Hoosier Hysteria."
Mullins' father: "I mean campus is unbelievable (especially in the fall). Braylon really liked that. I mean there is so much for an athlete there… they have everything at their side. Whether that's food, treatment, weight room… etc. Just seems like everyone involved from coaching staff to managers helping a kid out everyday…. They just have to show up and 'hoop,' I was super impressed."

Q: What about Indiana basketball's style of play stands out to you the most? Do you see a potential fit there? 
Braylon Mullins: "I feel Coach Woodson takes pride on the defense of end, and as I watched practice that's what really stood out. Defense wins games! But definitely with all the ball screen action, and my capability of shooting, would help me fit with their style of play."
Q: Talking more with Mike Woodson – what was it like meeting him and what about him stands out as to you as a player and then as a parent?
Braylon Mullins: "It was great, hadn't talked to him before the visit. He's a great person along with a great coach."
Mullins' father: "I thought Woody was great…. First time I've talked to him. I thought him and staff did their homework on Braylon and had a great presentation for him. We watched practice for about an hour and love how he teaches the game. He gets after the kids and then loves them at the same time. Breaks them down, builds them back up"
Q: What does it mean to get an offer from Indiana basketball? 
Braylon Mullins: "I'm definitely excited that I got the offer, but also need to stay humble and continue to get better. Very grateful for the opportunity!"   
Q: For the Indiana basketball fans that have not seen you play, what can you tell Hoosier Nation about your game? 
Braylon Mullins: "People know me for being a shooter. I feel like I've gotten better on the defense of end and also I can jump a little bit."
Q: What schools are in the most contact with you the most currently? 
Braylon Mullins: "IU, Purdue, Notre Dame, Cincy, Butler, Northwestern, Illinois, Iowa, Ohio St, and Virginia Tech"
Make sure to follow Hoosier Illustrated on Twitter @Indiana_FRN, Facebook and YouTube to stay up to date on all of the news, updates and coverage of Indiana University athletics. You can also listen to the Talking' Bout the Hoosiers podcast on Spotify.