Patience and hard work paying off for Jacob Mangum-Farrar as he prepares to lead Indiana football defense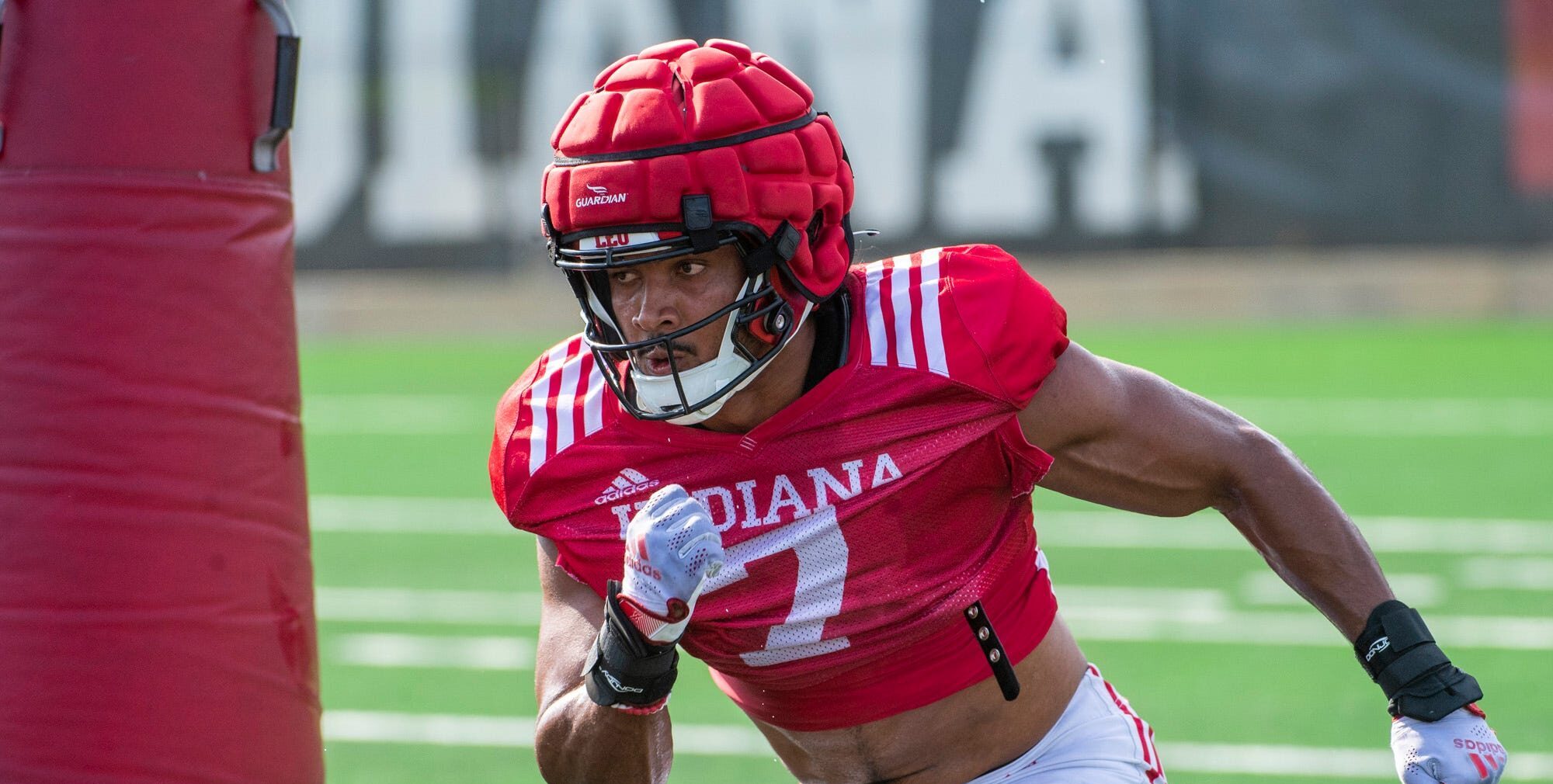 BLOOMINGTON, Ind. — The Indiana football program lost nine of its top 10 leading tacklers from the 2022 season, leaving a gaping hole in the defensive unit. So, with numerous newcomers — either through the transfer portal or high school class — and inexperienced players looking to step into large roles, more leadership was needed in order to take a step in the right direction.
That leadership and experience came when Stanford linebacker Jacob Mangum-Farrar announced his commitment to Indiana. With 26 games and 11 starts under his belt, Mangum-Farrar was looking for a fresh start as a graduate transfer.
Despite having the experience to come in and demand a room immediately, Mangum-Farrar knew that he was also walking into a defensive room — and linebacker core — that returned Aaron Casey, the leading tackler from a season ago.
Mangum-Farrar made it known he was here to lead but found other ways to do so to earn the respect of his teammates.
"Walking in day one in January, he wasn't trying to be the assertive guy, he wasn't trying to be the dominant personality in the room. He understood where Ace (Aaron Casey) was. 'Let me figure out the dynamics. Let me figure out what I can contribute. Let me figure out what I need to do just playing linebacker'," Indiana football co-defensive coordinator Chad Wilt said.
"Ace is a returning guy. What's the leadership dynamics? Let me come in, prove myself, handle my business and look like a pro, the way I need to. As he's figured that out, now it's, 'This is where I can step in, this is where I can assert myself more. This is the value I can provide to the room, to the team' … Seeing him blossom from June to now from that leadership standpoint, it's been off of the charts."
That patience and hard work transitioned into Mangum-Farrar being named the starting MIKE linebacker for the Hoosiers — otherwise known as the leader and play caller of the defense.
"Jacob is a guy that I trust," Indiana football head coach Tom Allen said. "Big and physical. He can run. Intelligent young man … a guy that has come in here and earned the respect of his teammates by how hard he works and how much time he has put in the film room and how much he studies and prepares. That's a position that has to run the defense … Jacob is a guy who manages a lot of respect from his teammates because of how he prepares … he has the ability to do it, has a lot of experience and played a lot of football in the Pac 12 and excited to have him here with us. "
"He also has used his voice in the position rooms, and the defensive unit room and the team room pulling guys together," Wilt added. "He's proving himself to himself but also proving to others he's worthy and capable of having that voice and they're listening."
Aaron Casey played the MIKE linebacker a season ago for Indiana football. While he succeeded in that role, his natural position is the stinger — a position that because of Jacob Mangum-Farrar's emergence, will allow Casey to shift back to in 2023.
"He played MIKE last year. So, he's been a big help in making sure I know my checks and stuff like that," Mangum-Farrar said of Casey. "He's playing stinger this year, so having him as a co-pilot has been super helpful. It's great to lean on him because I have confidence in his ability and his knowledge."
"Ace has played multiple positions," Allen added. "But I think he's more natural at stinger, which is great for him to be (back) at that spot."
While it won't be an easy task, everyone on the defense has full faith in Mangum-Farrar.
At the end of the day, all of the studying and hard work — both mentally and physically — are starting to pay off for the first-year Hoosier. He'll be put to the test immediately, however, going up against the No. 3 Ohio State Buckeyes on Sept. 2.
"He came in, just put his nose to the grind, went to work, just kept developing," Wilt said. "You've seen his body develop and grow. As his body has grown and developed, his comfort in the scheme has grown and developed."
Then again, this is what Jacob Mangum-Farrar wanted. Hard-nosed, physical, talented football in the Big Ten.
"Because the Big Ten is big-boy football, I'm playing at a heavier weight," Mangum-Farrar said. "It's more physical, which I like."