Montverde Academy trio are 'key visits' for Indiana basketball, which could jumpstart 2024 recruiting class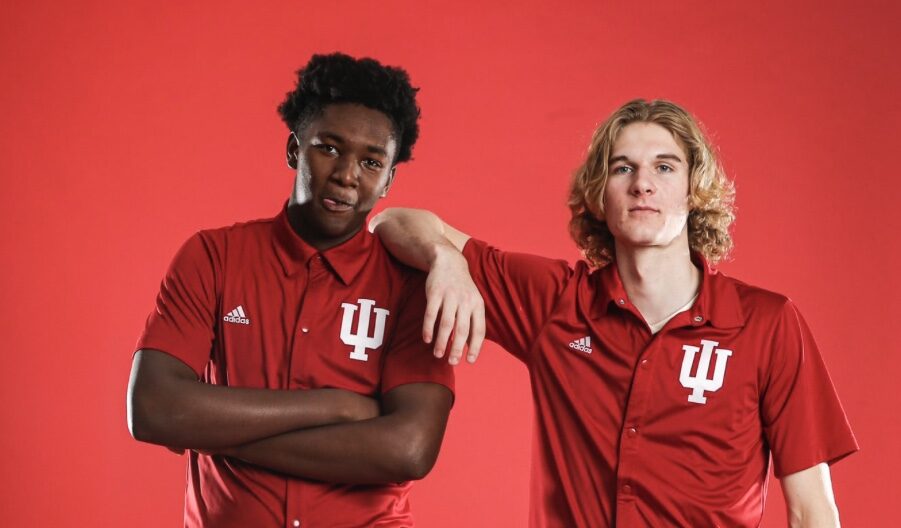 Even though most of the focus is going to go towards Indiana football for the month of September, when it comes to recruiting, Indiana basketball is facing one of their busiest months in the calendar year.
In total, Mike Woodson and Indiana basketball are looking at over 10 high school prospects coming to Bloomington for on-campus visits, both officially and unofficially, with the majority of them taking visits at the same time.
For Indiana basketball, arguably the most important part of the month comes September 8th weekend as they host three, key 2024 targets….five-star wing Liam McNeeley, five-star center Derik Queen and four-star guard Curtis Givens. All three players come from the prestigious Montverde Academy (FL) program, which the Hoosiers have an obvious strong relationship with both Jalen Hood-Schifino and Malik Reneau being produced there.
While Indiana has zero players committed for the 2024 class, the key visits of McNeleely, Queen and Givens on September 8th weekend could be the much needed jumpstart the Hoosiers.
"Talk about pressure! Mike Woodson will have his work cut out for him come Sept. 8 when he hosts three of the top prospects in the country, who just happen to be teammates on what will most likely be the top high school basketball team in the country," said Rivals Basketball Recruiting Staff Writer Jason Jordan when discussing key visits in the coming weeks. "On the one hand, said pressure should subside knowing that the teammates love the idea of teaming up at the next level, hence the scheduling collaboration.
"Still, knocking it out of the park on interactions, presentations and vibe is no easy feat, especially when you know parents and players are having backchannel conversations/critiques real time. If Woodson can make the sell stick, he could be looking at potentially a top-three recruiting class."
All three players will be on official visits that weekend. This will be the second official Indiana visit for both Liam McNeeely and Derik Queen while the first time Curtis Givens will be on campus.
Both McNeeely and Queen has been looked at as priority visits for Mike Woodson and Indiana basketball for quite sometime now. Both were impact players for Montverde Academy last season. McNeeely averaged 13.7 points and was second in the NIBC averaging 2.2 made 3s per game whereas Queen averaged 11.8 points, 6.7 rebounds and 2.2 assists while shooting 61 percent from the field.
Both are consensus top-10 players in the 2024 class.
"Indiana is obviously a historic basketball state, and the fans in Indiana almost worship basketball," McNeeley previously told HoosierIllustrated.com. "Love from the fans make me feel wanted."
"They emphasized me being a bigger guard and being versatile. Coming off ball screens or posting up smaller defenders and moving the ball in transition." McNeeley said.
Curtis Givens, on the other hand, is a relatively newer Indiana basketball target. He was offered by the Hoosiers earlier this spring but did already list them in his final  7.
Givens, a Memphis, Tennessee native, transferred to Montverde Academy (Fla.) last season. In his first year at Montverde Academy, Givens played more of reserve role and averaged 4.0 points and 2.2 assists per game in 14.7 minutes a game. He also shot 36% from three.
He is ranked No. 87 in the 247Sports class of 2024 Composite Rankings, No. 99 in the 2024 Rivals150, and No. 60 in the On3 2024 Top Basketball Recruits.
Givens has good size at the lead guard spot at 6-foot-3. He's not going to blow you away with his athleticism but his pace and understanding of an offense is what separates him. Givens has the ability to play both on and off of the ball, but he's best making plays for himself and his teammates with the ball in his hands. He is very effective shooting off of the catch and the dribble and that really opens up the rest of his game. He has also shown a really good ability to utilize ball screens to get into the paint.
As a bigger guard, Givens looks at how Indiana used former Montverde Academy product Jalen Hood-Schifino and the success he had in his one season under Mike Woodson.
"The conversation I had with Coach Ya (Yasir Rosemond) was a very good conversation," Givens told HoosierIllustrated. "He was telling me how much he loves my game and I remind him of Jalen Hood-Schifino. And he was also saying they have a good history of good guards and how they let their guards run the show. It's really ideal for a point guard to be in that system with being given the keys to run the offense."
With the guys that Mike Woodson and the Indiana basketball staff are recruiting, a top-five class ranking is not out of the question.
"When I took the job, I made it clear to my coaches that we deserved to sit at the table with the best players," Woodson told reporters this summer. "We kind of squabbled a little bit early on because they didn't think we were in that position to be able to do that.
"I thought we were based on Indiana basketball and the history of it. So, I didn't accept no for an answer and I told 'em (my staff) that I wanted to be able to sit at the table with the best players and compete with the Kentucky's, the Kansas', the Duke's, teams like that."
Make sure to follow Hoosier Illustrated on Twitter @Indiana_FRN and YouTube to stay up to date on all of the news, updates and coverage of Indiana University athletics.