Indiana football announces Friday night kick for week two matchup vs Indiana State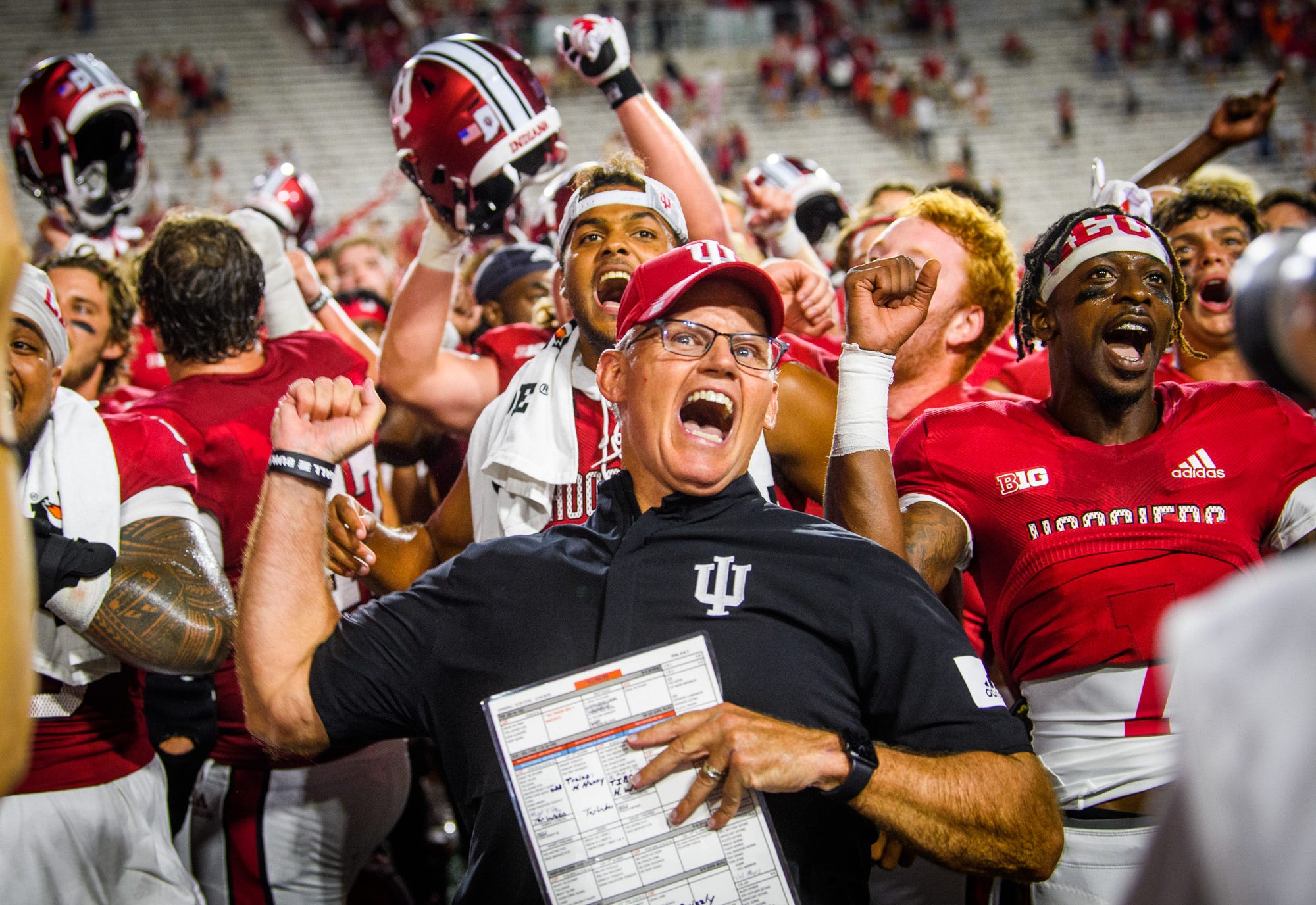 Indiana football announces that its home game against Indiana State will be moved to September 8, making it a Friday night kick. The TV designation and game time will be announced at a later date.
This is the second year in a row that the Indiana football program will host a Friday night matchup.
Below is the release from Indiana Athletics.
BLOOMINGTON, Ind. – For the second straight season, the Indiana football program will host a contest on a Friday.  The Hoosiers will welcome Indiana State to Memorial Stadium on Friday, September 8. Kick time and television designations will be announced at a later date.
The Hoosiers hosted Illinois on Friday night to open the 2022 campaign in a 23-20 come-from-behind overtime victory at The Rock. Indiana is 3-2 all-time in Friday contests, with the other two wins during the 2005 (Central Michigan) and 1987 (at Minnesota) seasons.
The full 2023 Indiana football schedule is below (home games in bold):
Sep 2       Ohio State
Sep 8       Indiana State (Friday)
Sep 16     vs. Louisville (Lucas Oil Stadium; Indianapolis)
Sep 23     Akron
Sep 30     at Maryland
Oct 14     at Michigan
Oct 21     Rutgers
Oct 28     at Penn State
Nov 4      Wisconsin                                          
Nov 11    at Illinois
Nov 18    Michigan State
Nov 25    at Purdue
Follow Hoosier Illustrated on Twitter @Indiana_FRN to stay up to date on all of the news, updates and coverage of Indiana University athletics. 
Indiana football announces Eastern Michigan as opponent on future schedule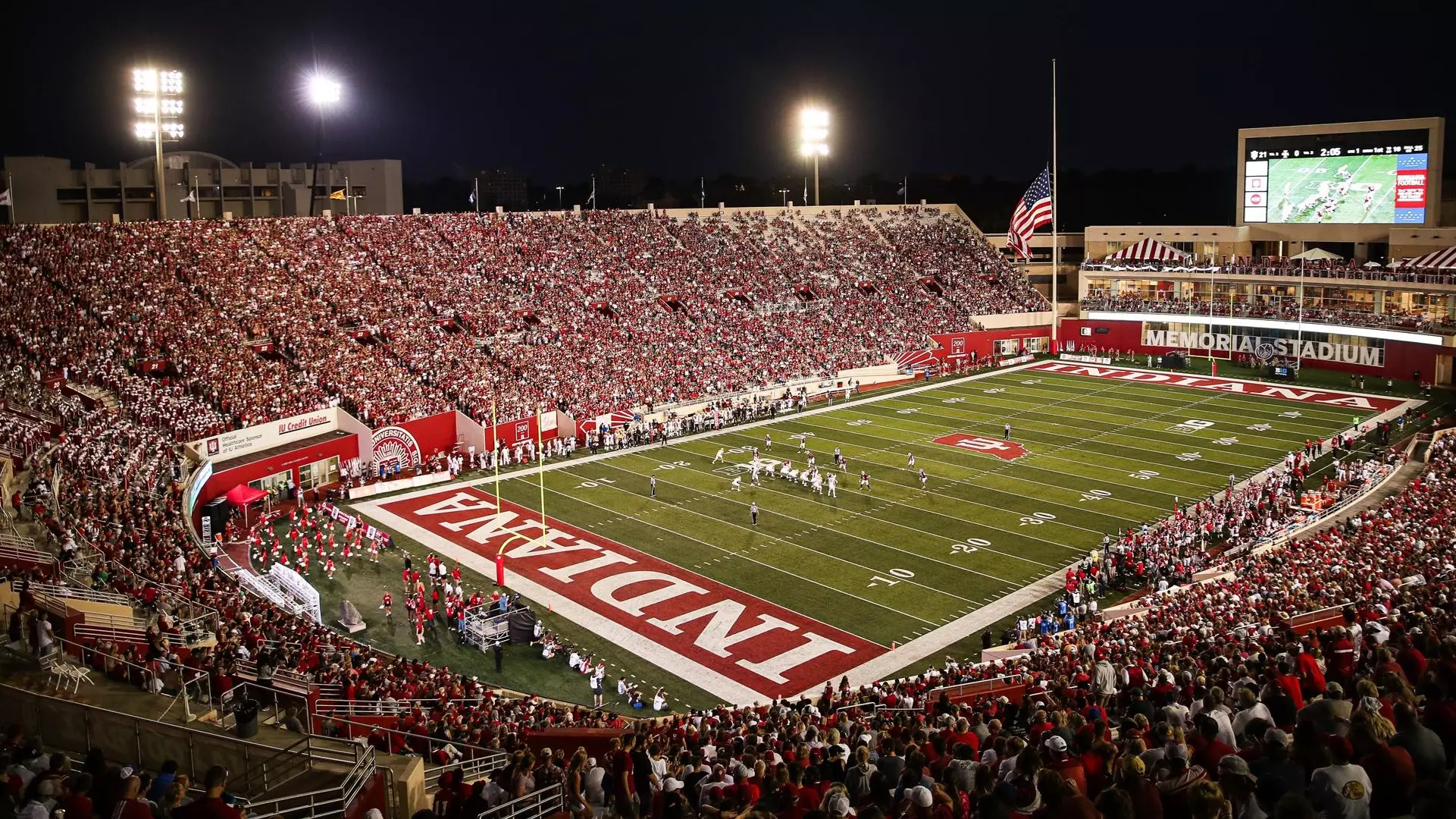 The Indiana football program has a new opponent on its future schedule. On Wednesday, it was announced that Indiana and Eastern Michigan had scheduled a future non-conference game in 2028.
The game will take place in Bloomington.
The two programs have only played one other time, back in 1990. It was a win for Indiana, 37-6.
Below is the full release from Indiana football.
BLOOMINGTON, Ind. – The Indiana University and Eastern Michigan University football programs announced on Wednesday (May 24) afternoon that the teams will play in Bloomington on Sept. 9, 2028.
IU defeated EMU, 37-6, at Memorial Stadium on Sept. 29, 1990, in the only meeting between the two programs.
Below are the Hoosiers future non-conference opponents:
2023
9.8 – Indiana State
9.16 – vs. Louisville @ Lucas Oil Stadium
9.23 – Akron
2024
8.31 – FIU
9.7 – at Louisville
9.21 – Charlotte
2025
8.30 – Old Dominion
9.6 – Louisville
9.13 – Indiana State
2026
9.5 – Colorado State
9.12 – Ball State
9.26 – at Connecticut
2027
9.4 – at Virginia
9.11 – Indiana State
2028
9.9 – Eastern Michigan
9.16 – Virginia
2029
9.15 – Western Kentucky
2030
8.31 – at Notre Dame
2031
9.27 – Notre Dame
Make sure to follow Hoosier Illustrated on Twitter @Indiana_FRN and YouTube to stay up to date on all of the news, updates and coverage of Indiana University athletics. 
Indiana Football: Jaylin Lucas headlines six Hoosiers on Athlon Sports All-Big Ten teams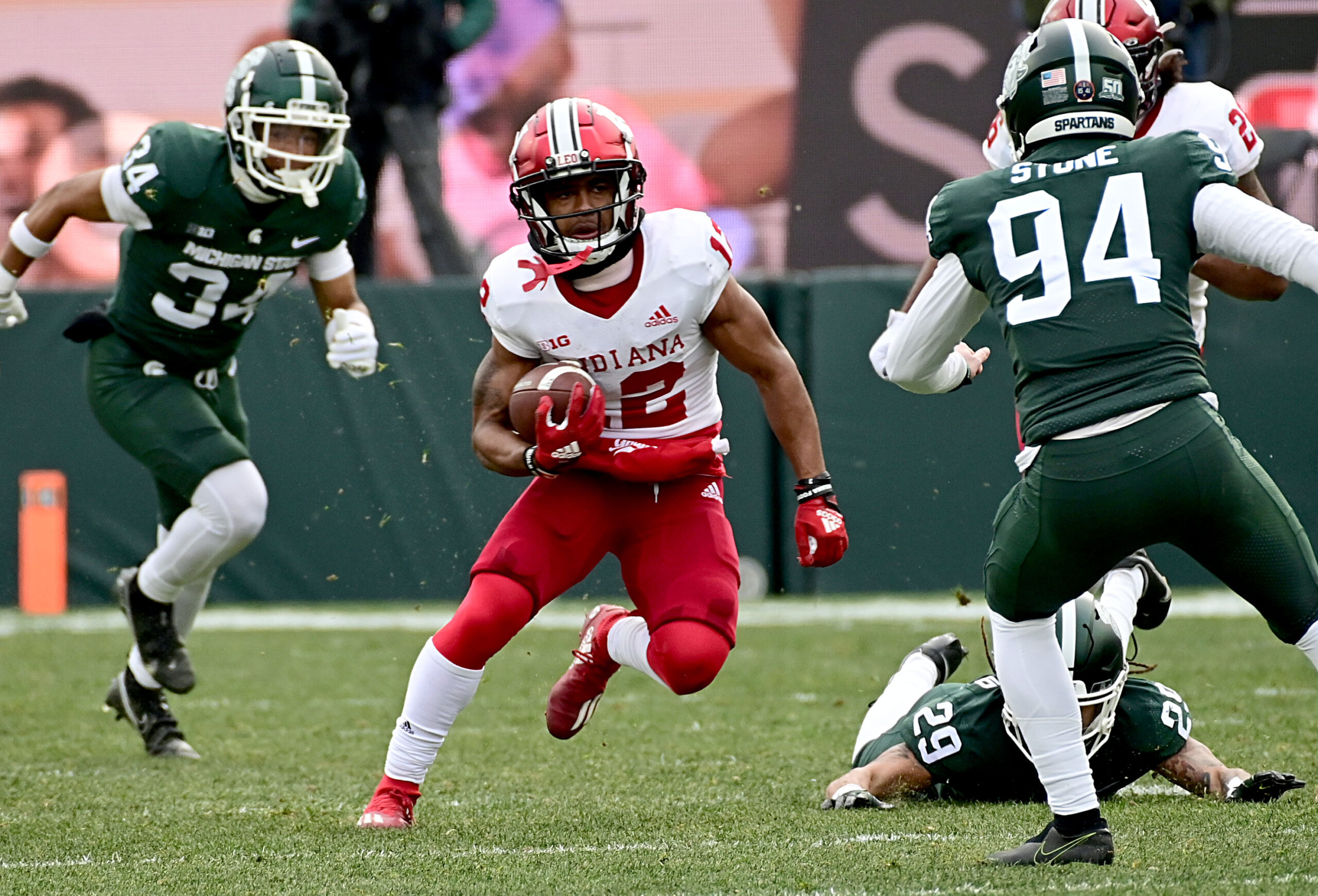 The All-Big Ten teams from Athlon Sports were announced on Monday and numerous Indiana football players received an honor.
The headliner from Indiana was Jaylin Lucas. The All-American kick returner was named a First-Team Specialist by Athlon Sports. Lucas comes into the 2023 season after totaling 591 kick return yards last season. He averaged 28.1 yards per return which ranked No. 4 nationally.
He added 271 rushing yards and 82 yards receiving to total 994 total all-purpose yards on the season.
Lucas was also named a Preseason Walter Camp All-American.
The speedster has been terrific already this offseason, having numerous standout plays in spring practice.
"He had two of the greatest runs I've seen in my life. It's a shame they were behind closed doors," IU offensive coordinator Walt Bell said. "He's done a great job mentally of doing the things we need him to do … He's playing all over the field … he's now really become a true multi-purpose tool. We still have to continue to evolve and develop those tools, but if he gets it — enough time, we will be in every game … he was just making a lot of people miss, fall down. He has a really special gift and one of the better ball in hand players I've been around."
There were two offensive players on the three teams. Wide receiver Cam Camper was a Third-Team All-Big Ten selection from Athlon Sports. He is coming off of a terrific season in his first year in Bloomington. Despite playing in just seven games, Camper finished 2022 with 46 catches for 569 yards and two touchdowns.
He is coming off of a torn ACL.
His biggest game was the season-opener against Illinois. He had 11 catches for 156 yards while defended by Devon Witherspoon. Witherspoon was just selected No. 5 overall in the 2023 NFL Draft. 
The other member of one of the offensive teams was offensive lineman Matthew Bedford. He was named to the Fourth-Team.
Bedford missed the final 11 games last season after suffering a torn ACL in the season-opener. Bedford was an All-Big Ten Honorable Mention selection in 2021.
Defensively, Aaron Casey was named to the Second Team. Casey is coming off of a fabulous 2022 season in which he led the Indiana football program in tackles. In total, he finished with 86 tackles, 10.5 tackles for loss, 1.5 sacks and two forced fumbles.
Indiana lost nine of its top 10 leading tacklers from a season ago. Aaron Casey is the lone returner. So, a big 2023 is in store for the linebacker.
On the All-Big Ten Third-Team is Western Michigan transfer Andre Carter.
Carter arrives at Indiana after totaling 70 tackles, 13.5 tackles for loss, seven sacks, two forced fumbles and an interception last season.
IU head coach Tom Allen had high praise for the senior.
"He is the biggest, most physical one we've had here since I've been here. Very, very disruptive … Got to get him in elite shape. He is not there yet."
The final Indiana football player on an All-Big Ten team is punter James Evans, who is labeled a Third-Team Specialist.
Indiana is looking to improve on a 4-8 season in 2022.
Make sure to follow Hoosier Illustrated on Twitter @Indiana_FRN and YouTube to stay up to date on all of the news, updates and coverage of Indiana University athletics. 
Indiana Football: Tom Allen dips in latest CBS Sports' 2023 coaching rankings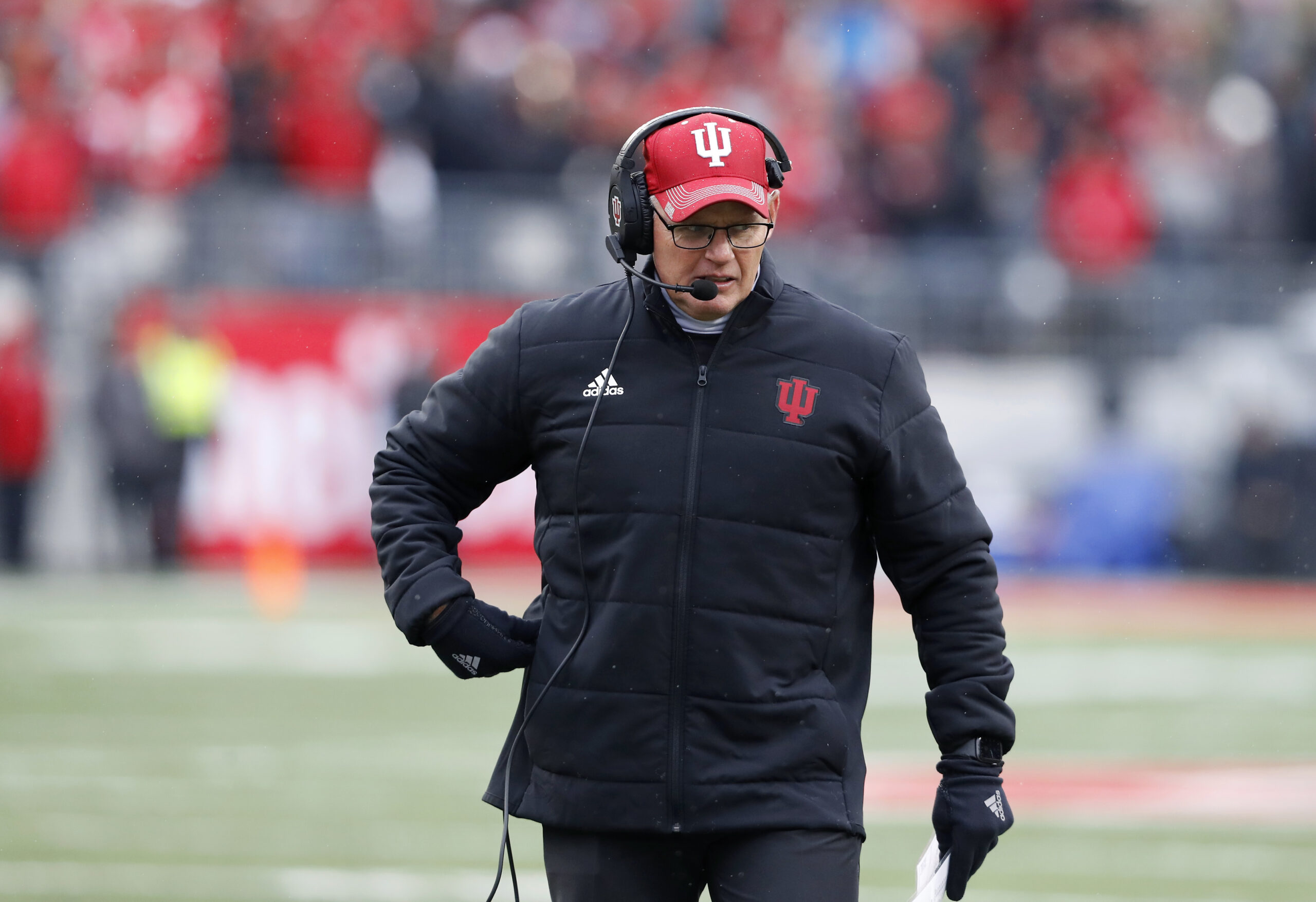 After another lackluster season in Bloomington, the Indiana football program is looking to bounce back in a critical 2023 season. Head coach Tom Allen looks to take the program back to what it was three years ago and away from the past two seasons.
CBS Sports released its yearly list of the best coaches in the country on Wednesday and Allen dipped in the rankings once again.
Allen, who was ranked No. 40 ahead of the 2022 season, fell to No. 62 this year.
"It's been a long fall for Allen," CBS Sports' Tom Fornelli wrote. "He rocketed up the charts after Indiana went 14-7 over the 2019 and 2020 seasons, reaching as high as No. 20 in our 2021 rankings. Now, he's down to No. 62 after going 6-18 the last two years."
Indiana went 4-8 in 2022, which followed up a 2-10 season in 2021. So, in the past two seasons the Indiana football program has just a 6-18 record. That comes after a two year stretch with a 14-7 record.
A large reason for the recent struggles has been the lack of attention to detail and lack of mental and physical toughness. 'Toughness' — in both aspects — is the messaging Allen and the Indiana football staff are focused on portraying to the team this offseason.
"I feel like we made progress. I really wanted to develop our toughness as a team. That's a huge priority," Allen said during Spring practice. "… It's all going to be fourth quarter driven. It's all going to be how we're going to finish in the fourth quarter from a physical perspective. To be able to dominate your opponent in that situation. Win those third downs, win those critical downs. And you have to have an expectation that I don't get tired. They're the ones that get tired. That has to be built, and that's over the summertime."
The Hoosiers are looking to rebuild its roster from the past few years. It will be around a young quarterback and a new defensive play caller.
Time will tell whether or not it'll work and be effective. Regardless, Tom Allen is excited about where his team is at and looking ahead to a strong summer and fall for Indiana football.
"It's been a very, very positive spring," Allen said. "Excited about where we're at. Just have a lot of work ahead of us."
Make sure to follow Hoosier Illustrated on Twitter @Indiana_FRN and YouTube to stay up to date on all of the news, updates and coverage of Indiana University athletics.