Indiana Basketball: AAU Live Period II – Live blog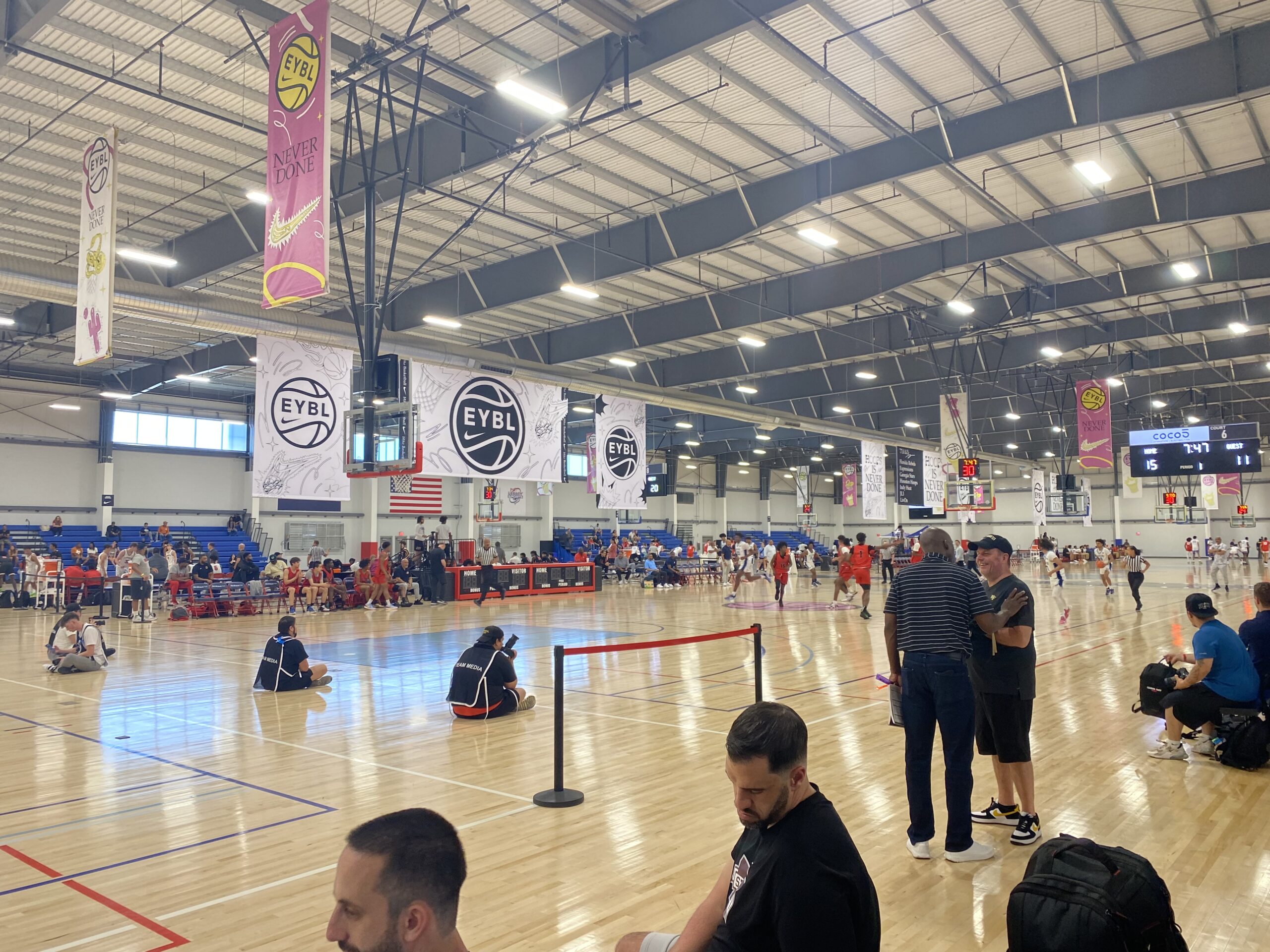 The AAU season is in full swing and this is the second live evaluation period of the season and the Indiana basketball staff is on the road.
Some of the major events this weekend include Nike EYBL in Phoenix, AZ, Adidas 3SSB in Bryan, TX and Under Armor in Rock Hill, SC.
The expectation is that Indiana basketball assistant coaches Kenya Hunter, Yasir Rosemond and Brian Walsh will all be on the road. Team and Recruiting Coordinator Jordan Hulls is expected to take head coach Mike Woodson's spot on the road as he recovers from knee surgery.
Brian Walsh is at EYBL while Yasir Rosemond is at 3SSB. No word on Kenya Hunter as of yet.
HoosierIllustrated.com's Kyler Staley will be in Phoenix, AZ for Nike EYBL Session 2 checking out the Indiana targets on that circuit.
Some key EYBL prospects include: 2024s Liam McNeeley (Florida Rebels), Marcus Allen (Florida Rebels), Dylan Harper (NY Rens), Tyler Betsey (NY Rens), Caleb Williams (Team Takeover), Curtis Givens (MoKan Elite) Jaeden Mustaf (Boo Williams), Austin Swartz (Boo Williams) and 2025s Jalen Haralson (Indy Heat), Trent Sisley (Indy Heat), Jasper Johnson (Team Thad), Meleek Thomas (NH Lightning), Trey McKenney (Meanstreets),  Jacob Wilkins (The Skill Factory), and others.
Key Indiana targets in 3SSB include: 2024s Flory Bidunga (Indiana Elite), Travis Perry (Indiana Elite), VJ Edgecombe (SE Elite), Rakease Passmore (Garner Road), Annor Boateng (Arkansas Hawks) and 2025s Malachi Moreno (Indiana Elite), Mikel Brown (SE Elite) and others.
Games for EYBL begin later this afternoon.
Below are live updates of some of the key games and notable Indiana basketball targets.
Saturday
8:00 am – 17u New York Rens (Dylan Harper, Tyler Betsey) vs Team Takeover (Caleb Williams)
First game of the evening will be Indiana targets Dylan Harper and Tyler Betsey taking on fellow Indiana target Caleb Williams. Williams will once again come off the bench for Takeover.
Harper starting off real aggressive here. Attacking the basket and it up to 4 points. Much more active than the first game last night.
Williams missed his first shot attempt of the game. Had an open look on the corner but couldn't convert. However, he did follow it up a few plays later with an aggressive attack to the rim and got fouled. He went 2-of-2 at the line. He has also looked really sharp on the defensive end guarding former Indiana target Nassir Cunningham.
Man, offensively Williams is about what you would expect not being extremely active but defensively he has been spectacular.
At the half: Takeover 28, NY Rens 20. Harper is up to 9 points while Betsey and Williams have just 2.
Williams would continue to be great on the defensive end in the second half holding Cunningham to zero points. Williams himself had 4 points.
Dylan Harper would explode to 18 points on 8-of-16 shooting. Tyler Betsey was held to just 2 points he got at the line and was 0-of-6 from the field. Was a much different player than his great game from last night.
Final: Team Takeover 60, NY Rens 39
9:30 am – 17u Florida Rebels (Liam McNeeley, Marcus Allen) vs Team Thad (Derrion Reid, Jasper Johnson)
Reminder: Liam McNeeley is out for the weekend due to a a sickness. He did not travel with the team.
Finally able to get a good look at one of the newest Indiana targets, 2024 forward Marcus Allen. Real athletic player. Allen got on the board with a really smooth pick and pop jumper.
Jasper Johnson is also another intriguing prospect with his length as a lead guard. Has really good court vision and can be a play maker. His first point of the game comes from a DEEP pull-up, back-to-back threes.
Derrion Reid has not had good start thus far. Missed his first three shot attempts but did just get a tough offensive rebound which resulted in him getting to the line but hit just one 1-of-2.
At the half: Team Thad 36, Florida Rebels 27. Jasper Johnson and Marcus Allen both have 6 points while Reid is at 4 points.
Allen starts off the half with a great move past the defender that resulted in a foul on his jumper. Really quick with the ball and can be a playmaker with his explosiveness.
Becoming a bigger and bigger fan of Johnson s the game goes on. Has been solid on the defensive end and uses his lane to cause problems in the passing lane. He is not overly quick right now but his ball-handles for his long arms are really impressive. If he can get more explosive, watch out. Up to 11 points after knocking down his third three.
Allen has a great ability to draw contact. Would like to see him be a little more aggressive in doing so.
Jasper Johnson led all Indiana targets with 17 points on 7-of-11 shooting including 3-of-5 from behind the arc. Also added 4 assists and 3 rebounds. Marcus Allen finished with an 11 point, 10 rebound double-double.
Final: Team Thad 77, Florida Rebels 66
11:00 am – 17u Indy Heat (Trent Sisley, Jalen Haralson) vs PSA Cardinals
Tuning into the second half of this game. Indy Heat leads 29-27 at the half. Jalen Haralson has 5 points on 1-of-3 shooting while Trent Sisley is scoreless missing his 4 attempts.
Haralson has been on the bench for the majority of the second half with four fouls. Sisley has not been able to find anything at the moment. Still scoreless at the end of the 3Q. Tied at 41.
Haralson checked back near the beginning of the 4Q. Almost immediately got to the line and went 1-of-2. Haralson is by far one of the better guards at drawing foul that I have seen.
After a tight game, PSA has extended the lead to 54-44 with 3:30 left.
Jalen Haralson finished with 7 points on 1-of-5 shooting while Trent Sisley ended with 2 points, which he got from the free throw line.
Final: PSA 61, Indy Heat 49. 
12:30 pm – 17u Boo Williams (Jaeden Mustaf, Austin Swartz) vs Expressions
Checking out the electric backcourt of Jaeden Mustafa and Austin Swartz.
First impression of Swartz is he has a nice feel for the game. Really flows well with what the offense is giving him and can get a shot off with any amount of space.
Mustafa gets on the board with hitting 1-of-2 attempts at the line. Real athletic player that can get physical at times. Real bouncy too.
Jumpers not falling for both Mustafa and Swartz. They are doing a good job of creating their own looks but shots just aren't falling. One thing is for sure about Swartz, he is not afraid to shoot as he is already at 10 attempts with 3:40 left to go in the first half.
At the half: Expressions 35, Boo Williams 31. Swartz with 7 points on 3-of-12 shooting and Mustaf up to 3 points on 1-of-5 shooting.
Mustaf playing a little more not he ball to start off the half where he seems a bit more natural at. He is able to create better and proved that with getting a bucket. Swartz was def given the green light this game, just has not gotten a ton to fall however.
Friday
4:00 pm – 17U MoKan Elite (Curtis Givens) vs LIVON
Brian Walsh is here to watch Givens.
Givens is an athletic built guard that knows how to space the floor. Started off real hot knocking down his first two threes. Has a real nice side-step jumper.
Really controls the pace. More on ball than off.
Givens started off the second half with a corner three. Really cannot give him much open space if you are a defender. He is lights out.
Through three quarters, Givens is up to 13 points. Has just been really efficient.
Givens finished with 16 points on 5-of-11 shooting.
5:30 pm – 17U Meanstreets (Trey McKenney) vs JL3
Brian Walsh is watching both Trey McKenney and Meleek Thomas.
At the half, McKeeney has really struggled. Just 2 points on 1-of-9 shooting. Taking really poor jumpers and is lacking some intensity.
5:30 pm – 17U NY Rens (Dylan Harper, Tyler Betsey) vs NJ Scholars 
Betsey has looked really sharp to start off here. Up to 6 points. Real strong, athletic build.
Brian Walsh is also watching Dylan Harper and Tyler Betsey. Harper has been pretty quiet thus far.
5:30 pm – 17U NH Lightning (2025 Meleek Thomas) vs Nightrydas Elite
Brian Walsh is watching both Trey McKenney and Meleek Thomas.
Thomas has been a little inconsistent in the first half. Up to 4 points so far.
Thomas ended with 9 points. Wasn't the best shooting performance but his ability to carve up the defense to the get to the rim was real impressive.
7:00 pm – 17U Georgia Stars (2025 Caleb Wilson) vs The Family 
Wilson has been VERY impressive to start off here. Up to 4 points and is using his elite athletic ability. Very good ball handles for his size and is slowly starting to create his own shots.
At the half, Wilson is already up to 12 points on 5-of-8 shooting. His jumper has been real solid but his passing ability it another standout for him. Would like to see him attack a little more.
Wilson finished with a double-double of 16 points and 10 rebounds. Motor is an issue right now but the skill and athletic ability is there.
7:00 pm – 17U Florida Rebels (Liam McNeeley, Marcus Allen) vs City Rocks
Liam McNeeley is not playing this weekend due to a sickness.
Make sure to follow Hoosier Illustrated on Twitter @Indiana_FRN and YouTube to stay up to date on all of the news, updates and coverage of Indiana University athletics. 
2024 top-25 wing Tyler Betsey sets Indiana basketball visit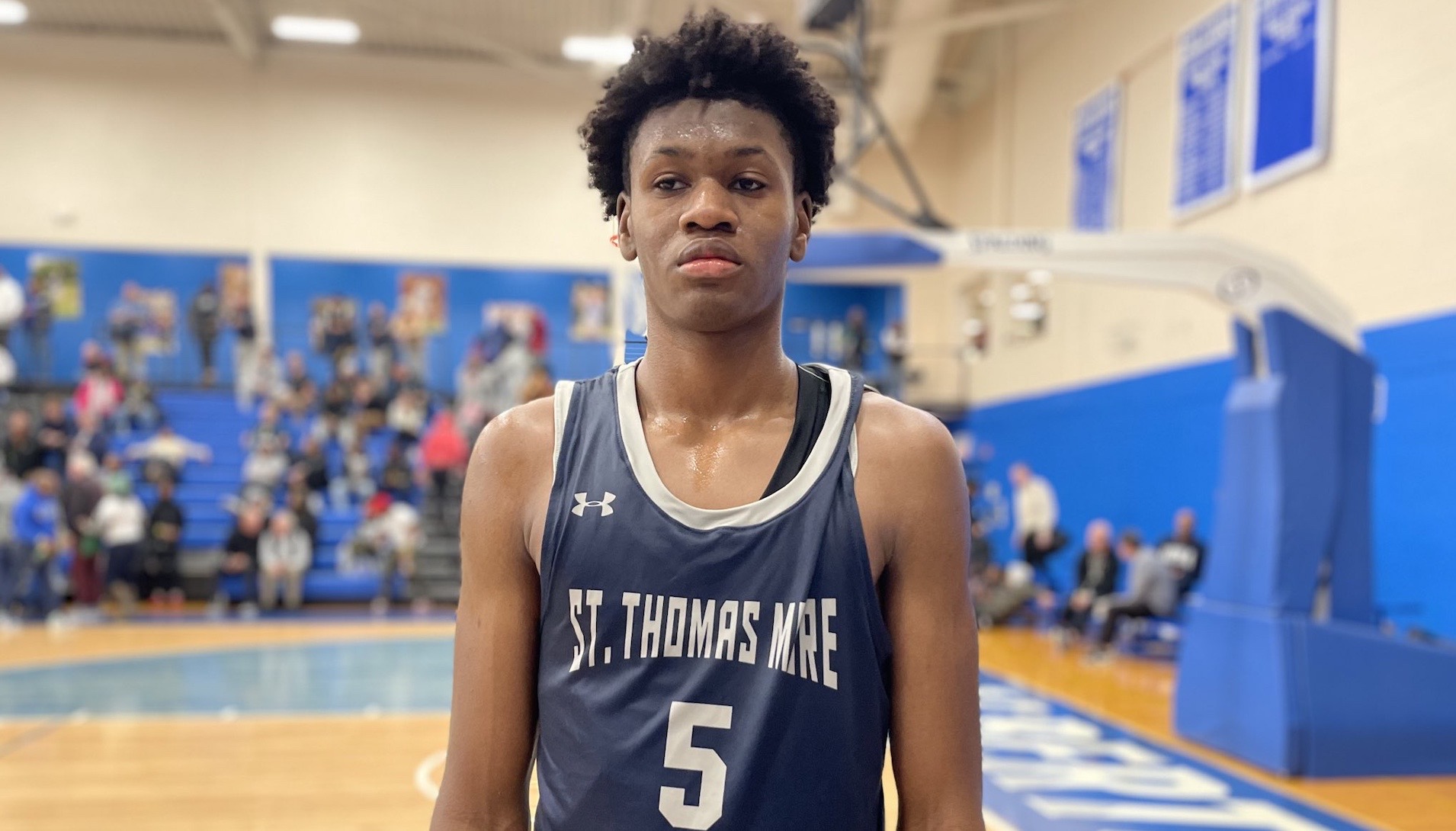 Top-25 wing in the 2024 class Tyler Betsey of St. Thomas More (CT) has set an official visit with the Indiana basketball program.
Betsey will be on campus from June 14-16, he confirms with HoosierIllustrated.com. 247Sports had the initial report. Betsey will be on campus alongside 2024 five-star guard Boogie Fland, who has officially set his Indiana basketball visit for June 13-15.
Betsey is a 6-foot-8 wing who is ranked No. 22 in the 247Sports composite rankings for the 2024 class. He is rated as the No. 8 small forward.
At 6-foot-8, Betsey is a versatile wing who is known as a shooter. He is a high-volume shooter who is very good off of the catch. He's improving off of the dribble as well and has shown more of an ability to create plays for himself.
Playing for NY Rens on the Nike EYBL circuit and is averaging 11.6 points this summer in 16 games. He's shooting 35.1 percent from three on 2.5 made 3s per game. He's 40-of-114 this summer from three. He's had four games with at least four made 3s. Betsey plays alongside current Indiana basketball target and five-star guard Dylan Harper on NY Rens as well. Harper visited Indiana in the fall.
247Sports National Recruiting Director Eric Bossi broke down Betsey's game from earlier this summer.
"At nearly 6-foot-8 with smooth athleticism and a good-looking jumper, it was pretty clear that he has all of the tools to make a move towards the top of the class and he's one of those kids who seems like he could end up ranked as high as he decides he wants to be."
Currently, Betsey has offers from Indiana, Duke, Alabama, Kansas, UConn, Cincinnati, Auburn, Rutgers, Michigan State, Providence and others.
Make sure to follow Hoosier Illustrated on Twitter @Indiana_FRN and YouTube to stay up to date on all of the news, updates and coverage of Indiana University athletics. 
Indiana basketball extends offer to 2025 top-30 prospect Jasper Johnson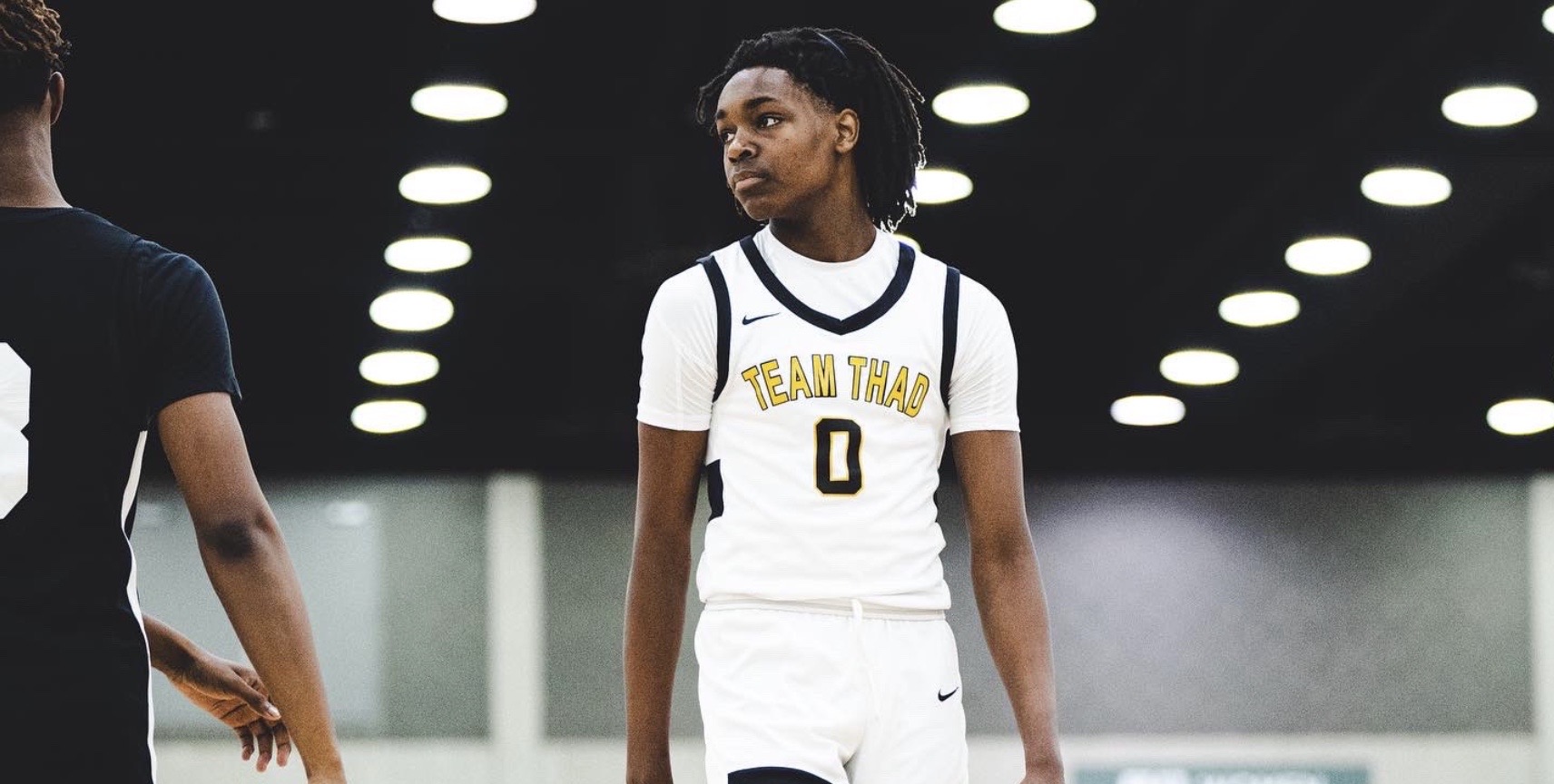 The Indiana basketball program has extended a scholarship offer to 2025 top-30 guard Jasper Johnson of Woodford County (Ky).
Johnson is ranked No. 23 in the 247Sports composite rankings for the class of 2025. He is also the No. 3 combo guard in the class.
Part of Team Thad on the Nike EYBL circuit, Johnson is playing two divisions up in the 17U division. Through 16 games this spring and summer, Johnson is averaging 12.3 points, 3.2 rebounds and 2.5 assists per game. He is shooting 51 percent from the floor and 40.3 percent from three (27-of-67).
Johnson had his best game of the summer last weekend in Memphis — scoring 21 points on 8-of-12 shooting and 5-of-6 from three. He was 12-of-21 from three in four games last weekend.
Travis Branham of 247Sports broke down Johnson's performance.
"In a three-minute span, Johnson scored a dozen points including three triples and a dunk in transition that took a three-or-four point lead and stretching it to double figures.," Branham wrote. "Johnson has continued to grow as a player this spring. His confidence and aggressiveness are continuing to elevate along with his improving handle and jumper to create offense for himself and others."
Johnson and the Indiana basketball program had a relationship prior to this offer. Johnson has mentioned to HoosierIllustrated.com that the NBA pedigree of head coach Mike Woodson is appealing.
He visited Indiana twice during this past season. He was in Bloomington when Trayce Jackson-Davis had a triple-double. Johnson has also visited Kentucky, Louisville, Cincinnati, Ohio State, Tennessee and Xavier in addition to others.
The 6-foot-2 guard has offers from Kentucky, Arizona State, Cal, Cincinnati, West Virginia, Louisville, Ohio State, Memphis, Xavier and others.
Make sure to follow Hoosier Illustrated on Twitter @Indiana_FRN and YouTube to stay up to date on all of the news, updates and coverage of Indiana University athletics. 
IU basketball recruiting beginning to click on all cylinders: 'I wanted to be able to sit at the table with the best players'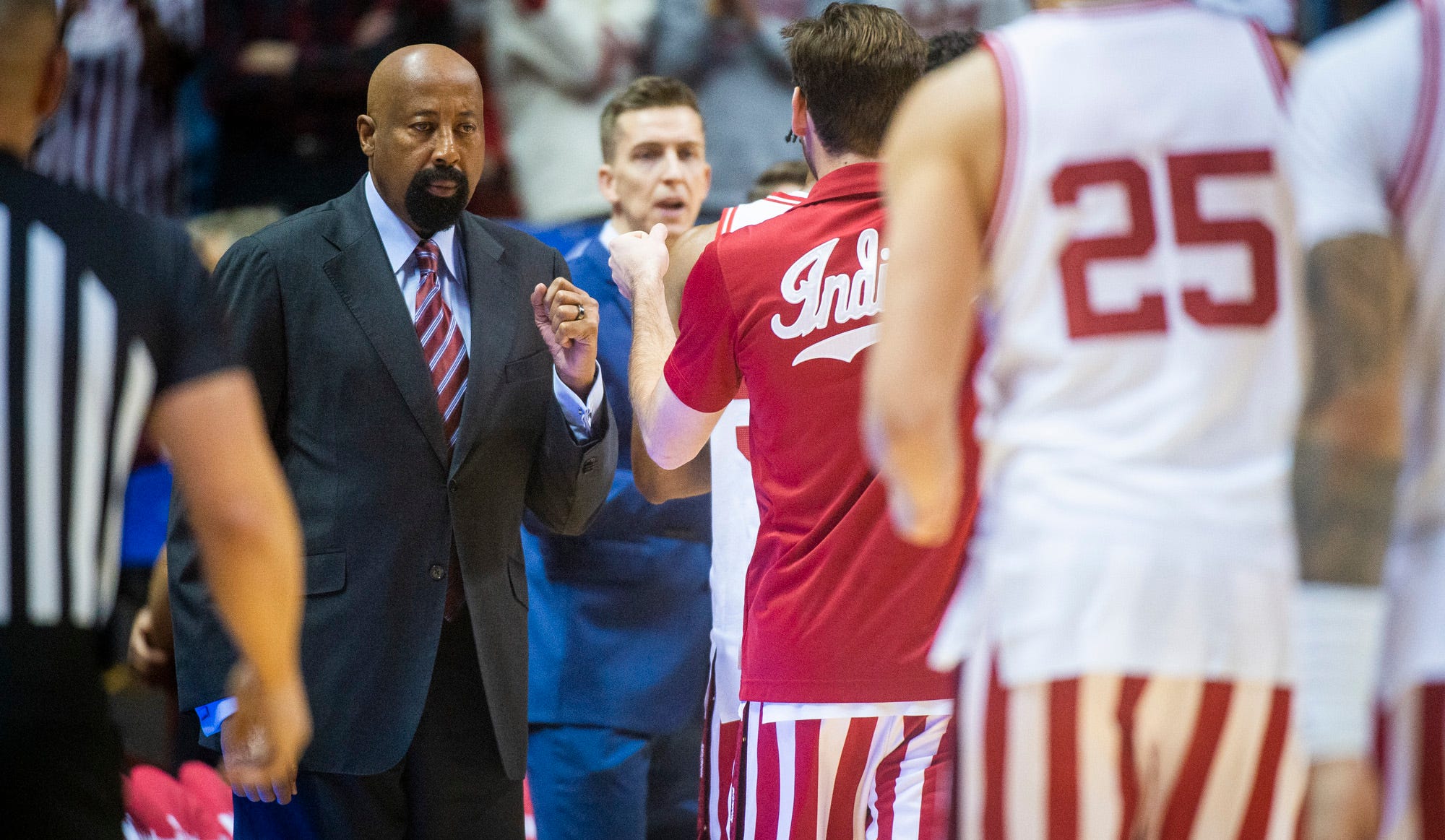 When Mike Woodson took the job as the head coach of the IU basketball program two years ago — his message was clear. He wanted to get Indiana back into the national conversation by competing for Big Ten and National Championships.
The only way to do that was to bring in high-level talent. Not just local, but from around the country.
The message has always been that Indiana has the best talent in the country — but recently, that hasn't been the case. The previous staff did a good job of recruiting the state but failed to land top talent from outside of Indiana — or even the midwest — on a regular basis. That resulted in IU basketball failing to make an NCAA Tournament for six years.
So, when Woodson stepped back on campus on day one, it was about getting the best talent in the country — no matter where — to come to Bloomington.
"When I took the job, I made it clear to my coaches that we deserved to sit at the table with the best players," Woodson told reporters on Wednesday. "We kind of squabbled a little bit early on because they didn't think we were in that position to be able to do that.
"Well, back in the day, it was always that way."
Last year saw four scholarship players from Indiana. The year before was five.
Next season will be quite different. There will only be two players from the state of Indiana on scholarship.
A main reason for that is because of what Woodson stressed — and knowing what he wanted for his roster.
"I thought we were based on Indiana basketball and the history of it," Woodson said. "So, I didn't accept no for an answer and I told 'em (my staff) that I wanted to be able to sit at the table with the best players and compete with the Kentucky's, the Kansas', the Duke's, teams like that."
While Woodson just wanted a seat at the table, he's done more than just sit there.
In the last two years, Woodson has landed four five-star prospects either from high school or through the transfer portal. It resulted in having two McDonald's All-American's on the roster this upcoming season for the first time since 2016.
In addition to the two five-star commitments in the past two months, the IU basketball program has also seen a one-and-done five-star prospect move his way into a projected lottery-pick in the upcoming NBA Draft in Jalen Hood-Schifino. That is notable to recruits — and Woodson knows it.
"It's done a lot, you know," Woodson said on Hood-Schifino's development. " … Not to say he was a one-and-done, but he put himself in that position and was able to do a lot of nice things for our ball club and you know, our program benefited from it."
A large reason for the (recent) uptick in the national relevancy for IU basketball in the recruiting world is because of Woodson and his NBA pedigree — yes. But, it's the entire staff that he's put together that has built their reputations on relationships and honesty — something hard to come by in today's recruiting world.
"I got a wonderful staff and, you know, we are beating the phones down and when guys come available, we are trying to get in front of their parents and whoever's their representative and we are doing all the necessary things to get 'em to campus and close the deal," Woodson said. "And this has been a great, great summer for us in terms of recruiting and, again, I give a lot of credit to my staff and them getting me in front of the people that we're trying to recruit, the player and we're starting to pay off. It's starting to pay off for us."
And in recruiting, in order to get a yes, you're going to get a lot of no's. But, that's okay and what's needed in order to reach the next level as a program.
"All they (recruits) can do is tell us no, but we gotta get there and we've been able to get there some, so it's kind of nice."
ake sure to follow Hoosier Illustrated on Twitter @Indiana_FRN and YouTube to stay up to date on all of the news, updates and coverage of Indiana University athletics.