Former Indiana guard and current Blackhawk Christian head coach Matt Roth is 'excited' about the Hoosiers: 'I love what they are doing.'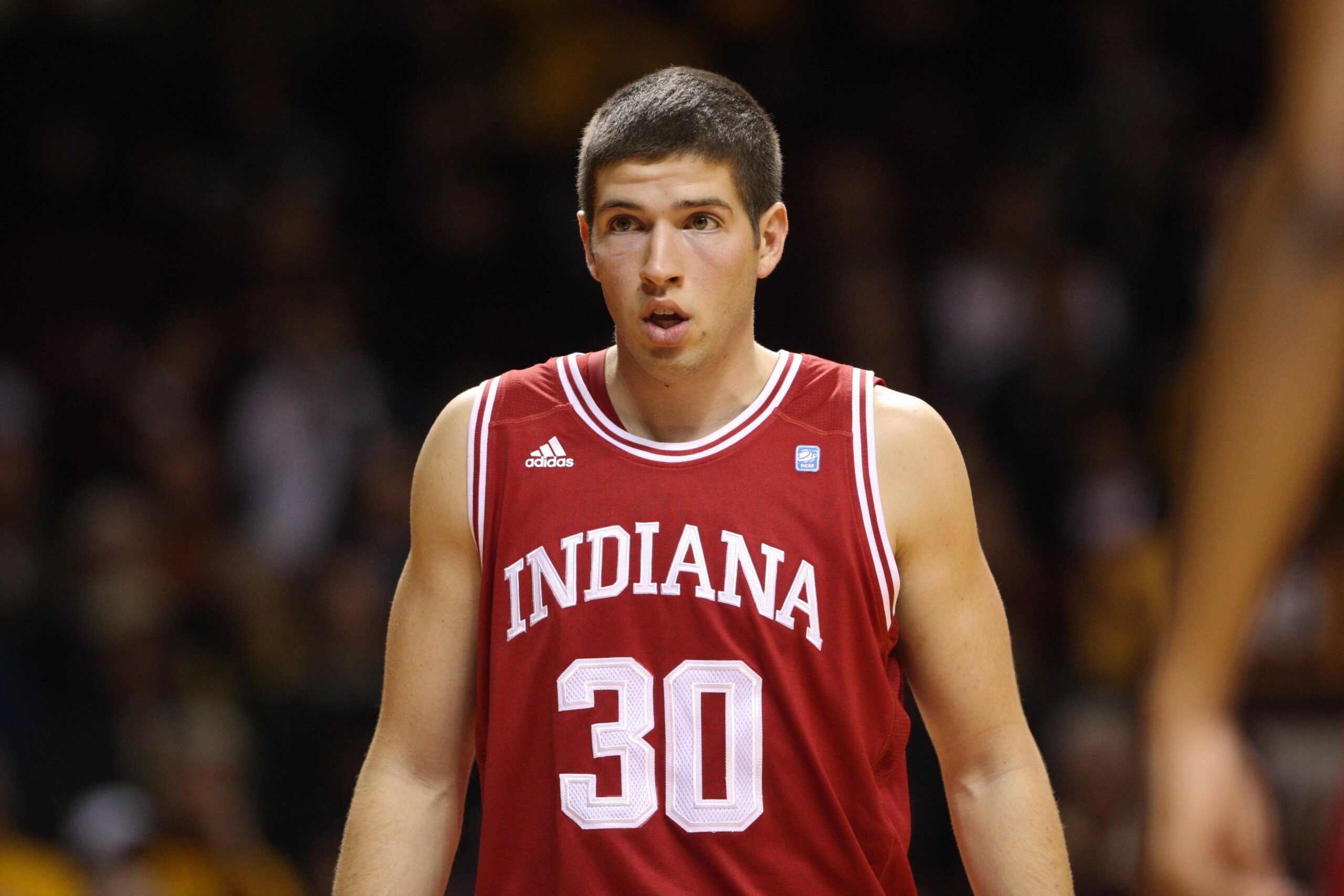 HoosierIllustrated.com was able to speak with former Indiana guard and current Fort Wayne Blackhawk Christian (IN) head coach Matt Roth earlier this week on the Courtside Indiana Podcast, which is hosted by owner Jim Reamer.
Roth, who is coming off winning the Class 2A Indiana State Championship in his first season as the Braves' head coach, played at Indiana from 2008-2012. After his college playing career ended, Roth got into coaching with his first opportunity coming at Blackhawk Christian as a part of then Braves head coach Marc Davidson's staff.
He would eventually leave Blackhawk Christian for a little while and have stints as a referee, basketball trainer and assistant coach at Heritage Christian High School (IN) before returning to Blackhawk Christian as the new head coach in May 2022, just five days before Marc Davidson sadly died of brain cancer.
While Roth is an extremely busy man with coaching one of the top high school programs in the state plus giving his time to his wife and three kids, he is still very much invested in the Hoosiers, but as a proud alumni.
When speaking with Roth, he seems to be really excited about the product that Mike Woodson is continuing to build at Indiana.
"I think he (Woodson) is doing a great job," said Matt Roth on the Courtside Indiana Podcast. "He is a tremendous hire. I was real excited when he took over the program. Love the staff that he continues to build, bringing Calbert (Cheaney) back on board is big time. Calbert was there during my senior year. Just to have the staff that has the history and knowledge of what IU was at one point in time, but then also they've walked through the demise."
"They've walked through some dark times. They've seen it rebuilt in stretches. Obviously at the national level we are still waiting on that final four run, which I think is bound to come. They are recruiting talented guys. They are recruiting competitors. I think they are doing a great job."
Roth himself is pretty familiar with an Indiana rebuild. During his time playing for the Hoosiers, Roth played under then head coach Tom Crean, who did a pretty good job of getting the Indiana program back to relevant again.
While Roth and Crean do not necessarily talk on a consistent basis due to life getting in the way and Roth being pressed for free time due to family and basketball, he is appreciative of what Crean did for the program and the opportunity he gave him to put on that Indiana jersey.
"Coach Crean did a great job of getting things turned around," said Roth. "Appreciative of opportunity to play there and learn a lot about the game, especially the player development side, which he was fantastic in. Lot of things I've learned in skill development came from my time there and the staff we had there, assistant coaches on down.
Roth's senior year was during Cody Zeller's freshman season and the 'Wat shot,' which is often viewed as the turning point of the program after just the dark spell they went through. In that year, Roth finally got to experience what Indiana fans were used to…winning.
However, Roth's best season, statistically, came during his freshman year in 2008-2009 where he averaged 6.7 points in 21.0 minutes per game.
What many older Indiana fans may remember of Roth was his outstanding 29-point performance against an Evan Turner led Ohio State. That night, Roth hit a total of 9 three-point field goals, which is tied for a school record alongside Robert Johnson and Rod Wilmont.
After that type of performance, any player would jump up on a team's scouting report. However, how long did that jump exactly last for Roth?
"The rest of my time I think," Roth said laughing. "The best story that came from that game was that scout was Archie Miller's scout when he was at Ohio State. So when he was able to share that story with me I got a pretty good laugh about it. (Thad) Matta was not real pleased with 'time and space shooter' I think was what the scout said at the time. I think they dialed in on it after that."
Happy Birthday to Matt Roth! Hope your day is a special as your performance vs. Ohio State on 1/31/2009! 💦 pic.twitter.com/BC67WgDmj8

— Indiana Basketball (@IndianaMBB) August 8, 2018
Roth was also a part of Indiana teams that were known for high volume shooters and a team that you knew would convert at the free throw line when given the chance. As of recent times however, it has been no secret that the Hoosiers have struggled in those areas more often than not.
Those are the areas Matt Roth wants to see the team get back to be being elite at.
"I keep waiting, I cringe every time I look at it, I want to see that free throw percentage get back up there to the 80s (percent) where I'm not stressing and where that three point percentage as a team gets back up there because when it does, the talent that they have and the individuals on the team, they are capable of making all the runs," Roth said. "We have seen them as preseason favorites in the Big Ten and all that kind of stuff but at the end of the day, come March, you gotta knock down free throws and open threes."
What is pretty interesting now is that as a head coach at Blackhawk Christian, Roth actually coaches one of Indiana's 2025 targets, 6-foot-8 forward Kellen Pickett. While there is no official offer extended from the Hoosiers to Pickett yet, the versatile forward has become one of the bigger in-state stock-risers.
With Indiana's interest in Pickett, it allows Matt Roth to stay in touch with the program, which includes a former backcourt teammate of his.
"I talk to Jordan Hulls quite a bit just with family stuff and with both of us having young families but then also with their (Indiana) interest in Kellen (Pickett) and their ability to watch and see him grow," said Roth. "I love what they are doing."
"That staff down there is off to a good start and I am excited to be able to watch them and hopefully in time be able to produce a couple of talented guys out of Fort Wayne that maybe we can get down there in the cream and crimson and kind of get the monkey off my back of everybody telling me that Fort Wayne is a 'Purdue town.'"
Yes being up in Fort Wayne, Roth is certainly in "Purdue town" as most would call it, but his passion and fandom now for the Indiana Hoosiers is big enough for him to hold his ground up there.
When speaking with Roth, you could really feel his joyous energy for Indiana basketball and the bright future of the program.
"Excited! I love the Hoosiers and when Indiana is good my life is little bit better cause I can share the joy of IU basketball here in the 'Purdue Capital' of Indiana I guess right now. We gotta get that fixed," Roth said laughing.
Make sure to follow Hoosier Illustrated on Twitter @Indiana_FRN and YouTube to stay up to date on all of the news, updates and coverage of Indiana University athletics.