'Unknown' backcourt headlines current offseason for Indiana basketball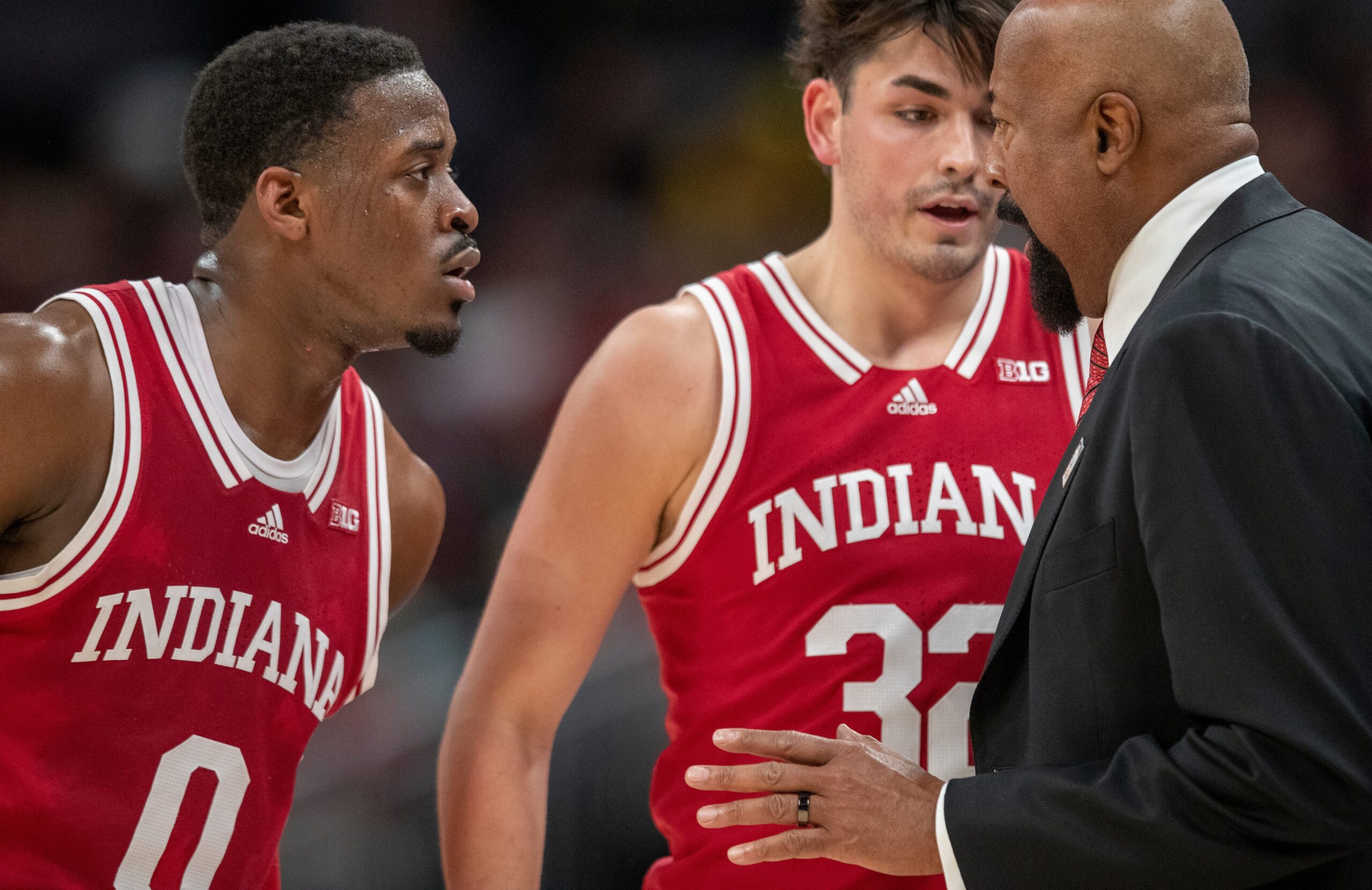 It's been just a little over a month since the transfer portal officially opened and the Indiana basketball program has been very active.
That activity for Mike Woodson and staff translated into two early commitments with Ball State forward Payton Sparks and Oregon center Kel'el Ware. But now, recent strikeouts by the Hoosiers have left them in a bit of flux.
As it is currently constructed, the Indiana basketball transfer class ranks No. 6 overall in the 247Sports transfer portal rankings. But, there are still many questions as to where and how Indiana will improve on its three-point shooting and perimeter scoring.
247Sports broke down each Big Ten program's portal involvement up to this point. And while the Hoosiers have had good success, there are still a lot of 'unknowns' about the IU backcourt.
"Indiana's frontcourt picture will look way different. Out goes Jackson-Davis and Thompson. In comes Ware and Sparks to form an intriguing three-man frontline trio with Reneau," 247Sports writer Isaac Trotter wrote. "If Ware can scratch his ceiling, Indiana will be in business, but don't be surprised if Sparks ends up looking like the most-impactful frontcourt addition. The Ball State transfer is really good.
"(Xavier) Johnson's medical waiver looms large, and Indiana is still on the prowl for a high-level, shot-maker on the wing. Missing out on Harvard transfer Chris Ledlum stings, but Indiana is still in deep for Northern Colorado transfer Dalton Knecht. If the NCAA grants Johnson another year and Knecht hops on board, IU will be cooking with gas. Until then, there are a lot of unknowns about this backcourt."
Some notable perimeter players that Indiana has missed on in the first month of the portal include: Nick Timberlake, Jamison Battle, El Ellis, Nahiem Alleyne and Cormac Ryan.
Indiana returns Trey Galloway and CJ Gunn in the backcourt and has the expectation that Xavier Johnson's medical hardship waiver will be approved. The Hoosiers also add four-star guards Gabe Cupps and Jakai Newton.
However, that still leaves a lot to be desired on the perimeter. Galloway ranked second in the Big Ten last season in three-point percentage but ranked just 63rd in the league in made 3s.
High-volume shooting is something that the Indiana basketball program needs in order to feel comfortable with its roster heading into 2023-24.
Indiana has three scholarships still available for next year.
The transfer portal window is open through May 11, when it closes for new entrees.
'I think we are getting into more of what coach Woodson wants': Former IU basketball player Christian Watford discusses Hoosiers offseason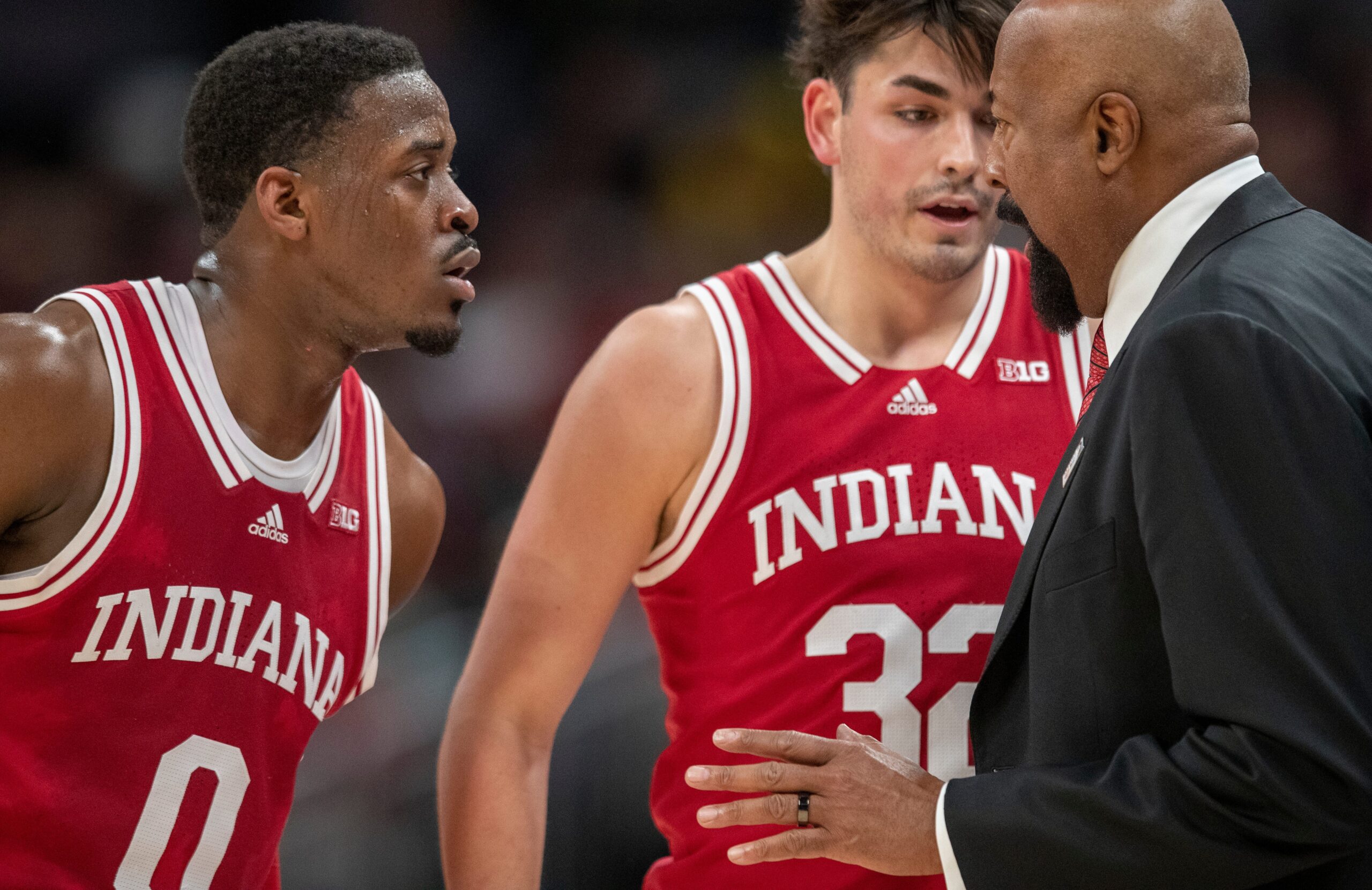 The IU basketball program is going to look quite different in 2023-24. Following the loss of seven players — four starters — from last year, Indiana head coach Mike Woodson has done a total overhaul with his roster.
Headlined by the departures of Jalen Hood-Schifino and Trayce Jackson-Davis, Indiana now ushers in a new era of basketball in Bloomington.
Indiana was left with a total rebuild of its roster. The first aspect was what style of play Mike Woodson would want next year.
"Trayce Jackson-Davis is the first center that I've ever coached in my career where I had to utilize my center as a post-up player," Woodson said last year. " … it's the first time in my coaching career that I've had to coach a young man starting out on the block and expanding his game. I don't know where we're going to be next season in terms of how our style of play will be. But we've got to get better. I do know that."
After two years of building the roster that he wants through his first two recruiting classes and now another massive haul in the transfer portal, we're getting closer to see a true Mike Woodson team.
On the 'Ball From Assembly Hall' Podcast, former IU basketball player Christian Watford thinks this will be the year that shows a true Mike Woodson team.
"How different this IU team is going to look. How different he culture is going to be. How different the style of play is going to be. I think we are getting into more of what coach Woodson wants. Which is an athletic team, a big long rangy athletic team," Watford said.
Indiana not only returns Xavier Johnson in the backcourt, but also brings in two McDonald's All-American's. One is former five-star and Oregon transfer Kel'el Ware in the front court, while the other is 2023 five-star Mackenzie Mgbako.
"The talent level just wasn't there coming off of last year … Now you look at what they've been able to put together, you have two five-stars with Mgbako and Kel'el Ware. You have the bench production now with Payton Sparks and Anthony Walker. You get a massive win getting Xavier Johnson back. Everything they have been able to do over the last 30-45 days has now set themselves up for — now expectations going into next year, of something where you don't drop off as much as it could've been going into next year," HoosierIllustrated owner Alec Lasley said earlier this offseason. "… It was massive in what you're trying to build in what is a bridge year and a gap year from the Trayce Jackson-Davis era to the 2024 and 2025 classes."
The Hoosiers have one scholarship still open for the 2023-24 season. That final spot likely needs to be from a shooter. Indiana shot 36.8 percent from three this past season but ranked 353rd nationally in attempted 3s per game (15.5) and 334th in made 3s per game (5.7).
"We are building right now. We aren't going to have a team where you can just throw it into the paint and I think that's good for Indiana basketball," Watford added. "On paper, we don't have the shooting we need, but as far as the athleticism, us being able to guard, us being able to play with force and still play in the paint, I think we still have those components."
Below is the full episode.
Make sure to follow Hoosier Illustrated on Twitter @Indiana_FRN and YouTube to stay up to date on all of the news, updates and coverage of Indiana University athletics. 
Watch: Workout highlights and interview of Indiana basketball sophomore center Kel'el Ware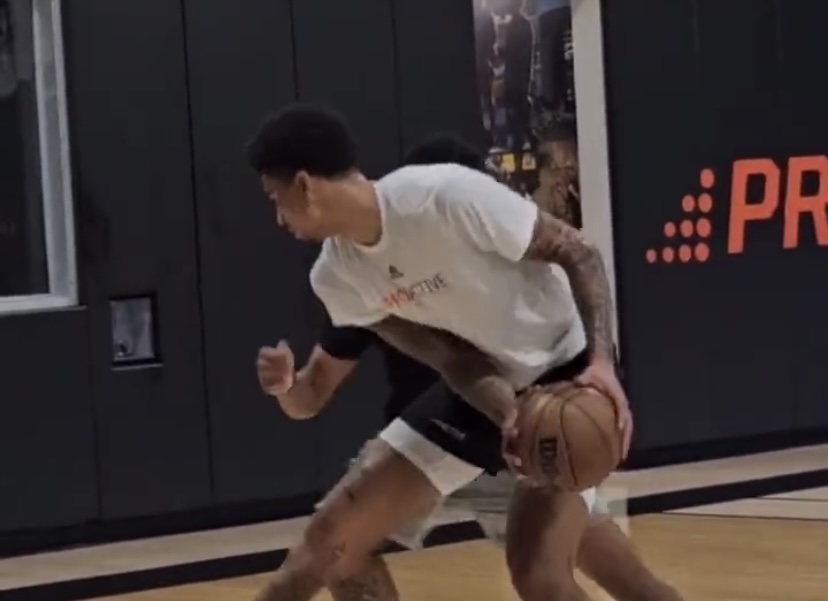 Indiana basketball hit the near transfer portal lottery when they were able to secure the commitment of Oregon transfer center Kel'el Ware.
While the the 2023-24 Indiana basketball team will be leaning on 'untapped potential' next year, Ware is projected to play major role in Mike Woodson's frontcourt next season.
Ware, a former five-star and McDonald's All-American, spent one season with the Oregon Ducks where he averaged 6.6 points, 4.1 rebounds and 1.3 blocks per game. He played in 35 games with four starts in 15.8 minutes a game. He was sixth in the Pac-12 in total blocks.
Ware comes in looking to be one of the post options for Indiana to help replace the production that is lost with the departure of Trayce Jackson-Davis for the NBA.
Ware fits the style of big that Mike Woodson wants in his system as he is extremely athletic with great length and size. He can defend the rim at a high rate while also being able to stretch the floor on the offensive end, something that Indiana has not consistently had the past few years.
"Kel'el is an extremely gifted player who will bring a lot to our program," said Indiana head coach on the addition of Kel'el Ware. "He is a tremendous athlete whose skill level in all facets of the game will make us better. He's a rim protector with great size and length, he runs the floor so well, he can shoot and he's someone who competed and won at a high level in high school."
Below are highlights of Indiana basketball sophomore center Kel'el Ware getting an offseason workout in plus an interview with Draft Express' Jonathan Givony.
Sat down with Indiana's Kel'el Ware in Los Angeles to talk about his offseason and how next year will look different at Indiana. Hard to find a more talented big man to watch in a workout setting. pic.twitter.com/izjbA6Oaws

— Jonathan Givony (@DraftExpress) May 29, 2023
Make sure to follow Hoosier Illustrated on Twitter @Indiana_FRN and YouTube to stay up to date on all of the news, updates and coverage of Indiana University athletics. 
Indiana Basketball: Jalen Hood-Schifino should 'blow away teams' during pre-draft process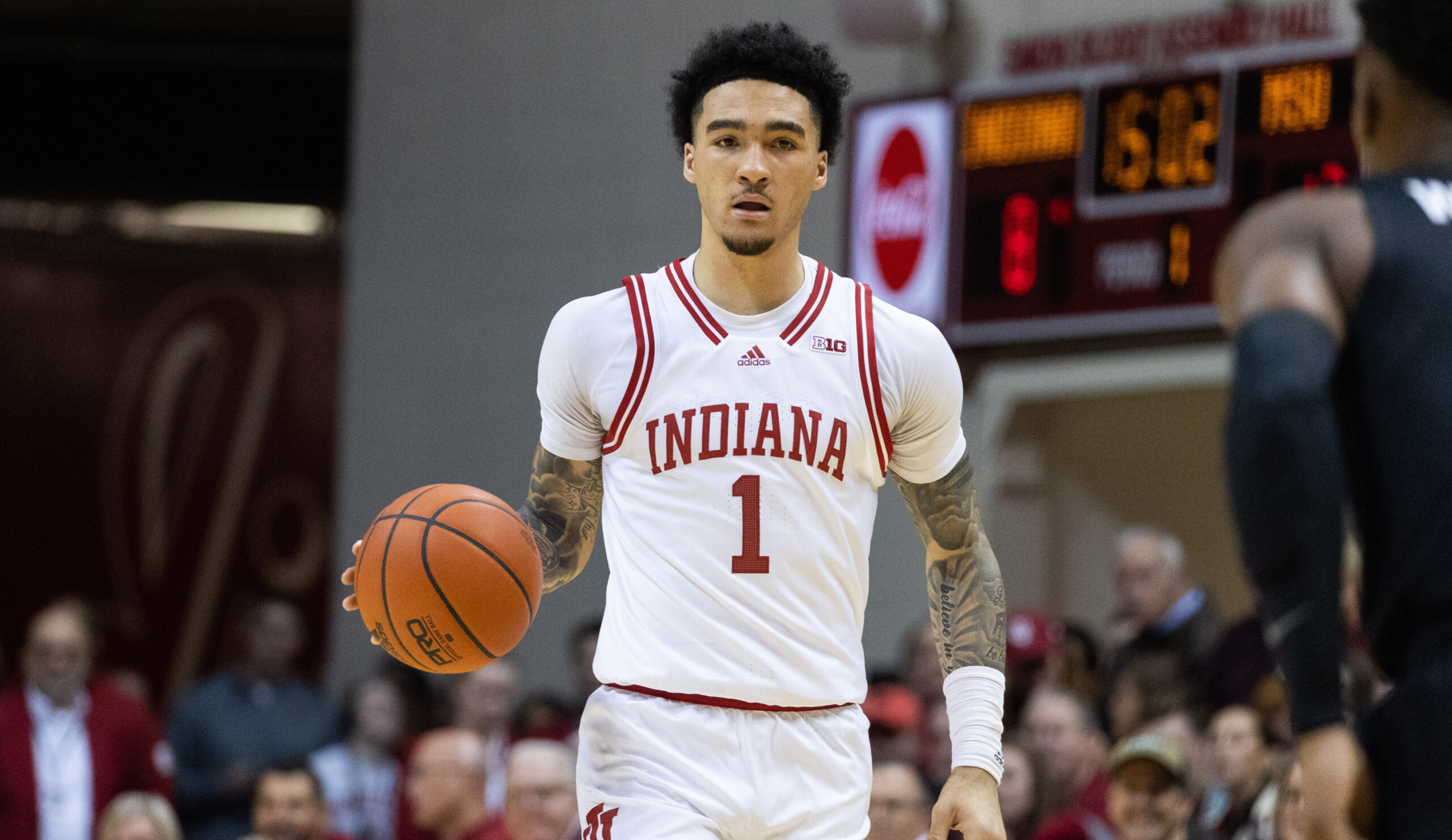 Jalen Hood-Schifino had a phenomenal freshman season with the Indiana basketball program — one that was 'nothing short of amazing'. The 6-foot-4 guard is now slotted to go late in the lottery to mid-late of the first round of next month's NBA Draft.
With the NBA Combine come and gone, Hood-Schifino is set for the next chapter in his basketball journey.
The question is no longer if he can make it to the next level, but when he'll hear his name called.
"I think JHS is a very smart player that should blow away teams that get to spend time with him during the pre-draft process," an anonymous NBA Scout told HoosierIllusrtated.com. "Wherever a team had him April 1, it will only improve as their process goes along."
Hood-Schifino was named Big Ten Freshman of the Year this season as well as All-Big Ten Second-Team. He averaged 13.5 points, 4.1 rebounds and 3.7 assists per game this season.
The talented point guard showed the ability to play both on and off of the ball this season for Indiana. He was best, however, with the ball in his hands and in attack mode.
That's something that caught the eye of scouts.
"I had major concerns with his ability to put pressure on the defense with his lack of scoring initially, but it was encouraging to see him continue to improve in that area as the season wore on," the anonymous NBA Scout added.
Coming to the Indiana basketball program from national-power Montverde Academy (Fla.) where he won two national championships, the mentality of being a winner was there.
The success he had in high school never wavered when he got to Bloomington. In fact, it continued to blossom.
"It's something I saw in high school, and high school is not college," IU head coach Mike Woodson said about the mentality of Jalen Hood-Schifino. "Once he got here, you could see how he approached things on and off the floor, his demeanor."
"The IQ, leadership and playmaking are clearly there," the scout added.
His competitive and winning nature is appealing to many NBA teams.
The biggest knock on Jalen Hood-Schifino, however? Some ability to defend quicker and smaller guards. While it's not a major concern, it's something that scouts are saying is an area that will be his biggest weakness.
"One area I took for granted would be a strength coming in to the year was his defense and it seemed he had trouble keeping quicker guards in front of him at times," a scout said. "I could see him initially being paired with an undersized shooting guard that can guard 1's to keep him on the wings."
One thing is for certain. Hood-Schifino has been preparing for this moment for his entire life. From a mentality standpoint, he's been prepping to be a 'pro' since he arrived at Montverde three years ago.
Now, it's time for all of that hard work to pay off … and it will.
The NBA Draft will take place on June 22.
Make sure to follow Hoosier Illustrated on Twitter @Indiana_FRN and YouTube to stay up to date on all of the news, updates and coverage of Indiana University athletics.