Spring Football Saturday: Everything Tom Allen said following Saturday's open scrimmage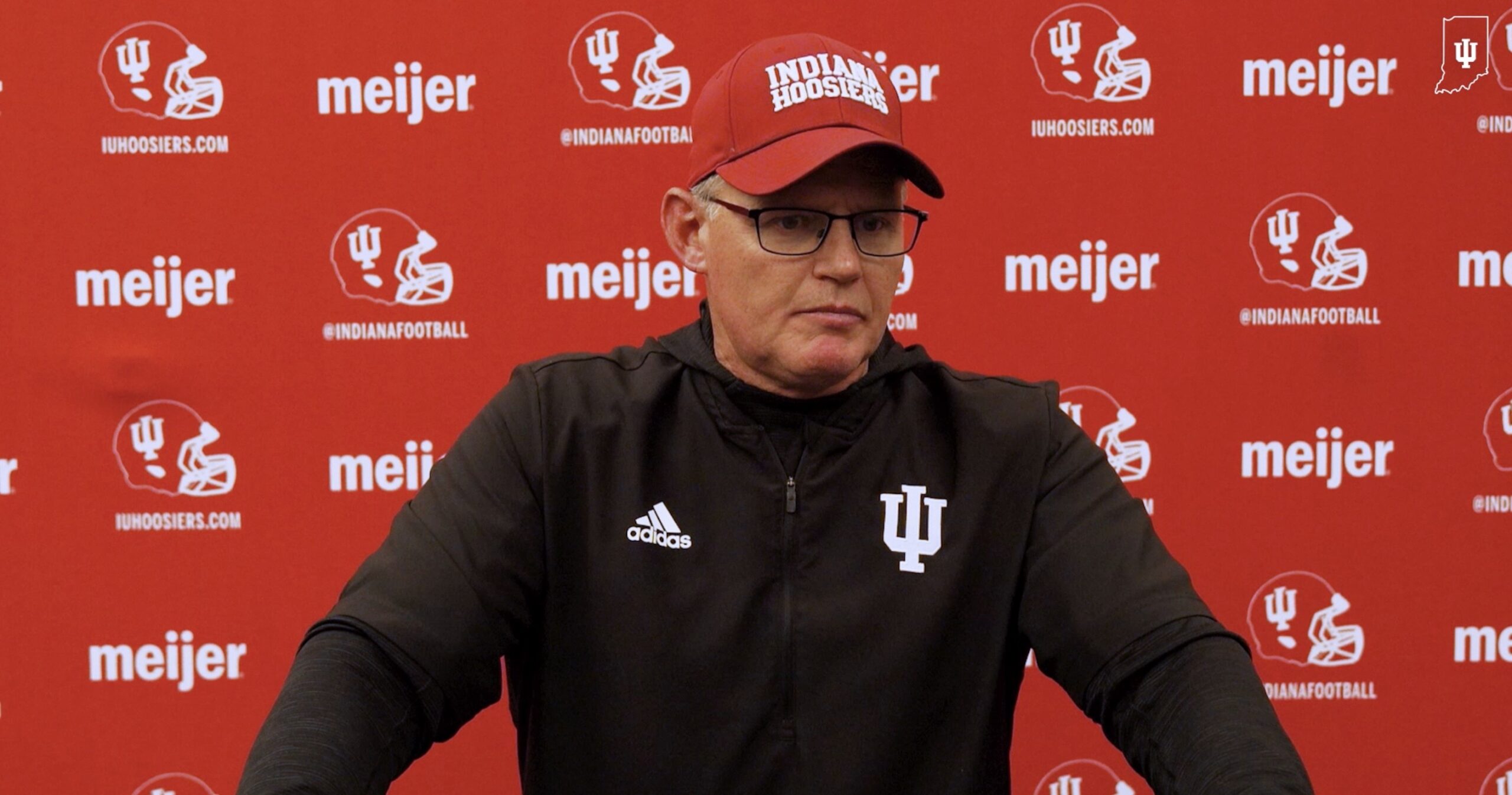 Indiana football head coach Tom Allen met with the media following Saturday's final spring practice which included an open scrimmage.
Below are his full comments and video. 
Opening Statement…
TA: Just a couple of things here, and I'll get right to questions. We had a very good spring. Just really excited about the work we've got, even continuing to today. More individual technique, fundamentals, working on things we to do to get better. 
We have two young quarterbacks that I believe tremendous high upside and just have to keep developing those guys. We have our weapons. We just have to keep getting better at every phase. These next several months are going to be huge. Really positive. 
It's a big deal getting out of the spring healthy. Had zero long-term injuries. Had some guys that missed some days, but nothing that's going to be past probably the next month. So that hasn't been the case the last several years, so that's a big deal to get through it, to be able to be healthy, and to come through and have a great, great summer. 
So, finish out academically strong here. Two weeks in the weight room. Then we have finals. Then we'll have the month of May and then June and July. 
I feel like we made progress. I really wanted to develop our toughness as a team. That's a huge priority. Obviously, we'll watch this and gain some things off that. We have some situations to work through, but more than anything we wanted to get everybody involved today and have a good positive opportunity for our fans and be able to have some interaction there with them. 
It's been a very, very positive spring. Excited about where we're at. Just have a lot of work ahead of us. 
Questions. 
On the quarterback position…
TA: We aren't going to name a starter. But I think we'll sit down with them and talk with them and kind of tell them where they are and in that part of it from exactly if we're going to play a game tomorrow kind of thing. We'll tell those guys that open and honestly. To name a guy, no, we're not ready to do that yet. I think they have a lot of work ahead of them. 
I know the summer is going to be huge. Fall camp is massive. Any time you have two talented young quarterbacks, I think you can see out there they both have skills. They can both throw it, and they can both run it. It's going to be a big part of what we want to be able to do is take advantage of their skill sets and maximize our run game and our throw game. 
I think that the bottom line is going to be who is able to do that to the highest level, protect the football, and move our team down the field. 
On if there is more personnel flexibility on offense this season…
TA: I agree. That will be the whole objective. Obviously, it wasn't a nationally-televised game, but obviously open to the public. You never know who can be sitting in the stands watching us from our first week opponent. So that's understood as well how we did things today. 
At the same time, yeah, I want to maximize that room. I think Jaylin gives you some unique skill sets there regarding to have at our disposal, and obviously he is going to be a very, very critical part of all of that. 
Yeah, I'm encouraged by what we can do with our guys. I think we have talented receivers on the outside. We've got some good slots. 
I think that you saw some glimpses today of some of those receivers, what they can do, and also we know what Jaylin can do, and I think Josh is a special back. Christian Turner was one that didn't get to practice much. He did have an injury earlier in the spring, but it's nothing long-term. He probably could have gone later. We wanted to keep him healthy. He is a very, very talented player. 
I like that room a lot and feel like we have more flexibility. We have to run the football. We have to run it effectively. Just with different levels from that for our defense, for our offense, for the team. For late in the game finishing out late fourth quarter games. Huge emphasis, no question. 
On Andre Carter's spring…
TA: I would say, as we recognize there, he was the MVP of the defense, he and Noah. It was that way about every day. He is 270 pounds. He is the biggest, most physical one we've had here since I've been here. Very, very disruptive. Got to get him in elite shape. He is not there yet. 
Just really excited about him. He is a great kid. He has bought into everything we're all about here, and I believe that you're right. He has to tackle a guy live, but you can tell what he can do.
So, it's about I think even just the details of his technique that he'll improve this summer as well. Yeah, he is a very good football player. Glad he is with us now. He has a chance to prove that he belongs in the Big Ten. 
On the youth in the tight end room…
TA: As he was listed, Aaron is one of our most improved players. I will say this, though. Having to go against Andre Carter every single day, he would admit it, sometimes there were some long days for Aaron having to go against him physically, but it's helped him a lot. 
He has grown a lot. He has gotten way more physical. His footwork, his hand placement. He has always had good ball skills. He had a good spring for us. He needs to continue to develop that over the summer. 
As you mentioned, we have a young room. Sam West is a guy that's really been a pleasant surprise. Did a really good job this spring and was up potentially for most improved as well. Once we get Trey back and some of the older guys back that are dinged up right now, it's going to be a group that's going to be by committee no question, and also look to add an older guy in the portal, which we have got opportunities to do that hopefully here in the near future. 
That's definitely important for us, without question, but I think you see some young guys here. Brody Foley is the one that hasn't gotten nearly as many reps. He is back. He is in a blue jersey do everything from skelly on down. He didn't do anything more than that physically. He is 250-plus pounds. He can move. He has good ball skills. So he is a guy we need to bring along in the summer and this spring. He will be a key for our success up front. Being able to have a guy like him that can do both things. 
So, I love that room as far as just the way these guys work. Coach Wright does a great job developing them, and they need more development. That's part of being wrong. 
Bomba, James, is going to do a great job for us. He was out and had his postseason summer. He will be back full bore for us here this summer. He also provides tremendous leadership for us as a member of our team. 
On the progress along the offensive line…
TA: It's always hard when you don't go full bore. We did some live ghosts throughout the spring. Didn't do it today on purpose, but I love what I see. 
I think it's the cumulative effect of just all of the pod work and all of the reps over and over again, the physicality just over and over and over. 
I think Kahlil Benson has probably made the most growth seeing him. Zach was having a great spring. He had a lower leg injury. It's not going to be long-term, but we sat him out his last couple of weeks. He was practicing at a high level. 
Getting Matt back will be huge for us obviously. I would say Max Longman is going to be the one that has a chance to help him. I really like him. 
I think Mike Katic coming in and adapting to a new coach and just being able to elevate his game and continue to get better is going to be huge. 
Josh Sales, we're going to keep challenging him. He has to step up. I want him to and believe he can. Carter Smith is another one that we expect to be competing to start and going to be battling for those spots. 
Those are all young guys that need to keep developing that I figure responded well to Coach. I love his approach. He is a no-nonsense guy. Doesn't smile a whole lot, and that's okay. He never cracks too many jokes, and it's all ball. It's all business. Our guys understand that. So I really appreciate his approach. I think we're going to be a lot better because of it. 
On the importance of this summer…
TA: Well, first of all, you know, we talk about fourth quarter mindset. It's been our focus all spring long. It's part of the mental toughness piece, physical toughness piece. 
There're three things we focused on. One was the word focus. Presnap keys, post-snap technique and execution. Then there's the up with in the middle, which is trusting your preparation. That's the key. 
To get in elite shape, to be able to — it's all going to be fourth quarter driven. It's all going to be how we're going to finish in the fourth quarter from a physical perspective. To be able to dominate your opponent in that situation. Win those third downs, win those critical downs. And you have to have an expectation that I don't get tired. They're the ones that get tired. That has to be built, and that's over the summertime. 
That's to be able to maximize our conditioning. We're going to bring in some other groups to get to build our team and do some things whereas team-building and toughness-building and shared adversity over the summertime, creating that with our guys through our strength staff and some groups we're going to bring in will from the outside. 
To me it's just about building the toughness to be able to finish the conditioning that you trust. They've given us OTAs now that we're able to do. That continues to kind of expand in our roles with those, and so there's going to be six of those in the month of June with our full staff, which is unprecedented in the past. 
So that allows you to be able to really prepare them in the month of June more than we ever have in the past. So that to me is a big, big deal. 
So, it's not just the lifting and the conditioning. It's also the timing of the receivers. Two young quarterbacks. All those timings have to happen together. They have to do that alone. Where he can't throw the ball with our coaches there, but guys have both been here in the spring. We have all these receivers here right now. We have one more coming that was with us today that's going to be here in June. Dequece Carter, who is a very, very talented player. 
I really like that room, but they have to come together and get the timing down. That happens during the summertime. To me summer is massive. It's going to be big for us. The guys understand that. We make a big deal for it. 
We talk about May mattering even though it's a time away for them. They have to still continue to train and work like a professional because that's what the pros have to do when their time is away. Be able to have a great plan and to come back to work on June 1st. It's a big part of our next step, and that all will be the focus right now. 
Now this chapter is done, and now moving into the best summer we've had since I've been here. 
On which group he wants to see ramp up the intensity in the summer…
TA: I want them all to up their intensity. They're never going to let up in any way whatsoever. I think the running back room offensively that sticks out to me. I love the way they come to work every day. They have a lot of group. Trent Howland didn't finish out. He had a minor injury, but that's five guys there that I really believe are really good football players and give us a lot of weapons. 
Then I think defensively I like the depth of our safeties, even though there's some young guys there. There's a lot of guys there. We've had some issues in the past where you get one guy goes out, and it's a major drop-off. So you have a chance to have our whole secondary, even though there's some new faces, there's more length there and more volume there. I like that group of guys. 
I want to see our D-line to continue to have a domination mindset, to be able to take a game over. I like the way Lanell Carr can give us a pass rush. He has a twitch to him that's different. 
Myles, we sat him out during the team drills today, but he has had a great, great spring. He is a tremendous leader. You add Phillip and you add Marcus to that crew as well, and then you add Andre Carter, that's some big men there. 300-pound guys. We already know how big Marcus is. 
Bottom line is that I believe that you're only as good as your guys up front. You want to see your O-line to continue to grow from here to the next step this summer in their strength and their mindset and their toughness. 
I could probably mention all the groups, but as far as the two that stick out to me. Everybody has to elevate and continue to work, and that's what we to do as a staff, our strength staff, who do a tremendous job of taking the baton now and finishing strong during the spring. 
On Donovan McCulley's progress in his second spring as a wide receiver…
TA: When we met postseason, I said you have no idea how good you can be. You have no idea. 
So, when he we want away and came back from the break, we sat down again. We mapped out specifically what he was going to do. But he came to me and said, Coach, I want to play a little lighter. I said, I'm good with that. We'll get you to Coach Wellman and get your exact diet down because he knows what he wants to be able to do. To me that's a huge part of this. 
So, it's about core confidence. It's about dominating the guy across from you and the fact that that ball is in the area anywhere close to me, I'm going to catch it. 
You saw him make a phenomenal catch today. He does that throughout practice. Two hands. Nobody should be able to guard him. He is 6'5″ and is a 200-pound guy that can run and jump. I feel that he has tremendous skill. I'm not going to quit saying it. He are can be as good as he want to be. 
I do think that he has now figured out this isn't just a show up and practice hard. This is a 24/7, 365. That's my sleep habits, my diet, what I put in my body so I can be more explosive, run faster, getting to my brakes better and allowing him to be a better receiver. So I think Coach Tucker, we've had some really good receiver coaches here, and we have another one. I think he is excellent as well. 
He is responding to him really, really well, and I'm excited about what he has decided he wants to do. Another guy that is going to have a great summer. I believe he will because it started to click on the inside, and I think that's a big part of the extent for him. 
On if his view of spring ball has changed with the added summer contact with the team…
TA: I'll just give you a specific example. Usually the last couple of practices during the springtime we have to set the stage for all the drills we want the players to do during the summertime because we can't be there. It takes some time to get that taught. You go through all those different things. 
Well, now we didn't do any of that. We actually did individual. We did fundamentals all the way up until today. 
So, we have so much more work on that because now we're going to be with them in June to be able to be during those individual periods where we don't have a — we're not throwing the ball. We're doing conditioning, but it's technique and fundamentals. That's it. To me it's a bit, big difference. 
Just the ability to do some things holistically where you can even have install. The install is way more aggressive. Here's the thing, everything in the past that we did was player-led practice. You know how that goes. 
Sometimes you get nervous because you can get bad habits. You're just doing pass skelly. Well, we couldn't be out there. You can't watch it. You can't correct it. Players have to correct themselves. You have to rely on them to tell you the mistakes that were made and work them through it. 
That's a little bit — always made me nervous because then you have to undo some of that when you get into fall camp. Now I don't feet like that's the case with them anymore. 
Now we can't do skelly with them, but we can do no ball and teaching those concepts. I feel like it's definitely more you are trying not to make it where it's burdensome. You don't want them to come into fall camp burned out and feel like they're not excited about the start of the season. We don't want to do that. I feel like we have to maximize. 
So that's why we've actually done more in June, actually a little bit less in May. Even though they're going to do some things in May, we want them to get away in May as much as they can because I think that's important. 
Because if not, it's year-round, and they never get a break. It's kind of been an adaptation for us what you do in May, what sets up what you do in June. June is way more active than it used to be. That sets us up for a good July. 
Coaches need to get a chance to get themselves away a little bit so they can come back refreshed because June is camps, it's recruiting. We have official visits. We have OTAs and a lot of things going on. 
June is really, really intense for the coaches, but that's just part of it. So they get their time to get away a little bit in July, if that makes sense. You have to mesh all of those together to get it to where everybody is getting a chance to maximize the calendar, come back refreshed and be ready to start on July 31st. 
This year we report back to fall camp. First practice will be August 2nd. That's how it works. That's how it looks. That's a great question. We've had to adapt, and I feel good about where we are. 
Follow Hoosier Illustrated on Twitter @Indiana_FRN to stay up to date on all of the news, updates and coverage of Indiana University athletics. 
Indiana football set to add field-level premium seats in Memorial Stadium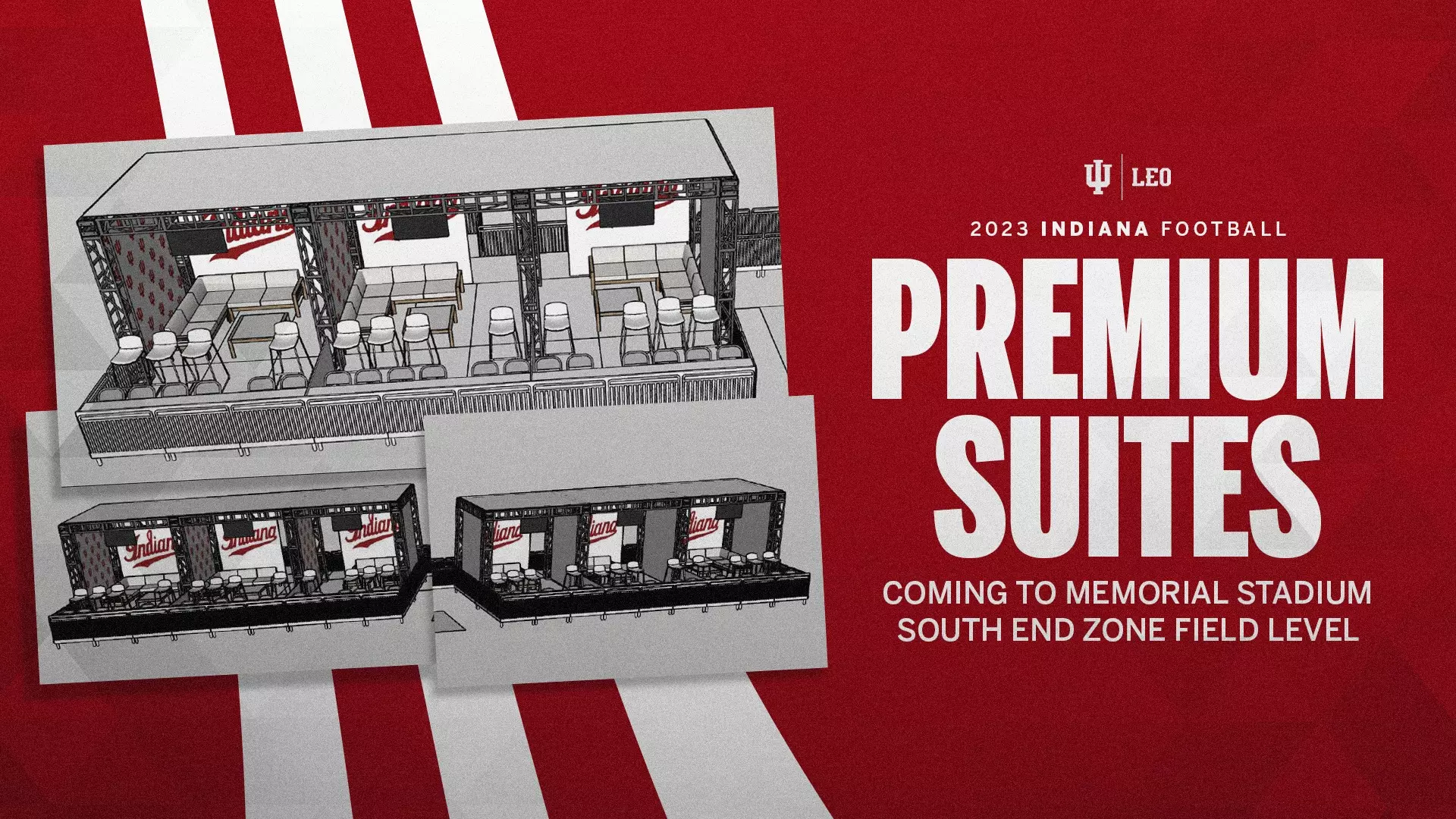 The Indiana football program has unveiled a new experience at Memorial Stadium. Set to roll out this season, Indiana will provide premium suites for game-day experiences.
Memorial Stadium will have  eight field level suites on the stadium's south end behind the end zone.
Each suite costs $20,000/season, which includes 16 tickets to each of IU's home games. Pricing for a single-game suite is TBD.
Below is the full release from the Indiana football program.
Bloomington, Ind. – Hoosier Football fans now have the chance to enjoy a premium suite experience at Memorial Stadium from field level.
Beginning this fall, Memorial Stadium will feature eight field level suites on the stadium's south end located immediately behind the end zone. Each suite includes spacious, sectional furniture seating; a mounted large screen television on the suite's awning; a drink rail with seating facing the field; high barstool seats to provide additional seating space. Other special amenities include an all-you-can-eat hospitality buffet; domestic, craft beer, and wine options; a personal suite attendant; and a unique player vantage point from field level.
Each suite costs $20,000/season, which includes 16 tickets to each of IU's home games beginning with the Sept. 2 opener against Ohio State. Pricing for a single-game suite is TBD.
The new premium suite experience is the result of a new partnership between IU Athletics and REVELXP. REVELXP partners with sports and entertainment brands across the U.S. to provide fans with an elevated experience on game days. To date, REVELXP has partnerships with nearly 100 collegiate and professional properties nationwide. Among its active partnerships are Auburn, Arkansas, Baylor, Florida, Florida State, Kentucky, Ohio State, Michigan, Michigan State, Oklahoma, Penn State, Texas, Texas A&M, USC, and the College Football Playoff.
"We continue to look for ways to enhance and expand the game-day experience alternatives for Hoosier football fans, so we are excited to offer this new premium seating opportunity beginning this fall," said IU Vice President and Director of Athletics Scott Dolson. "REVELXP has a proven track record of providing the highest level of service and experiences at a wide array of events, college football included.  I expect this to be a very enticing opportunity for our fanbase for not only this year, but for years to come."
Make sure to follow Hoosier Illustrated on Twitter @Indiana_FRN and YouTube to stay up to date on all of the news, updates and coverage of Indiana University athletics. 
Indiana football opens 2023 season against Ohio State with primetime afternoon CBS time slot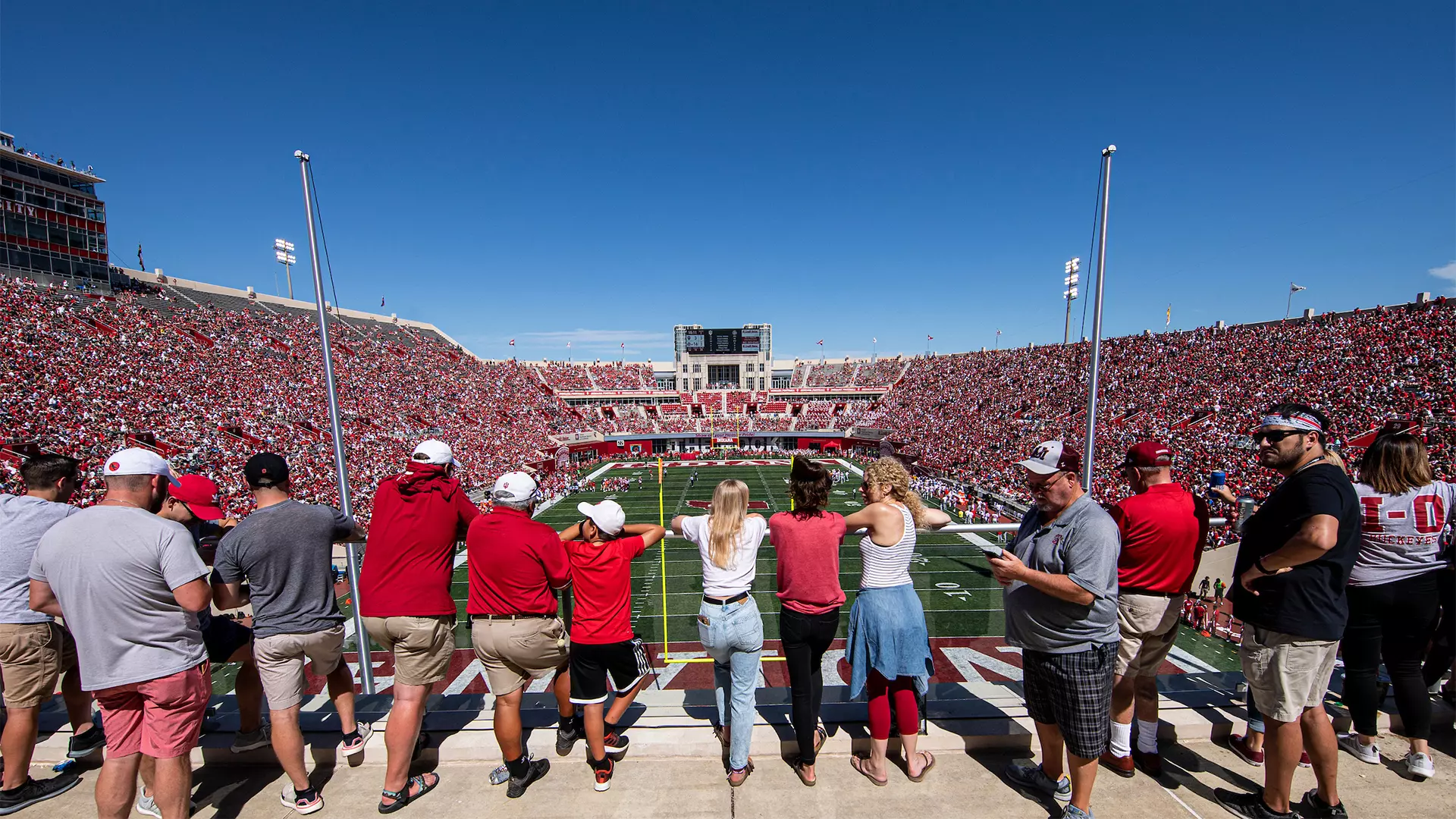 The Big Ten has announced game times and tv designations for the first three weekends of the 2023 season. That includes a prime afternoon time slot for the Indiana football program in its season opener.
On Saturday Sept. 2, Indiana will open the season at home against Ohio State at 3:30 pm on CBS.
This is the first year of the Big Ten's new television contract which includes NBC and CBS tv designations.
Below is the full release from the Big Ten.
ROSEMONT, Ill. – The Big Ten Conference has announced times and television networks on Wednesday (May 31) for the first three weekends of the 2023 season along with the time for the Indiana football homecoming game.
The conference office announced the following for the Hoosiers:
Saturday, Sept. 2 | Ohio State at Indiana | 3:30 p.m. | CBS
Friday, Sept. 8 | Indiana State at Indiana | 7pm or 8 p.m. | Big Ten Network
Saturday, Sept. 16 | Louisville vs. Indiana | Noon | Big Ten Network
Saturday, Oct. 21 | Rutgers at Indiana | Noon
The 2023 season marks the first season with new broadcast partners to distribute the conference's television broadcasts. Games will be distributed to fans across broadcast, cable and direct-to-consumer platforms on CBS, FOX and NBC, along with the Big Ten Network and FS1. NBCUniversal's direct-to-consumer platform, Peacock, will also carry Big Ten games for the first time.
All games televised on NBC will also be available for streaming on Peacock. Games exclusive to Peacock will only be available on that platform.
Make sure to follow Hoosier Illustrated on Twitter @Indiana_FRN and YouTube to stay up to date on all of the news, updates and coverage of Indiana University athletics. 
Indiana Football: DeQuece Carter among highest rated returning WRs in Big Ten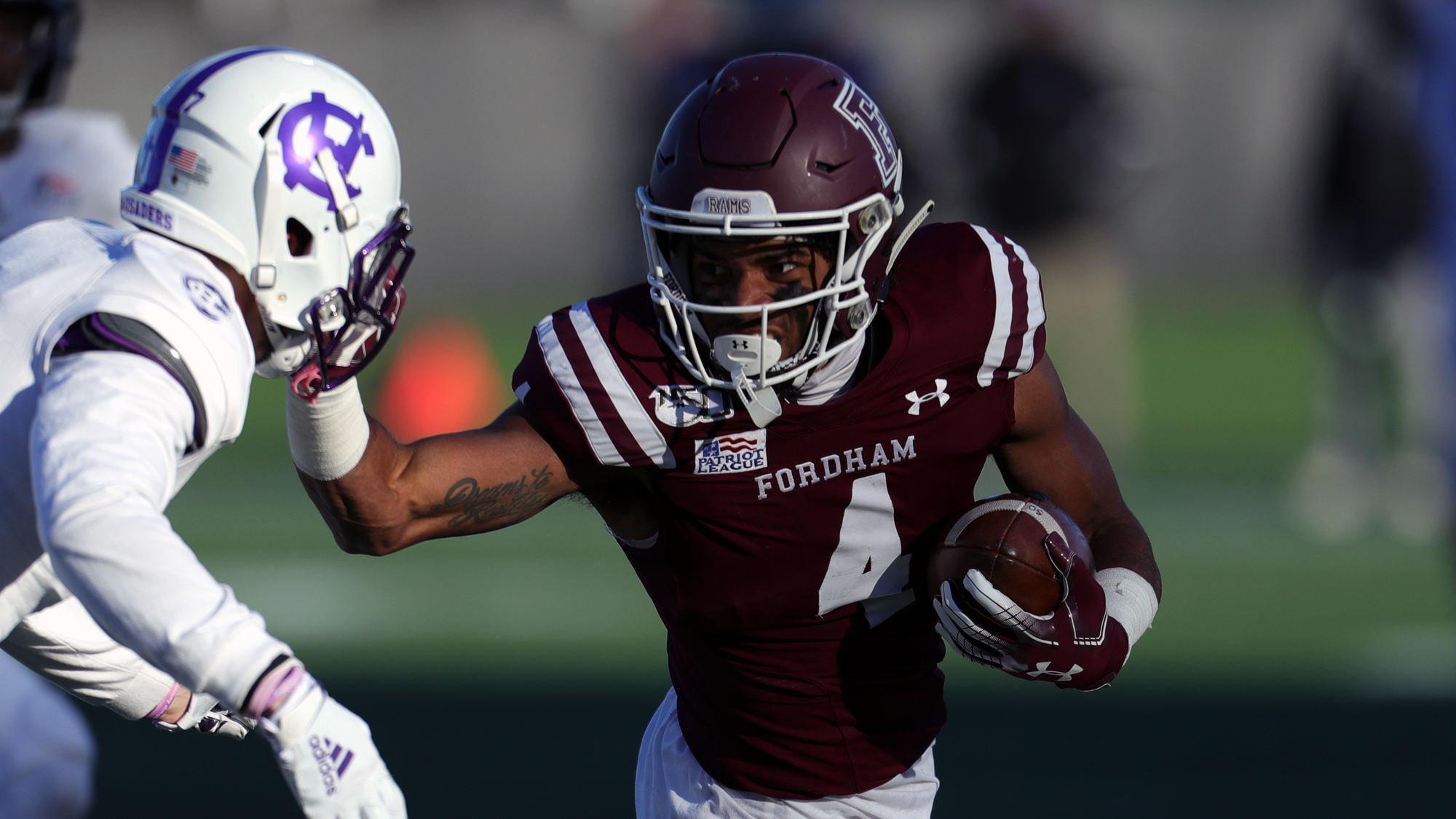 The Indiana football program landed one of the most productive wide receivers in the transfer portal this offseason. DeQuece Carter, transfer from Fordham, arrived in Bloomington this spring looking to make an immediate impact on the Indiana football program.
The 5-foot-11 Carter had 1,166 yards with 56 receptions and 13 touchdowns last year. He had five 100+ yard receiving games and averaged 20.8 yards per catch.
As a junior, Carter finished with 48 catches for 872 yards and 11 touchdowns. As a freshman, he was named a Freshman All-American after totaling 53 catches for 723 yards and five touchdowns.
Now, heading into the 2023 season, Carter is ranked among the highest wide receivers in the Big Ten.
According to Pro Football Focus, Carter is the fourth highest graded receiver who returns from last year. He has a rating of 80.8. The three wideouts in front of Carter include Dante Cephas of Penn State and then two Ohio State wide receivers at No. 1 and No. 2, Marvin Harrison and Emeka Egbuka respectively.
After a lack of explosive plays in 2022, the Hoosiers are looking for that with Carter this season.
"Super, super productive … that's one of the things you go through. Let's go find a guy who has been highly, highly productive maybe at a smaller level but he has a chip on his shoulder because he wants to prove he belongs with the big boys. And that's what he brings," IU head coach Tom Allen said after Carter's signing. "… He knows how to get open and has tremendous ball skills to be able to make plays. He's got that swagger, that confidence that when he steps on that field he's going to make plays."
Indiana looks to bounce back after a 4-8 season and Carter's ability to make explosive plays is a reason for some offensive optimism.
Indiana football opens its 2023 season against Ohio State on Sept. 2 in Bloomington.
Make sure to follow Hoosier Illustrated on Twitter @Indiana_FRN and YouTube to stay up to date on all of the news, updates and coverage of Indiana University athletics.