Report: Indiana basketball to open season with Florida Gulf Coast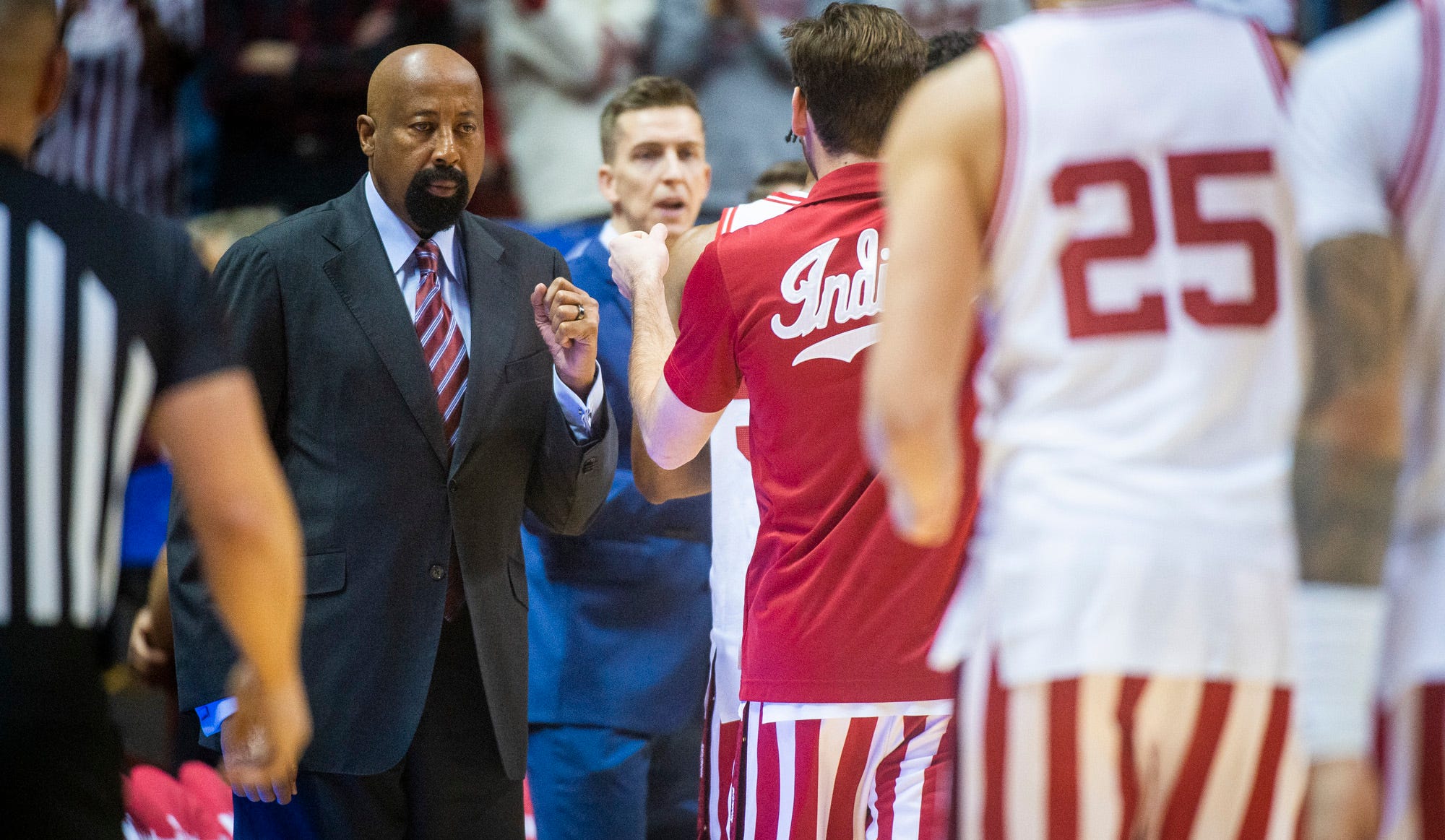 The Indiana basketball program has added another non-conference opponent to its schedule. On Thursday, it was reported by CBS Sports' Jon Rothstein that the Hoosiers will open the 2023-24 season against Florida Gulf Coast.
The game will take place on Nov. 7 at Assembly Hall.
Florida Gulf Coast is led by Pat Chambers, former Penn State head coach. The Eagles went 17-15 in Chambers' first season.
Kansas headlines the non-conference slate for the Indiana basketball program.
Auburn, Harvard, Wright State and the Empire Classic are the other non-conference opponents on the schedule.
Indiana will play two of UConn, Texas and Louisville from Nov. 19-20 at Madison Square Garden as part of the Empire Classic
When Mike Woodson took over the Indiana basketball program, he made it known he wanted a challenging non-conference schedule. Between the Empire Classic and Auburn this year to a matchup with Arizona last season and a home-and-home with Kansas … he's done exactly that.
"I think it's important to prepare yourself with high-level competition as much as possible as your team gets ready for a 20-game Big Ten schedule," Woodson said last season.
"I think you've got to challenge your team as you move forward. As we're building this, we've got to challenge ourselves with big time programs."
Make sure to follow Hoosier Illustrated on Twitter @Indiana_FRN and YouTube to stay up to date on all of the news, updates and coverage of Indiana University athletics. 
Indiana Basketball: Jalen Hood-Schifino should 'blow away teams' during pre-draft process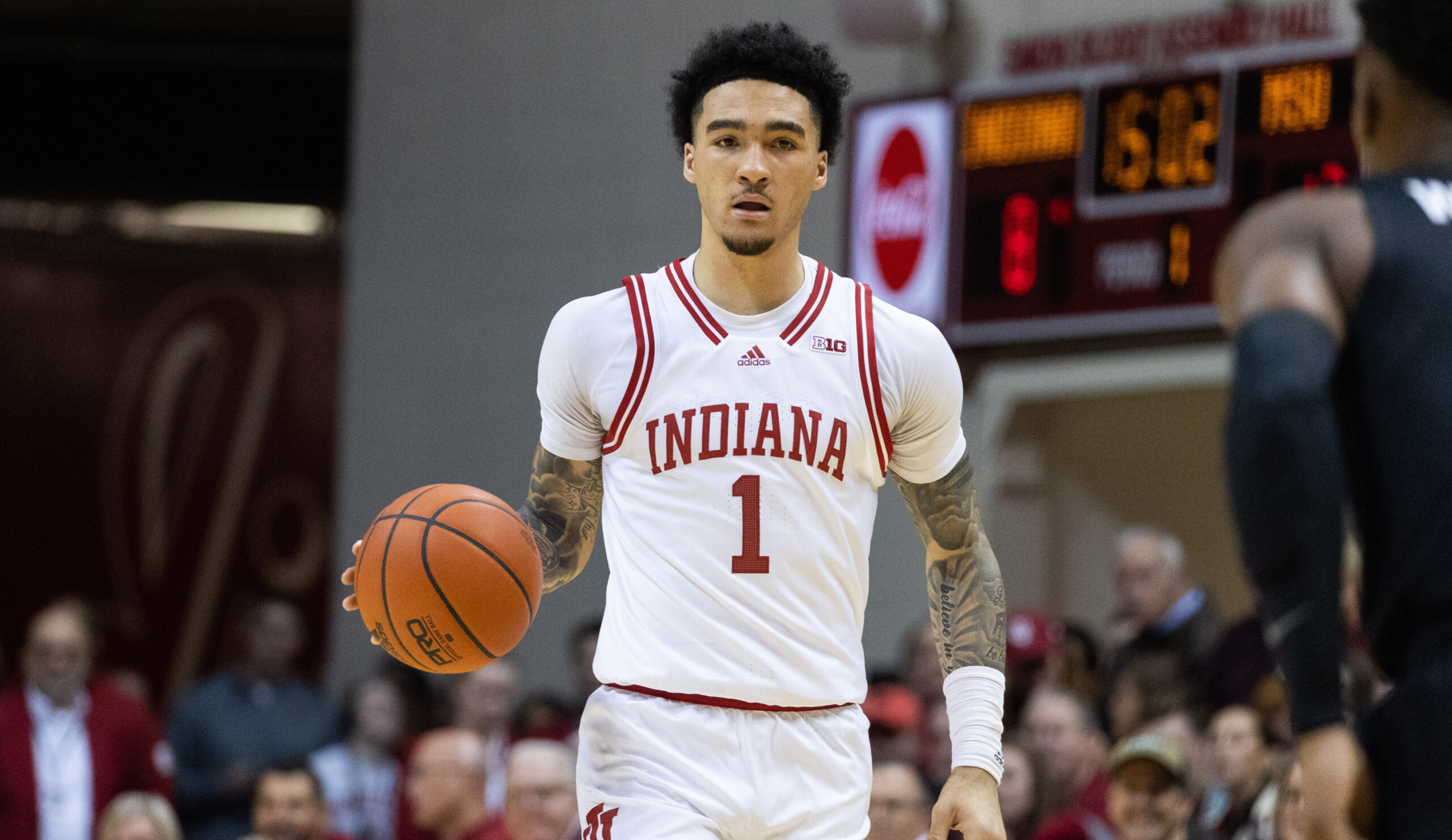 Jalen Hood-Schifino had a phenomenal freshman season with the Indiana basketball program — one that was 'nothing short of amazing'. The 6-foot-4 guard is now slotted to go late in the lottery to mid-late of the first round of next month's NBA Draft.
With the NBA Combine come and gone, Hood-Schifino is set for the next chapter in his basketball journey.
The question is no longer if he can make it to the next level, but when he'll hear his name called.
"I think JHS is a very smart player that should blow away teams that get to spend time with him during the pre-draft process," an anonymous NBA Scout told HoosierIllusrtated.com. "Wherever a team had him April 1, it will only improve as their process goes along."
Hood-Schifino was named Big Ten Freshman of the Year this season as well as All-Big Ten Second-Team. He averaged 13.5 points, 4.1 rebounds and 3.7 assists per game this season.
The talented point guard showed the ability to play both on and off of the ball this season for Indiana. He was best, however, with the ball in his hands and in attack mode.
That's something that caught the eye of scouts.
"I had major concerns with his ability to put pressure on the defense with his lack of scoring initially, but it was encouraging to see him continue to improve in that area as the season wore on," the anonymous NBA Scout added.
Coming to the Indiana basketball program from national-power Montverde Academy (Fla.) where he won two national championships, the mentality of being a winner was there.
The success he had in high school never wavered when he got to Bloomington. In fact, it continued to blossom.
"It's something I saw in high school, and high school is not college," IU head coach Mike Woodson said about the mentality of Jalen Hood-Schifino. "Once he got here, you could see how he approached things on and off the floor, his demeanor."
"The IQ, leadership and playmaking are clearly there," the scout added.
His competitive and winning nature is appealing to many NBA teams.
The biggest knock on Jalen Hood-Schifino, however? Some ability to defend quicker and smaller guards. While it's not a major concern, it's something that scouts are saying is an area that will be his biggest weakness.
"One area I took for granted would be a strength coming in to the year was his defense and it seemed he had trouble keeping quicker guards in front of him at times," a scout said. "I could see him initially being paired with an undersized shooting guard that can guard 1's to keep him on the wings."
One thing is for certain. Hood-Schifino has been preparing for this moment for his entire life. From a mentality standpoint, he's been prepping to be a 'pro' since he arrived at Montverde three years ago.
Now, it's time for all of that hard work to pay off … and it will.
The NBA Draft will take place on June 22.
Make sure to follow Hoosier Illustrated on Twitter @Indiana_FRN and YouTube to stay up to date on all of the news, updates and coverage of Indiana University athletics. 
Watch: Workout highlights of Indiana basketball sophomore guard CJ Gunn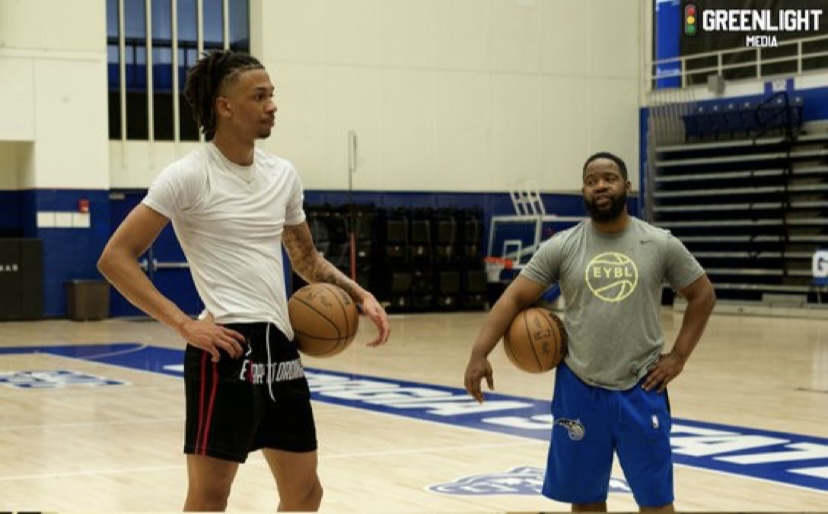 The 2023-24 Indiana basketball team will be leaning on 'untapped potential' next year. One of the players that many fans are hoping to take that next step and has that untapped potential is sophomore guard CJ Gunn.
CJ Gunn is one of three returning sophomores, Malik Reneau and Kaleb Banks included, that will be looking have much larger role for Mike Woodson and the Hoosiers next year.
Last year, Gunn's minutes were very spotty at times and would usually only see time on the floor with the game pretty much decided. Overall, Gunn only averaged 7.5 minutes per game.
Gunn, a true shooting guard, has all the tools to really carve a role out for Indiana next season. Gunn is an extremely athletic guard that can create his own look both on and off the ball.
With his elite shooting ability that was seen at the High School level, he has a chance to step up and improve Indiana's perimeter shot making. It really comes down to consistency at shooting behind the arc and overall defensive play for Gunn's role to increase.
Below are highlight of Indiana basketball sophomore guard CJ Gunn getting an offseason workout in in Atlanta, Georgia with trainer Rob Allen.
Indiana's CJ Gunn is set for a breakout sophomore season.📈 The 6'6 SG is a good athlete with great shooting potential. (@CJ_Gunn22)

Improving his handle and overall shooting consistency. Pushed himself hard.

Workout out in Atlanta with @coach_rob10. pic.twitter.com/CQ23TigZUu

— GREENLIGHT MEDIA (@atlgreenlight) May 26, 2023
Make sure to follow Hoosier Illustrated on Twitter @Indiana_FRN and YouTube to stay up to date on all of the news, updates and coverage of Indiana University athletics. 
'It's going to be my job to bridge the gap': Mike Woodson's vision for Indiana basketball is coming to life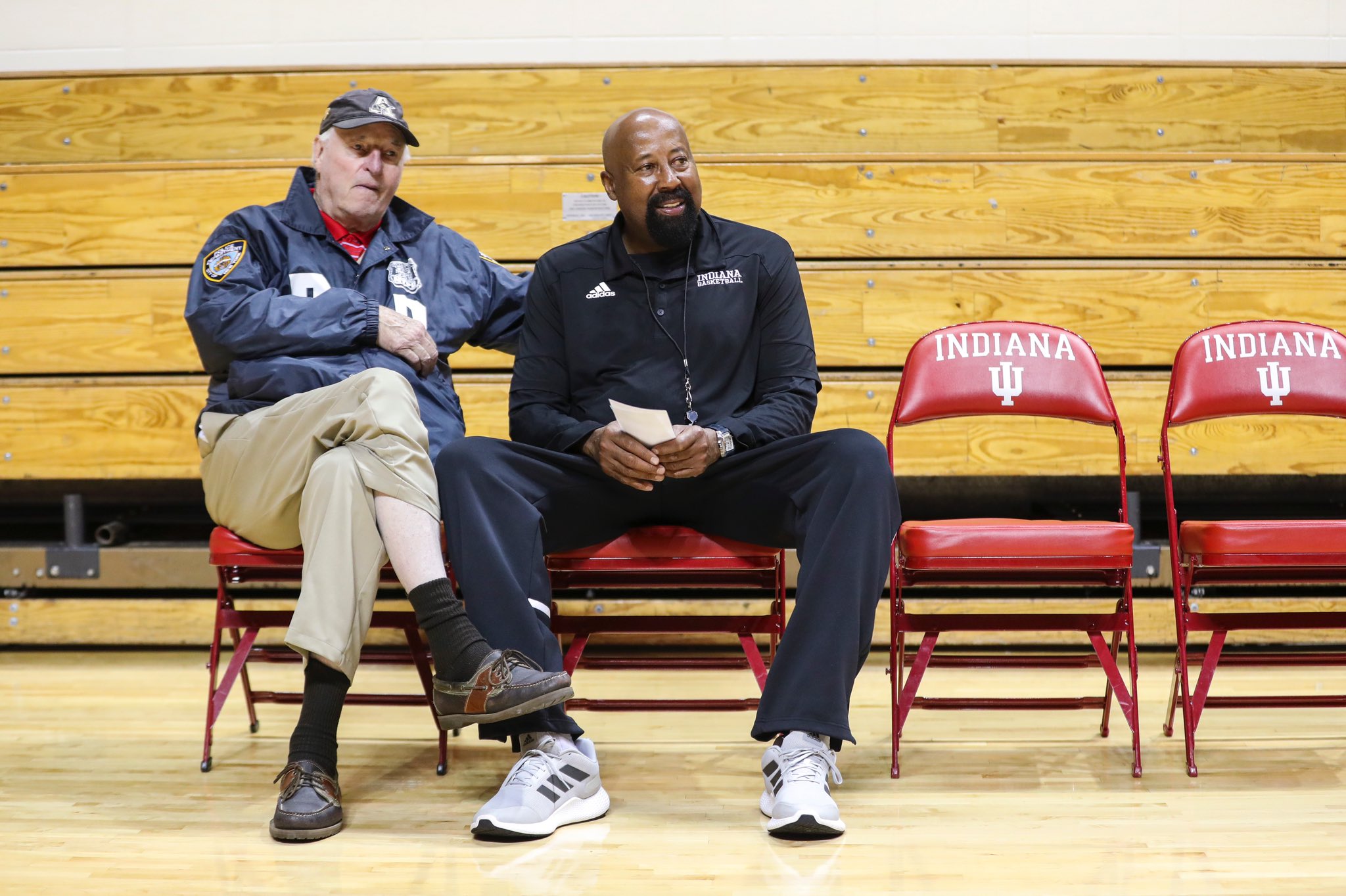 When Mike Woodson took the Indiana basketball head coaching job in 2021, he didn't mince words.
His goal for the program was quite clear. Win and bring back the 'Indiana family' that had been missing for quite some time.
How would he do that? For starters, it was 'bridging the gap' between generations young and old. Fans who grew up seeing three National Championships in a nine year span have now gone 36 years since a new banner has been added to Assembly Hall. For young fans, they haven't seen an Indiana team in a Final Four since 2002. As a matter of fact, since that last Final Four, they've seen more NCAA Tournaments without Indiana involved (11) than with the Indiana basketball program in the tournament (9).
So, it wasn't an easy path forward for Woodson, but one that he was going to make sure would happen.
"It's going to be my job to bridge the gap between young people who don't know who coach Woodson is and the old-timers who don't know who I am. I'm going to bring all the old-timers back like the old days, and we going to bridge the gap between old and new," Woodson said in March of 2021 at his introductory press conference. "At the end of the day, it's about two people or two things, and that's the fans and our basketball program and our players."
After back-to-back NCAA Tournament appearances — after five years without an appearance — Woodson has the program back heading in the right direction.
So for now, goal number one is heading in the right direction.
For number two, well he's doing exactly what he said as well.
The 'bridge the gap' phrase that Woodson explained two years ago has resulted in numerous former Indiana players back in Bloomington as part of the staff or his advisors.
It started with Randy Wittman who has been a  non- official staff advisor to Woodson since he returned to Bloomington. Then, last year it was Jordan Hulls who returned as the Recruiting Director. He acts as a a valuable member of the on-campus recruiting efforts as well as a de-facto fourth recruiter if and when Woodson is not on the road at recruiting events.
Then, earlier this week it was announced that Calbert Cheaney was returning. After numerous years on the Indiana Pacers staff, Cheaney is returning as Director of Player Development.
So why is there a major uptick in the Indiana basketball family returning? Well it's simple — the love and passion for the program. And, the shared vision they have with Mike Woodson.
"I have nothing but love and passion for this program and I can't wait to return and start working with our players and staff," Cheaney said. "Helping them get the most out of themselves is something that I enjoy and brings me great satisfaction when they see their work pay off on the court."
"Indiana University has been a part of me my whole life and I couldn't be more excited to come home and work with Coach Woodson, the entire staff, and our players in the program. The relationships built during my time at IU with my teammates, coaches, and community helped shape me into the person I am today," Hulls said upon taking the position. "… For me, it was something that if I was going to give it (professional basketball) up, it would have to be for a situation to come back home, that is really the only way that I'd ever do that… For me, this was something I couldn't pass up."
Not only was it an easy answer for Cheaney and Hulls, it was also an easy decision for Woodson.
"Anyone you talk to who has spent any amount of time with him has the utmost respect for him," Woodson said of Hulls. "With his experiences, I believe he can be a tremendous asset to our players and staff and we are excited for he and his family to come back home."
"Our players can ask him, how do you become successful when you get to college?  What can I do to help my team win championships? What do I need to do to be an All-American or National Player of the Year?  How did you become a first round draft pick who played 13 years in the NBA," Woodson added of Cheaney.
The gap hasn't ended there though.
After two decades of absence and a strained relationship between the Indiana basketball program and its legendary coach Bob Knight, his return to Assembly Hall in 2020 was a nice homecoming.
But since then, Knight has come around more … and more. He has been a frequent visitor at practices over the last two years.
"All I can talk about is the days when Coach Knight was here and how you know, he had everybody come back every year, and that was a beautiful reunion, man. I miss those days. And I'm going to bring those days back because I think it's important," Woodson said. "A lot of these old-timers, they probably look at me as an old-timer. We laid the groundwork for where we are today and those players should never, ever be forgotten and in my heart they won't ever be forgotten."
A reunion is something that Woodson has been working on ever since he took the head coaching job.
While reunions typically don't take place everyday — that's what he's currently building in Bloomington. Some of the most recognizable former Hoosiers are now back and here to stay.
They've been winners wherever they've been. Now, it's about making sure that they can 'tie it all together' and bring Indiana basketball back to its historic roots.
"Mike certainly gives us a bridge to our past. But more important than what he did as a former Hoosier player, he's someone who shares my vision for what Indiana Basketball is about, and I'm thrilled about what this day means for our program," IU Athletic Director Scott Dolson said at Woodson's introductory press conference.
"At the end of the day, I've been chosen to be the coach here," Woodson said. "I'm going to try to tie it all together to make it all work, and we all be one big family and win basketball games."
Make sure to follow Hoosier Illustrated on Twitter @Indiana_FRN and YouTube to stay up to date on all of the news, updates and coverage of Indiana University athletics.