Postgame Reaction: Indiana reacts to win over Kent State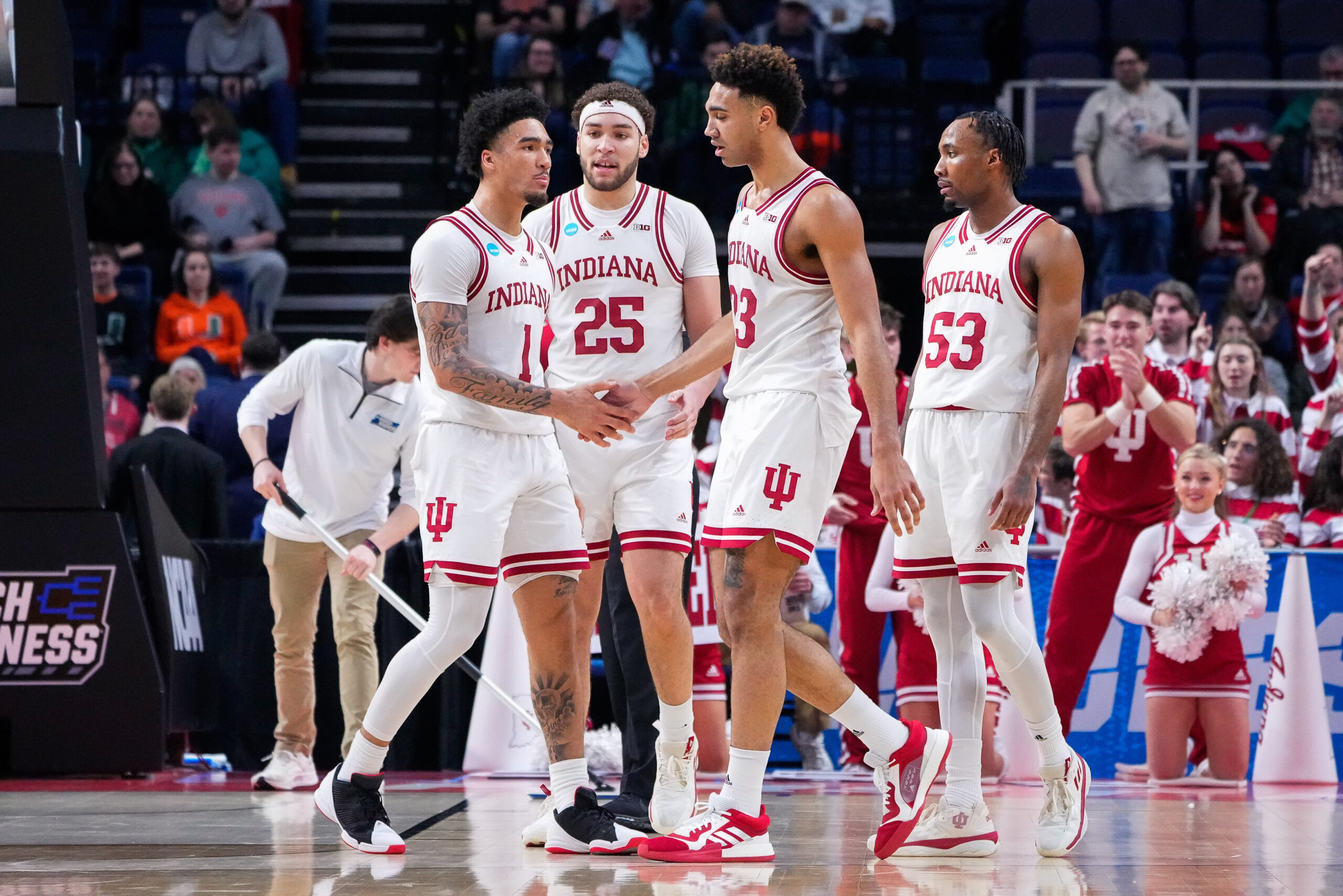 Indiana defeated Kent State in the Round of 64 on Friday night 71-60.
The Hoosiers advance to the Round of 32 and will play Miami (Fla.) on Sunday night at 8:40 pm ET on TNT.
Below is the full transcript from head coach Mike Woodson and players Trayce Jackson-Davis, Race Thompson and Miller Kopp.
—
MIKE WOODSON: These three seniors up here were pretty damn good tonight. We played a tough team in Kent State. To hold that team to 60 points, our defense was pretty damn good, and these three guys had a lot to do with it.
Q. Race, I imagine this is kind of an obvious question, but you've had to navigate some injuries this season, some ups and downs. You've talked about — just what does a night like tonight feel for you, 20 and 9, and really having long stretches out there where they couldn't slow you down?
RACE THOMPSON: Really, I'm just thankful for my teammates always keeping me locked in. I've been banged up a lot this season, and if I can't practice, they always tell me it's going to be all right, just stick with it.
I just give credit to my teammates and coaches for keeping me confident, keeping me locked in even when my body isn't feeling great. So yeah.
Q. Trayce, Sullinger hit a couple threes to make it an 8 point game and you scored six straight for you guys. What was your mentality when the lead was starting to dwindle a little bit and you had to go out and get those shots?
TRAYCE JACKSON-DAVIS: Coach Woodson, he's always trying to put me in position to score. I finally got a little bit of a groove and had a big play, an energy play. Whenever that happens, my teammates try to get me the ball and they put me in great positions.
I knew Miller threw me a great pass, we got offensive rebounds and tips. I just try do whatever to help my team win because I know they feed off my energy. So it was big, and then after that, I feel like everything was kind of smooth from there on out.
Q. Miller, there's been, no pun intended, a lot of madness the last two days. How much do you guys kind of pay attention to that? Do these upsets kind of help you guys zero in on this game and say we can't get comfortable?
MILLER KOPP: Our preparation stays the same. In every game — like I said before, we've learned from our losses in the season and conference play. So those are enough to wake us up and keep us locked in.
Of course we watch all the games. We're hoop junkies. So we see all the games and upsets and stuff. But really it's just about our preparation and doing the same stuff.
Q. Race, Kent State plays a style that's going to test your toughness a little bit. How much did your start — you made 4 of the first 6 shots for the team — kind of get you in that mode of toughness and kind of also make you relax a little bit and be able to play?
RACE THOMPSON: Starting out like that, it just kind of settles you in personally. You're feeling good about yourselves, and that carries over to both sides of the ball on defense. Again, I think it just gets our team going as well.
So getting easy buckets like that kind of sparks our offense, sparks our defense. So I think it's good to start like that.
Q. They shot less than 32 percent. From your perspective, what was the key to holding them down?
TRAYCE JACKSON-DAVIS: We had a great scouting report. I think we followed it beautifully. We kind of knew their tendencies and the plays they were going to run.
We were in the get out, and we challenged almost every three-pointer they shot. They hit some tough shots, and sometimes that's going to happen, especially March. But overall I thought our defensiveness and our connectedness as a group was really good tonight.
Q. Trayce, I noticed you limping a little bit coming out of the tunnel there off the court. Is anything bothering you, or is that just a by-product of playing a physical game like you did tonight?
TRAYCE JACKSON-DAVIS: No, it was just a physical game. Kind of got a little hip pointer in the first two minutes of the game, but it's just something you've got to play with. It's not very much bothering me. I feel like I was fine out there.
Q. For all three of you, obviously Kent State was built up as a good team. Was there an element of relief tonight getting out of playing Big Ten opponents for the first time in three months or so? How much were you looking forward to that?
TRAYCE JACKSON-DAVIS: Absolutely. Big Ten's a growing league, but at the same time, Kent State is a great basketball team, and they play really physical like a Big Ten team. So still credit to them because they're a great team. They won their conference tournament, so they're winners, they know how to win.
But at the end of the day, it was us against them, and someone's got to go home. We kind of shut them down, and that's what we had to do.
Q. Size played a role here tonight, too. Talk to me about how much your length really affected their shots and really made them take some uncomfortable looks.
MIKE WOODSON: We knew going in that we were a little bit bigger than Kent State. So I thought the game plan offensively was to go inside. I mean, that's where we've been pretty good all season.
Race got off to such a great start. We were able to milk him some. And Trayce had his usual game.
I just thought it was a total team effort tonight against this team because this team could really score the basketball, and the defense set the tone, I thought.
Q. Trayce, I'm going to ask you about Race. Obviously you guys have been through a lot together. How have you seen him navigate a season when there have been some ups and downs? He's had to sit and watch a little bit. What does a night like this mean for you as his teammate?
TRAYCE JACKSON-DAVIS: It's not only huge for me, but it's huge for our whole team because we've got so many weapons, and I think sometimes people forget that. But anyone can go off on any given night.
Especially when you get into this tournament, everyone's got to be clicking. Miller's hitting shots. Race was doing really, really well, hitting shots and doing everything. Our team, we're not selfish. We'll find guys and get whoever's hot the ball.
That's what happened tonight. We were all clicking, and we really fed off him at the beginning of the game.
Q. Miller, when did you decide to go with the headband? And I noticed it's upside down right now, too. When did you decide to go with that?
MILLER KOPP: I just think of myself as a fashionable guy.
TRAYCE JACKSON-DAVIS: Really?
MILLER KOPP: No, I haven't worn one in five years of college, so I thought why not for the NCAA Tournament? That's it.
TRAYCE JACKSON-DAVIS: I think you should keep it.
THE MODERATOR: With that, gentlemen, thank you.
Questions for the Coach.
Q. Mike, I'll stop hammering the Race question, but for you, how have you seen him as a sixth year guy, an experienced guy, but also a guy who's maybe had to defer to Trayce a little bit more, has had the injuries and had to watch more than he would have liked, how have you seen him navigate this season, and what do you think a night like him means to him?
MIKE WOODSON: Well, tonight should mean a great deal to him because last season you could have easily said he could have been our MVP based on how he played. Unfortunately, he's had some injuries this season that has kind of put him behind.
To see him come out tonight and play a game like he did is special. I mean, it could not have happened to a better person because he's a really good young man. So I was happy for him, and we needed all of it.
Q. Kind of a similar question I asked Miller. How much are you watching the games during the day seeing all upsets? Are you kind of nudging your guys like, look, you can't get comfortable because anything can happen in March Madness.
MIKE WOODSON: I think our guys know. They watch. I watch games, but my focus is on who we're playing and my team, our team. That's where my focus is.
I mean, you can't worry about other teams. You've got to worry about what's in front of you, what you're facing. Kent State was the team that we were facing tonight, and that's where my focus was, how we were going to come out and perform.
Now we have Miami, who's a well coached team, who's had a helluva season. We got them on Sunday. So we've got to go back and start to work and prepare for them.
Q. Coach, I hate to say like Trayce had a slow start, but it seemed like his offense got going in the second half. How important is it for him to — how important is his ability to affect the game in so many ways even when clearly they seem to be sort of focusing on stopping him offensively?
MIKE WOODSON: Again, we're not trying to hide how we play. He's been the focal point of our offense, and he's kind of anchored our defense by rebounding and blocking shots for us.
You know, he missed — his first two shots around the bucket was point blank that he just missed. Or he probably would have got off to a better start. I thought he hung in there, and he just kind of let the game come to him because they were basically trying to keep the ball out of his hands. And when he caught it, they came on the bounce.
Things just started to open up a little bit more once we opened the floor up and got out and got some easy buckets. And then he brought it home for us down the stretch because I thought he made about three or four plays down the stretch to put the game out of reach.
Q. They shot less than 32 percent. You obviously played for Coach Knight. Defense was his calling card. How much of what you do and how you approach things is built off of what Coach Knight taught you?
MIKE WOODSON: It's got a lot to do with it. He made it very clear when we played for him, and all the years that I've watched him coach, that defense wins championships. What better person to know that? He won three.
I've seen it done at the highest level in the NBA, when we were at the Pistons, when we won it that year. So I know defense wins championships. I know if you commit yourself and you rebound the ball along with the defensive end, you'll put yourself in position to be in every game and have an opportunity to win.
We knew coming in tonight we had to defend this team because they could score the ball. I thought for the most part we were solid all the way through, and we're going to need that the rest of the way.
Q. Mike, at the 2:10 mark in the first half, you brought Jalen back with two fouls, and the team immediately goes on a 6-0 run. It's always a judgment call whether you bring somebody back or not. What went through your mind to do that, and what was part of your decision-making at that point?
MIKE WOODSON: When I look at it like that, he had two, and I'm always thinking ahead. You know, it's a long game. You've still got another half. He picks up three, then you're kicking yourself. After we made the 6-0 run, I pulled him right before the half and got him ready for the second half.
But it is a judgment call. I threw him back in because we were struggling to get the ball moved, and I thought we had some empty possessions offensively that I thought maybe he could come back in and jump start us a little bit, which he did.
Again, from a coaching standpoint, you're kind of rolling the dice. It worked out for us.
Follow Hoosier Illustrated on Twitter @Indiana_FRN to stay up to date on all of the news, updates and coverage of University of Indiana athletics.