Indiana football punter James Evans makes preseason watch list for the Ray Guy Award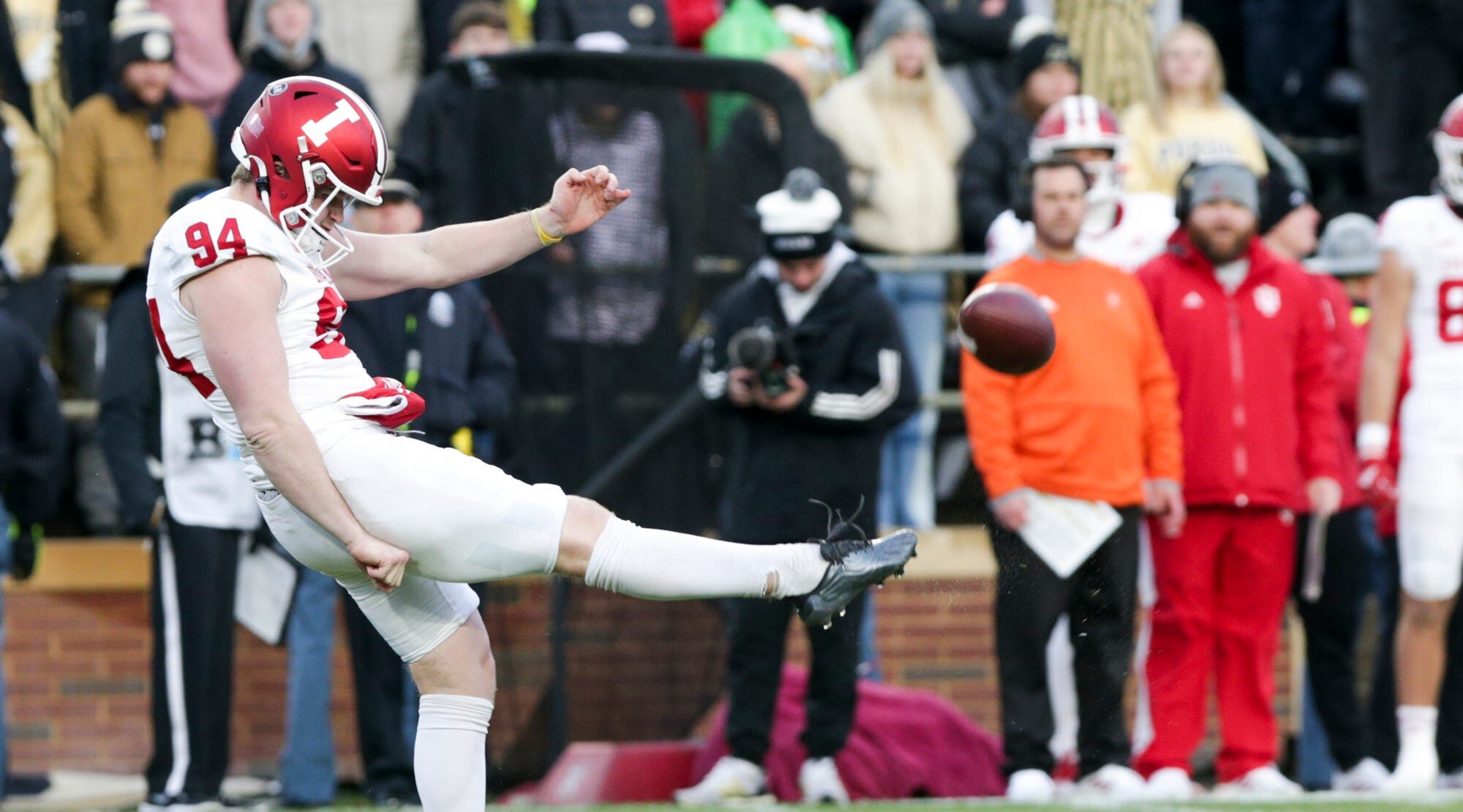 As it was announced per an Indiana football release, Junior punter James Evans was selected for the Ray Guy Award preseason watch list
Evans is currently No. 1 in Indiana football program history in all-time punting average mark at 43.1 yards.
This news comes just a few days after it was announced that Indiana football is planning for a football-only weight room facility. 
Evans is now the third Indiana football Hoosier to earn preseason honors following behind Kahlil Benson (Allstate AFCA Good Works Team) and Sean Wracher (Patrick Mannelly Award).
Below is the full release.
BLOOMINGTON, Ind. – Junior punter James Evans was selected for the Ray Guy Award preseason watch list, the Augusta Sports Council announced on Wednesday (August 2).
Evans currently holds the program's all-time punting average mark at 43.1 yards after he finished No. 2 on the single-season punt average charts (44.3) in 2022, tied with Jim DiGullio (1992). He finished 2022 ranked No. 2 in punting average (44.3) and No. 3 in total punts (75) in a season, tied with Tyson Beattie (2005). In his career, Evans has 17 career punts inside the 10-yard line and 43 downed inside the 20-yard line.
The Augusta Sports Council created the Ray Guy Award in 2000 to honor Thomson, Georgia native and College and Pro Football Hall of Fame inductee, Ray Guy. Among the statistics used to identify the winner is net punting average, number of times punt is downed or kicked out of bounds inside the opponents 20-yard line, total yardage punted, average returned yardage and percentage of punts not returned with particular emphasis placed on net punting average. The winner must display team leadership, self-discipline and have a positive impact on the team's success.
The 50 Football Bowl Subdivision (FBS) punters make up the initial list and candidates are added as the season progresses. The complete list of candidates will be released on November 6th and ten semifinalists will be announced on November 10th.
A national body of Football Bowl Subdivision (FBS) sports information directors, media representatives and previous Ray Guy Award winners will then vote for the top three finalists to be announced on November 22nd. After the finalists are named, the voting body will cast ballots again to select the nation's top punter. The winner will be announced live during TheHome Depot College Football Awards airing on ESPN in December 2023.
Make sure to follow Hoosier Illustrated on Twitter @Indiana_FRN and YouTube to stay up to date on all of the news, updates and coverage of Indiana University athletics.