Indiana Basketball: Trayce Jackson-Davis named Finalist for Naismith Trophy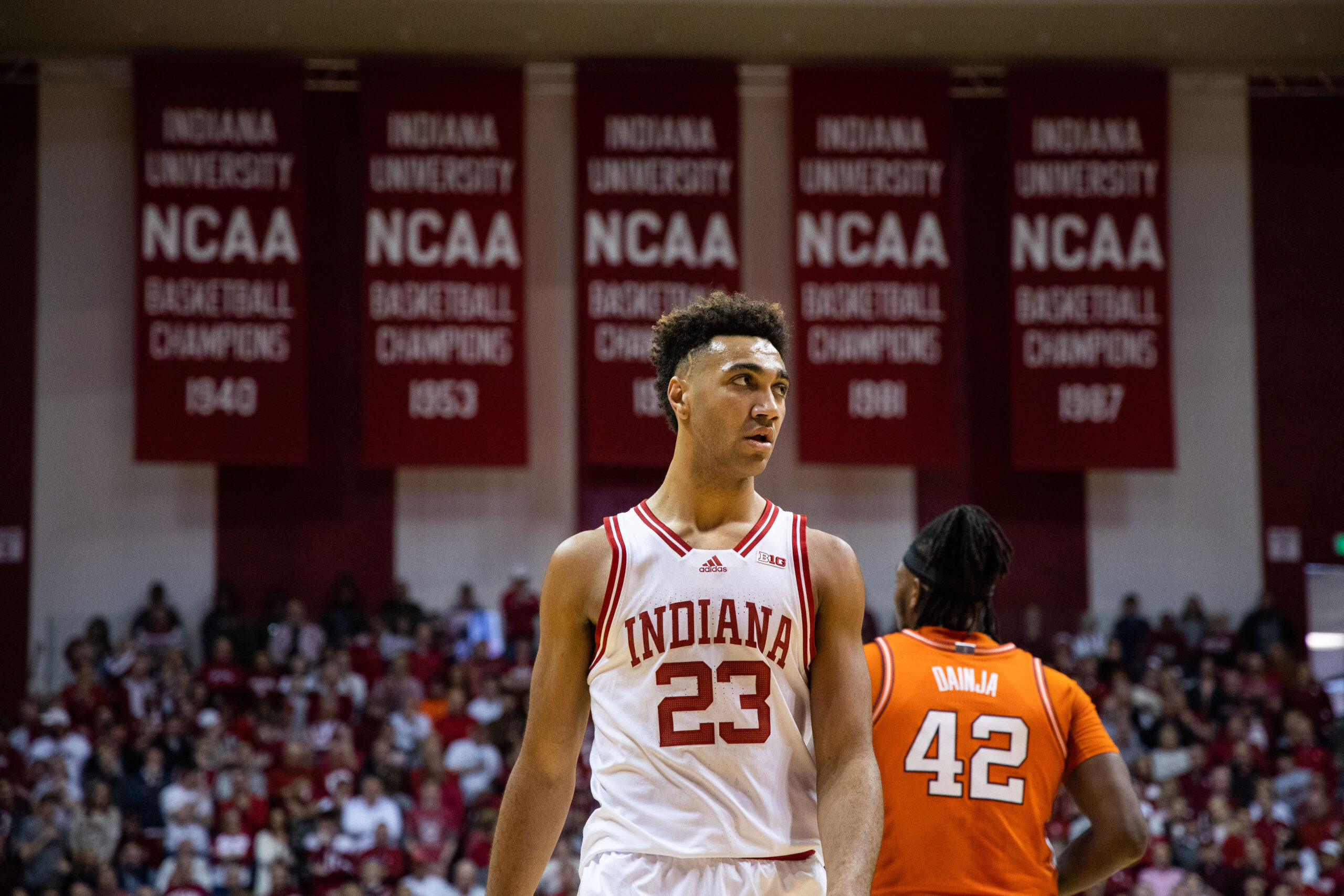 Indiana basketball senior forward Trayce Jackson-Davis was named a finalist for the Naismith Trophy — given to the top player in college basketball.
Jackson-Davis finished this season averaging 20.9 points, 10.8 rebounds, 4.0 assists and 2.9 blocks per game. He was a consensus First-Team All-American.
Jackson-Davis finished his Indiana career as the program's all-time leader in rebounds (1,143) and blocked shots (270 and was third in scoring (2,258) and double-doubles (50).
Indiana finished 23-12 this season and lost in the second round of the NCAA Tournament to Miami. In the last two years, Indiana made it to back-to-back NCAA Tournament's for the first time since the 2014-15/2015-16 seasons.
"I just think about just being part of the change really. Just two years ago, we were getting Booed in our home city, Indianapolis, off the court in the Big Ten Tournament. Just being in this moment two years later, it's really special," Jackson-Davis said following Indiana's loss to Miami in the Round of 32.
"It's really special to me to have the Indiana fans on your back and just cheering for you and giving them hope. It's something that this program hasn't had in a while. So I just thought it was really cool to be part of that and be part of that experience. I know this guy right next to me is going to make sure that things stay in the right direction."
"He's meant a lot to this program. I don't think we're sitting here today if it wasn't for Trayce Jackson-Davis," IU head coach Mike Woodson added. "He could have left two days after I got the job, but he decided to stay on board. He worked his butt off. I pushed him on and off the court. A lot of nights and days, it wasn't pretty for him, but he got better. He benefited from it, and our team benefited from it."
Joining Jackson-Davis are Zach Edey (Purdue), Drew Timme (Gonzaga) and Jalen Wilson (Kansas).
Below is the full release from Indiana.
—
BLOOMINGTON, Ind. –
Senior forward Trayce Jackson-Davis was among four players selected as a finalist for the Jersey Mike's Naismith Trophy, the Atlanta Trip-off Club announced Tuesday.
The award is given annually to the Men's College Basketball Player of the Year.
He joins Zach Edey (Purdue), Drew Timme (Gonzaga), and Jalen Wilson (Kansas) as the men's finalists.
The women's finalists, Aliyah Boston (South Carolina), Caitlin Clark (Iowa), Elizabeth Kitley (Virginia Tech), and Maddy Siegrist (Villanova), were also named in the release.
Scott May (1976) and Calbert Cheaney (1993) are the only Hoosiers to be named the Naismith Player of the Year in program history.
Jackson-Davis, a consensus All-American, averaged career bests in points (20.9), rebounds (10.8), assists (4.0), and blocked shots (2.9) in his fourth and final season on campus.
His scoring average marked the highest for a Hoosier since Eric Gordon (20.9 points per game in 2007-08), his rebounding figure was the highest since Steve Downing (15.1 in 1972-73), and his block number was the most since Dean Garrett (3.4 in 1987-88).
TJD finished the season second among all major conference players in points per game, fourth in rebounds per contest, and third in blocked shots.
During the two-game Hoosier run in the NCAA Tournament, the All-Big Ten First Team performer averaged 23.5 points, 9.5 rebounds, 3.0 assists, and 5.0 blocks per game. He posted the first ever 20-point, 10-rebound, 5-assist, 5-block game in NCAA Tournament history in the Indiana win over Kent State in the opening round.
Jackson-Davis finished his collegiate career as the program's all-time leader in rebounds (1,143) and blocked shots (270), third on the all-time scoring list (2,258), and third in double-doubles (50).
He has been named a Karl Malone Award Finalist, to the Oscar Robertson Trophy Late Season Watch List, the John R. Wooden Men's National Ballot, and the Naismith Trophy Defensive Player of the Year semifinalist list. TJD was also a unanimous choice for the All-Big Ten First Team by the coaches, media, and Associated Press while also collecting All-Big Ten Defensive Team accolades.
"Each of the remaining candidates demonstrates a fantastic basketball playing ability, and their individual accomplishments reflect their talent and dedication to the sport," said Eric Oberman, executive director of the Atlanta Tipoff Club. "They have been instrumental to the success of their teams throughout the season, and we would be proud to call any of these finalists a Jersey Mike's Naismith Trophy winner."
"Jersey Mike's extends its heartfelt congratulations to these eight exceptional basketball players on being named a finalist for this prestigious award," said Jeff Hemschoot, vice president of marketing at Jersey Mike's. "Their remarkable skill and dedication have both entertained and awed us throughout the season, and we are proud to honor their amazing accomplishments."
The 2023 Jersey Mike's Naismith Trophy Men's Player of the Year announcement will take place on Sunday, April 2 at the Naismith Awards Brunch presented by Frost Bank during the Final Four in Houston. The event will be held at the Ballroom at Bayou Place.
Fans will once again be able to support their favorite finalist through the Naismith Awards Fan Vote presented by Jersey Mike's, which runs Tuesday, March 21 through Tuesday, March 28 at naismithfanvote.com.
The fan vote will account for five percent of the overall final vote. Fans may also visit the @MarchMadness Twitter page to vote for their favorite men's player.
Follow Hoosier Illustrated on Twitter @Indiana_FRN to stay up to date on all of the news, updates and coverage of University of Indiana athletics.